Backing up files, folders and open files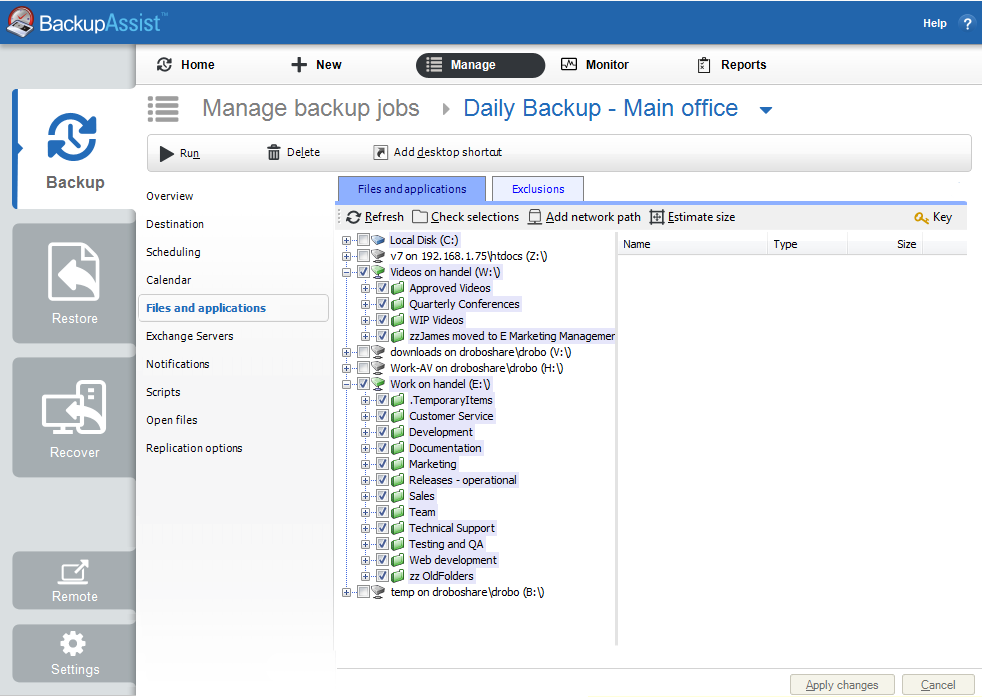 Files, Folders Selection
For our file based backup engines (File replication, NTBackup, Rsync Internet backup) you can accurately specify the files and directories to backup using our intuitive user interface. You can select and unselect volumes, directories and files at any level, as shown below.
---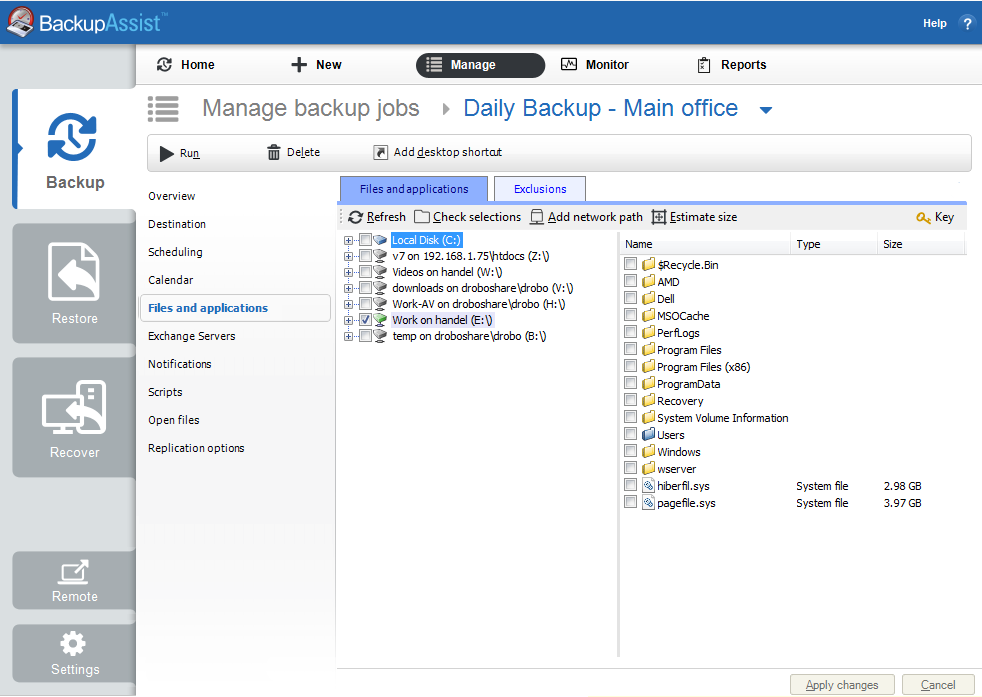 Remote (network) Files
You can also backup data from an unlimited number of networked computers. Simply add each network share to the list and select the files and directories on each share to backup.
---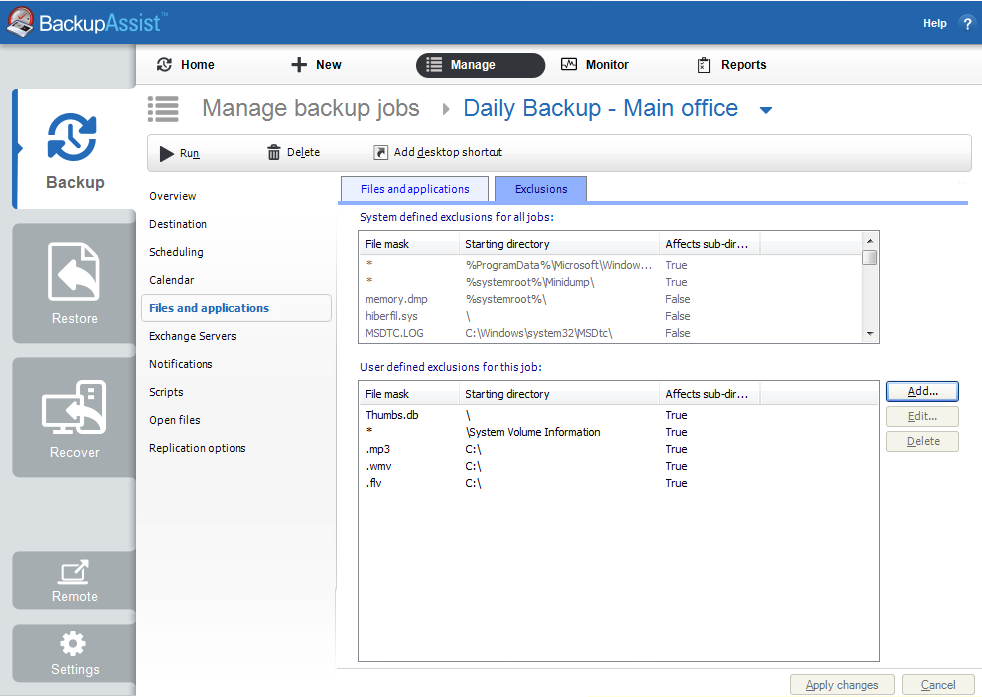 Excluding Files
BackupAssist will observe the system file exclusions (such as the page file) and exclude them from the backup. You are also able to specify additional custom exclusions, such as MP3 files (as shown below).
---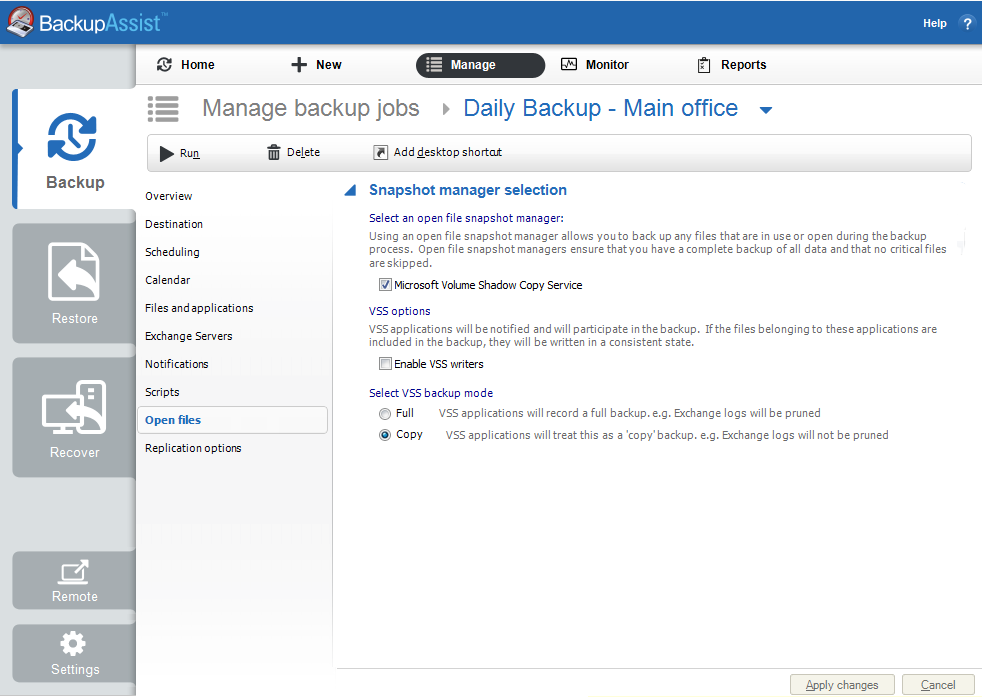 Open Files
BackupAssist will also backup open files using an open file manager. On Windows XP and later, the Microsoft VSS open file manager is the default. You may also, however, use the BackupAssist Advanced Open Files add-on (32 bit machines only) to backup open files on Windows 2000 or later.
---
Customer testimonials
"We have 3 servers, 2 with [competitor] and one that wasn't backing up. I was looking for a solution for the 3rd server but didn't want to pay for [competitor].
"Your application was... much easier to use with the same level of protection."
"I'm glad that we found BackupAssist. Whilst we realise the importance of backups ourselves, it has always been difficult to sell to clients in small to medium business when we had to include software with a $1000+ price tag. BackupAssist will make the sale much easier not only because of the price tag, but because we KNOW that it works so well."
"NTBackup scheduling is clumsy and unreliable. Client did not want to spend on [major competitors'] products."
"Another Computer consultant evaluated, purchased and recommended this software to Network Integration Solutions Inc. Since then, we are so impressed, that as far as I'm concerned any of our new servers will have a license of BackupAssist to make the media management simple."
Relied on by