How to request support
---
If your support issue isn't covered in our Troubleshooting documentation, please do the following:
Step 1 - Gather diagnostic information
Bring up the BackupAssist™ Navigator as shown in the screenshot below.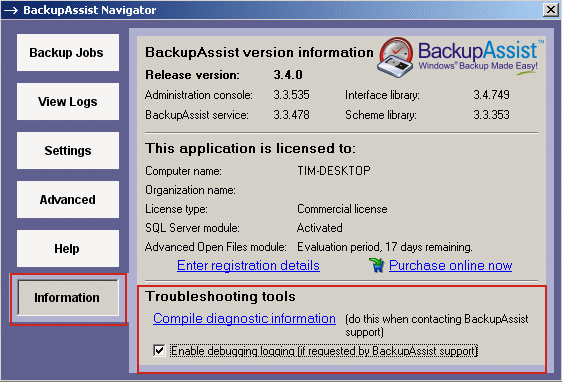 Click the link Compile diagnostic information link. This will compile a file called diagnostics.zip (placed in the BackupAssist™ installation directory) and you should attach this file when emailing us.
Step 2 - Email us
To email us, please do the following:

	Email support@BackupAssist.com 

	and use the message subject:

	BackupAssist™ Support Request: description of your problem
Please note: If you do not include BackupAssist™ Support Request in your message subject, your email may be marked as SPAM. We receive hundreds of SPAM messages each day, so please assist us by specifying your message subject correctly.