What will you do if your cloud data turns to vapor?
You're protected when you back it up with
The cloud offers many productivity and business benefits...

...but also exposes you to a range of cyber-risks.
Fortunately, it's easy to prepare for the worst with robust backups.
The easiest way to be cyber resilient is to have backups. That means you have separate copies of your data, going back in time, stored safely in different locations.
BackupAssist 365 is a business-grade application does exactly that: backing up your cloud-hosted data so you always have a local copy.
What BackupAssist 365 does to protect you...
BackupAssist 365 gives you local backups of your cloud data by automatically downloading your cloud data to a local destination. If anything goes wrong with your cloud accounts, you can restore from your local backup copy. Here's how it works:
Back up cloud files to local directory
Supported: Microsoft 365 (Office 365) suite: OneDrive, OneDrive for Business, SharePoint
In Beta: Dropbox, Box, SFTP, Google Drive. 
Back up mailboxes to local PST files
Supported: Office 365 (Exchange Online), on-premise Exchange Server, IMAP server.
So now you can hold your data in your hands

Designed for data security, privacy and cost effectiveness:
BackupAssist 365 gives you the tools you need to easily archive your data for compliance reasons.
Don't incur ongoing costs for cold-storing your data in the cloud. Store locally and save!
Full privacy for your data
Your data is your data. BackupAssist 365 downloads it straight from your cloud account to a destination of your choice. No third parties ever see it. 
Your data is your data - the BackupAssist difference
1. You install BackupAssist 365 on your computer – a server or workstation.
2. BackupAssist 365 connects to your cloud accounts to perform backups. This happens like clockwork.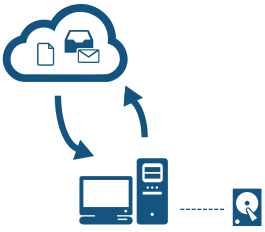 3. Successive backups only download the differences (deltas) since the previous backup, saving time and bandwidth.
4. You choose where to put the data. For example, in your existing local or network storage.
Microsoft leaves little doubt that protecting Office 365 data is the customer's responsibility. Microsoft's responsibility ends at keeping the service available, which they do well.

Organizations need to find a way to backup Office 365 data to protect themselves from accidental file deletion or a ransomware attack without adding too much complexity.

BackupAssist 365 provides a simple, automated way to protect Office 365 data without having to get locked into another cloud provider or a backup vendor's proprietary backup format.
Got questions?
Get answers by submitting a question through our online form.
Haven't heard of BackupAssist before?
Here are some of our key statistics…
Years of Industry Experience
Our products are used by some of the world's most recognized organizations