Articles
USB 3.0 vs. eSATA - Speed Testing
We've recently been considering the use of USB 3.0 as an alternative to eSATA for external hard drive backups. Read the following blog post to learn about some interesting test results we achieved when measuring the transfer speed of several hard drives connected via USB 3.0 and eSATA: http://www.backupassist.com/blog/support/usb-3-0-speed-testing/

Tips and Tricks
Incremental backups with BackupAssist on newer Operating Systems.
With the removal of NTBackup from Server 2008, incremental backups are now configured in different ways on newer operating systems like Windows Vista, Windows 7, Server 2008 and 2008 R2, depending on the type of backup engine you are using. This Tips and Tricks article discusses the advantages and disadvantages of performing incremental backups and outlines the different methods BackupAssist uses to run incremental and incremental-like backups. Click here to read it.
Blue Screen of Death (BSOD) errors.
The BackupAssist help desk sometimes receive reports of Blue Screen of Death (BSOD) errors occurring either during or around the time of a backup. While the causes of such errors are quite varied, we have recently discovered that one such BSOD is caused by a conflict with the NOD32 Anti-virus program. You can read more about this issue here.
What else is new?
New release coming soon: BackupAssist v6.2.2.
BackupAssist v6.2.2 is a maintenance release with a number of fixes and an important change to the way backup selections are made (see below for more information). Once available, we recommend that all BackupAssist v6 users upgrade to this release as soon as possible. The upgrade is especially relevant for anyone running Windows Imaging backups in BackupAssist.
More information about the new version, including full release notes will available upon official release.
Changes to the way backup selections are made in BackupAssist v6.2.2.
In BackupAssist v6.2.2 instead of selecting the individual files, applications and other system resources you want to back up, you will specify the type of recovery you want to be able to perform from your backup: Bare Metal, System State and data, or Data only. The type of recovery options available will be determined by the backup engine you are using.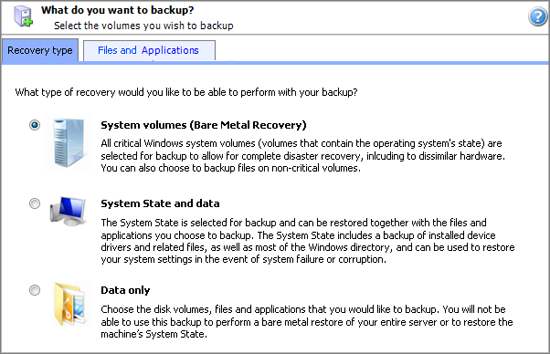 Once a recovery type has been chosen, BackupAssist will automatically select the files or volumes that need to be backed up. For example, if you want to be able to perform a Bare Metal Recovery from Windows Imaging backups, BackupAssist will make sure that all the critical system volumes are selected and backed up. You can still make your own custom selections in addition to those automatically enforced, but the recovery type you choose will determine the minimum backup requirements.
Bare metal recovery from an iSCSI target!
On April 5th, in an excited yet anxious test lab in our Australian office, we performed what we believe to be a world-first: a bare metal restore from a backup located on an iSCSI target using the Windows Recovery Environment (WinRE).
As the standard WinRE does not include the iSCSI Initiator, we have been experimenting with our very own recovery environment that does, and using it we were able to successfully restore an entire system from bare metal using a backup located on an iSCSI target!
For the full story and to leave us your comments, please click here.
Easter holiday Help Desk closure dates.
During the Easter holiday period our Australian help desk will be closed for public holidays on the following dates:
Easter Friday: 22nd April 2011
Easter Monday: 25th April 2011
Anzac Day: 26th April 2011
Technical support services will be unavailable on the above days in our Australian office, including both phone and email. We apologize for any inconvenience this may cause you.
You may, however, still contact us at our USA office should you need assistance.
We'd like to send our best wishes to you and your family for a safe and enjoyable Easter holiday period!
Just for fun
Server Attention Span


Image Copyright © xkcd.com http://www.xkcd.com


This email was sent to you by BackupAssist because you subscribed to our newsletter service. If you wish to unsubscribe from further emails reply to this email with UNSUBSCRIBE in the subject line.