Jobs tab
The Jobs tab is used to create, manage and monitor backups and backup jobs. The options available are accessed from the Jobs tab's Home page.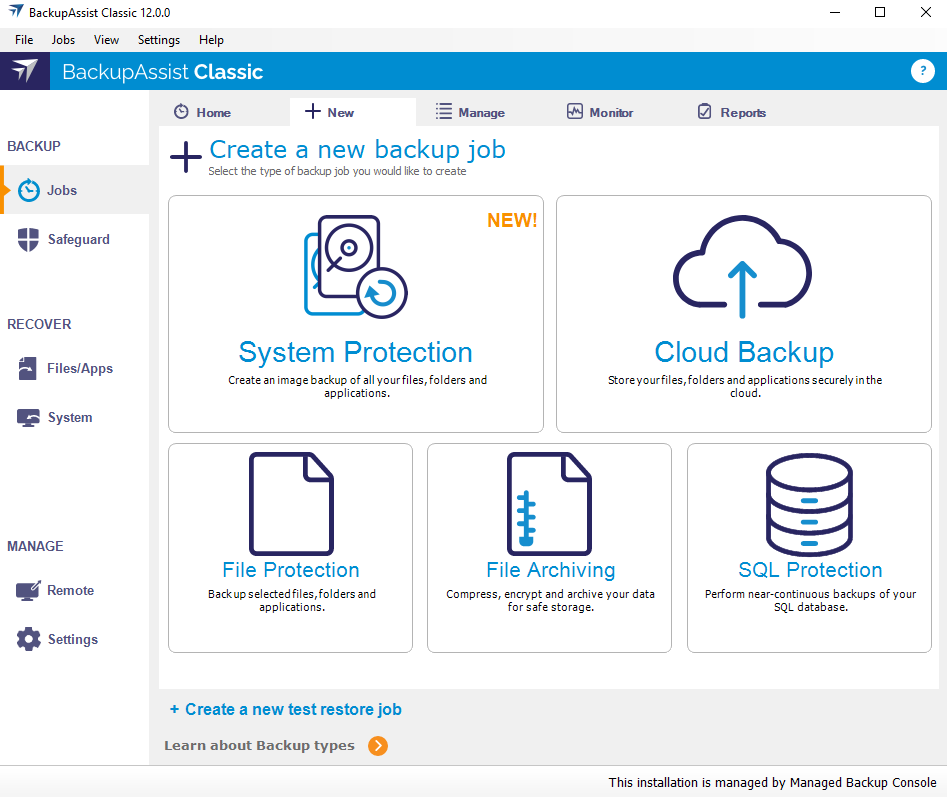 The following functions can be accessed from the Jobs tab's home page.
Create a New Backup Job
This selection is used to create backup jobs. Below is an overview of the backup types available and what they can be used for.

Show : What backup type should you use
BackupAssist provides a suite of backup types that support VSS, encryption, and incremental backups. The type of backup job that is best for you will depend on what you're backing up, your backup destination, and your restore and recovery requirements. This section provides an easy to use backup selection guide.
System Protection backup
Required for
Only System Protection can create a backup that can be used for a bare-metal recovery. For this reason it should be a part of your backup strategy.
Bare-metal backups and system recovery
Recommended for

System Protection creates an image backup of the files and settings required to restore a server application, as well as selected files. It uses block level imaging and is better at handling large files.

Exchange Server backups
SQL Server Backups
Hyper-V Server backups
Large file backups
Cloud Backup (requires the Cloud Backup add-on)
Required for
Cloud Backup allows you to use a cloud service provider ( ideal for businesses looking to save on storage costs) or a private cloud destination. The destinations supported are Microsoft Azure, Amazon S3 and cloud providers and private cloud destinations that support WebDAV.
Using third party or private cloud storage
Ideal for
Backing up files and folders
File Protection
Required for
File Protection is a simple backup option for backing up data to a local drive, removable drive or network destination, including NAS and iSCSI.
File replication and rsync backups
Ideal for
Easy to use file replication backups
File Archiving
Required for
File Archiving zips up your data into a single, backup file. This saves disk space for data that gains from compression. It is also the only backup type that can back up to a standalone tape drive.
Using a tape device (Tape Archiving add-on)
Ideal for
Backing up files & folders to a single compressed file
SQL Server Protection (requires the SQL Continuous add-on)
Required for
SQL Protection can back up database changes throughout the day (at 5 minute or greater intervals). These backups can be used to restore individual databases to a specific point-in-time, or an entire SQL server (including the Master Database).
Transactional SQL backups
Point in time SQL database restores
To learn more, see Best Practice Backups with BackupAssist
Manage Backup Jobs
This option allows you to manually run backup jobs and edit a backup job's configurations. To learn more, see Manage : Overview
Monitor Running Backups
This options allows you to watch the progress of a backup job as it runs. To learn more, see Notifications
View Backup Reports
This options allows you to view past backup reports for all backup jobs. To learn more, see BackupAssist's reports