Notifications and Reporting on Backup Jobs
Being notified of the status of each backup is critical to a successful data protection system. Fortunately, BackupAssist covers both of the following aspects for notifications:
For when human intervention is required - giving clear instructions on what needs to be done
Clear reporting that keeps you informed and allows you to spot problems before they occur
These notifications can be delivered via email, printer, network broadcasts or integration with other monitoring packages.
---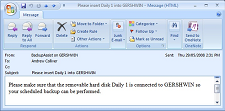 Minimize human error where human interaction is required
By providing clear, specific instructions on what to do, BackupAssist will minimize human error.
---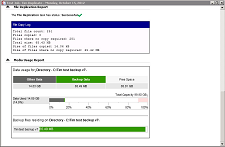 Clear reporting that helps you anticipate problems
One major cause of backup failures is running out of space due to data growth. Our media usage report allows you to track data growth and see when your backup system needs upgrading.
---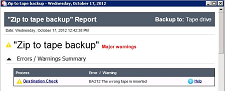 Reporting that detects human errors
Another major cause of backup failure is when the user forgets to do something - like swapping tapes or HDDs.
---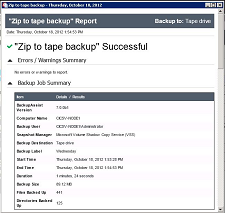 Reporting that gives you a comprehensive view
Each backup report will show you details of the backup.
---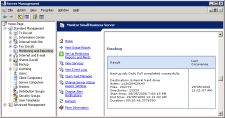 SBS Performance Log Integration
BackupAssist reports directly to the SBS Performance Log. This means that if you already have performance log emails set up, you will automatically be notified of BackupAssist results. Available in SBS 2011, 2008 and 2003.
---
Easy troubleshooting with our online Knowledge Base
Any errors that occur are easy to troubleshoot because each error is linked to an online knowledge base article.
---
Customer testimonials
"We have 3 servers, 2 with [competitor] and one that wasn't backing up. I was looking for a solution for the 3rd server but didn't want to pay for [competitor].
"Your application was... much easier to use with the same level of protection."
"I'm glad that we found BackupAssist. Whilst we realise the importance of backups ourselves, it has always been difficult to sell to clients in small to medium business when we had to include software with a $1000+ price tag. BackupAssist will make the sale much easier not only because of the price tag, but because we KNOW that it works so well."
"NTBackup scheduling is clumsy and unreliable. Client did not want to spend on [major competitors'] products."
"Another Computer consultant evaluated, purchased and recommended this software to Network Integration Solutions Inc. Since then, we are so impressed, that as far as I'm concerned any of our new servers will have a license of BackupAssist to make the media management simple."
Relied on by