Exchange Server Backup
Mailbox & Information Store Backup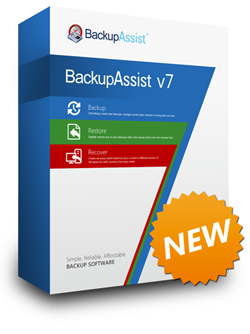 Support for Exchange 2010, 2007 and 2003
Backup from Exchange Server 2010 Client Access Servers (CAS)
Exchange Information Store backup for complete Microsoft Exchange Server restoration
Brick-level backup of Exchange mailboxes BackupAssist Exchange Mailbox Add-on
Brick-level backup of Exchange Servers on same domain using the Exchange Mailbox Add-on.
Can be installed on 32- and 64-bit machines; Microsoft Outlook not required
Public Folder backup supported
No 2 GB limit on Exchange Server Mailbox backups
Licensing
BackupAssist
BackupAssist Exchange Mailbox Add-on*
Method
Information Store Backup:
Backed up using Windows Backup (NTBackup), Windows Server Backup (wbadmin), or VSS (using File Protection, Zip, Rsync, or Imaging)
Mailbox Backup:
Backed up using BackupAssist Mailbox Exporter or Exmerge
Supported Exchange Servers
Information Store Backup:
Exchange 2010, 2007, 2003.
Mailbox Backup:
Exchange 2010, 2007, 2003.
Resources
BackupAssist supports two types of Microsoft Exchange Server backup:
Storage Group and Information store
Backup your entire Microsoft Exchange Server Information Store database. Having a backup of your entire Exchange Information Store database allows you to perform a complete restore of your Microsoft Exchange Server, including public folders; and best of all, the Information store backup capability comes absolutely free with your BackupAssist license.
Individual mailbox
With the BackupAssist Exchange Mailbox Add-on you can achieve brick-level backups of your Microsoft Exchange Server, including public folders. This allows for simple and rapid restoration of individual or group emails, calendars, tasks, notes, contacts, or entire mailboxes.
---
Backing up the Storage Groups and Information Stores
BackupAssist gives you three ways to backup your entire Microsoft Exchange Server:
Using NTBackup, you can perform a live streaming backup of a running Microsoft Exchange Server 2007 and 2003
Using Windows Server Backup on Windows Server 2008 and 2008 R2 you can perform a live streaming backup of Microsoft Exchange Server 2010 and 2007. You can read more about this here.
Using VSS with the File Replication, Zip, Rsync and Imaging engines you can perform a consistent VSS application backup of Exchange Server 2010, 2007 and 2003. Simply choose your Microsoft Exchange Server from the list of detected applications (you can even drill down and choose individual storage groups etc.).
---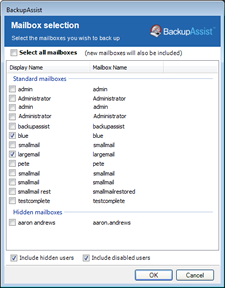 Backing up Individual Mailboxes
Using our Exchange Mailbox engine, you can backup individual mailboxes and public folders for extra data protection.
Our Exchange Mailbox engine is so advanced that it will sort and group your emails by date range and allow you to store the emails as PST files for maximum compatibility.
Advanced options also exist for you to perform the backup in archive mode (where the original messages are deleted). If you combine this feature with the Journaling features in Exchange, you can achieve the capture of every incoming and outgoing email. This can be very useful in helping meet compliance needs.
---
How to restore Exchange Server
There are 3 different options available when restoring Microsoft Exchange Server data:
Restoring entire storage groups.
In the event of a major corruption or disaster, you can perform an online restore of your Exchange Server, as outlined in our Exchange White Paper. If you performed a VSS application backup of your Exchange Server you can use the BackupAssist Restore Console to restore your Exchange Server storage groups.
Restoring entire mailboxes
For minor restore jobs like restoring a full or part of a mailbox, you can either:

Use the BackupAssist Restore Console to select mailbox(es) and the date range of the mail items you want to restore, and click restore! Public Folders can be restored in exactly the same way.
If your mailboxes were backed up using Exmerge (Exchange Server 2003 only) you can perform an online restore of your Exchange Server to a Recovery Storage Group and then use Exmerge to migrate across the relevant mailbox, or simply use Exmerge to restore directly from your Exchange Mailbox Backups.

Retrieving messages from a mailbox backup anywhere, at any time.
Simply open your mailbox PST file on any computer with Outlook installed, and drag-and-drop the relevant items to copy them back.
For the more advanced scenario of migrating an Exchange database to a new server, you also have the ability to forklift the Exchange databases from your file-backup of the Exchange data files.
---
Customer testimonials
"We have 3 servers, 2 with [competitor] and one that wasn't backing up. I was looking for a solution for the 3rd server but didn't want to pay for [competitor].
"Your application was... much easier to use with the same level of protection."
"I'm glad that we found BackupAssist. Whilst we realise the importance of backups ourselves, it has always been difficult to sell to clients in small to medium business when we had to include software with a $1000+ price tag. BackupAssist will make the sale much easier not only because of the price tag, but because we KNOW that it works so well."
"NTBackup scheduling is clumsy and unreliable. Client did not want to spend on [major competitors'] products."
"Another Computer consultant evaluated, purchased and recommended this software to Network Integration Solutions Inc. Since then, we are so impressed, that as far as I'm concerned any of our new servers will have a license of BackupAssist to make the media management simple."
Relied on by