Exchange Server Protection
Back up your Exchange Server with a selection of easy-to-use backups. Restore your entire Exchange Server or individual mail items.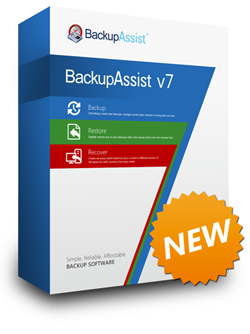 NEW
Direct Exchange Injection
: Restore mail items directly into a live Exchange Server.
Fully integrated support for
NEW
Exchange Server 2013
, 2010, 2007 and 2003
NEW
Seamlessly restore mail items from a Hyper-V guest using the
Exchange Granular Restore console
VSS-Aware backups
that can back up your Exchange Server while it is running
NEW
Back up an Exchange Server's
databases and individual mail items
with a single backup job
Restore an Exchange Server's information store database or individual storage groups
Destination support including
external disks, RDX drives, local directories, NAS devices and iSCSI targets.
Support for Windows Server 2012, 2008, 2003, and SBS 2011, 2008, 2003
---
Protect your Exchange Server with the right backup
Backups detect your Exchange Server and allow you to perform backups while Exchange is still running.
Back up your entire Microsoft Exchange Server with any of these VSS-Aware backups. All are included with your BackupAssist license.
A versatile imaging backup that can be used in both restoring data and system recoveries. The result is a feature-rich, reliable and cost-effective data and disaster protection solution.
File Protection is a powerful, yet simple, file backup solution out-of-the-box. It can be configured in minutes to create scheduled backup jobs without the need for complex scripts or settings.
Backups created using File Archiving are stored as .ZIP files that contain all of the data selected in the backup job. File Archiving is a file-based backup that also works with tape drives if you have the BackupAssist Zip-To-Tape Add-on.
---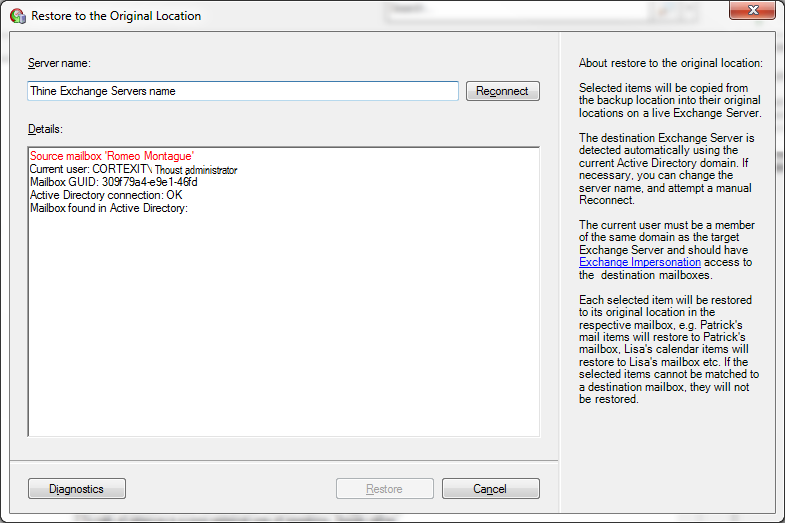 Direct Exchange Injection
The Exchange Granular Restore tool includes a powerful feature called Direct Exchange Injection. This technology allows you to use the Exchange Granular Restore console to restore individual mail items directly into a live Exchange Server. The live server can be either the original Exchange Server or a different Exchange Server.
---
Exchange Granular Restore
This powerful Add-on allows you to restore individual mail items from any Exchange Server backup. Simply perform a search of your databases, browse individual mailboxes and preview the contents of emails, contacts, notes, tasks and appointments. The easy-to-use console then guides you to restore your selection to a location of your choice.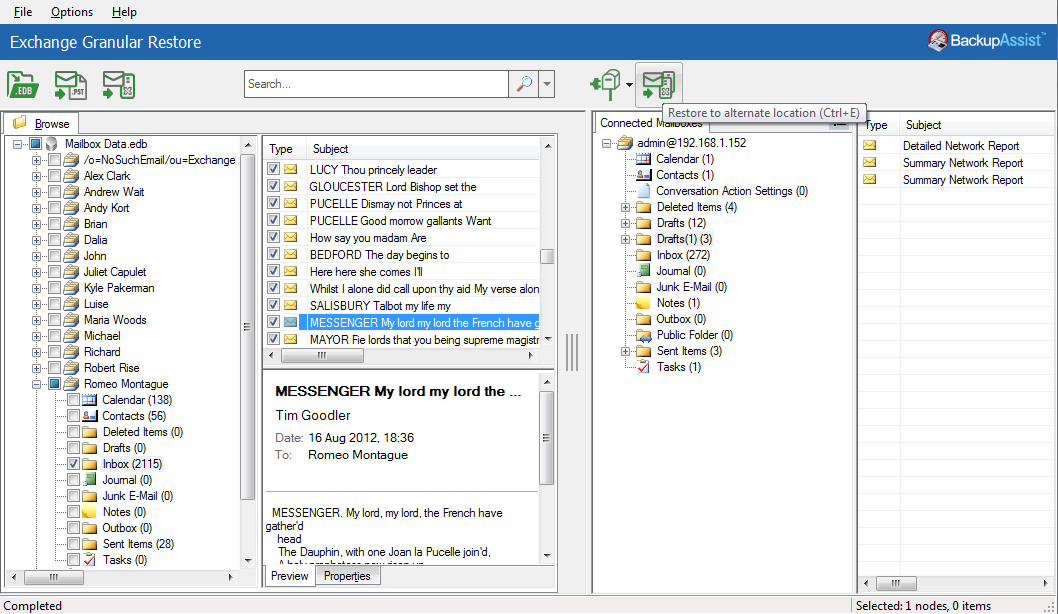 ---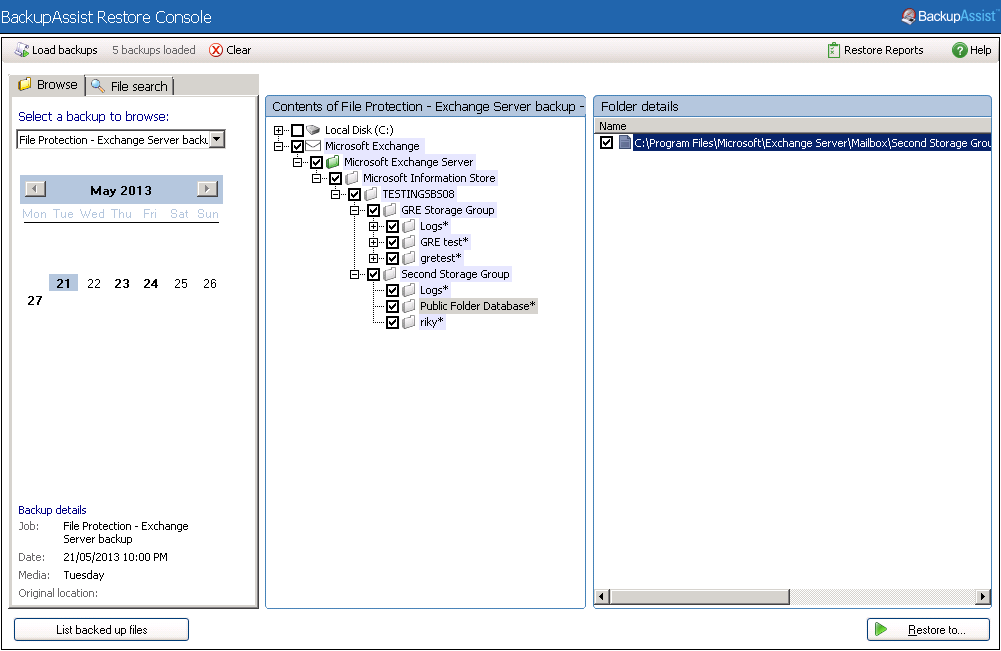 Exchange Server Restore
Selecting Exchange Server Restore automatically lists your backups and launches the right tool, saving you time and hassle. Within the console you can choose to restore an Exchange database or even your entire server. The restore process will guide you through every step until the restore is complete.
---
Restore options that meet your requirements
The Exchange restore menu presents you with a selection of restore options and guides you through the restore process. Once you have made your choice, BackupAssist displays all of the Exchange backups and brings up the appropriate restore tool. It also helps you filter, search and browse your backups to find the one you need.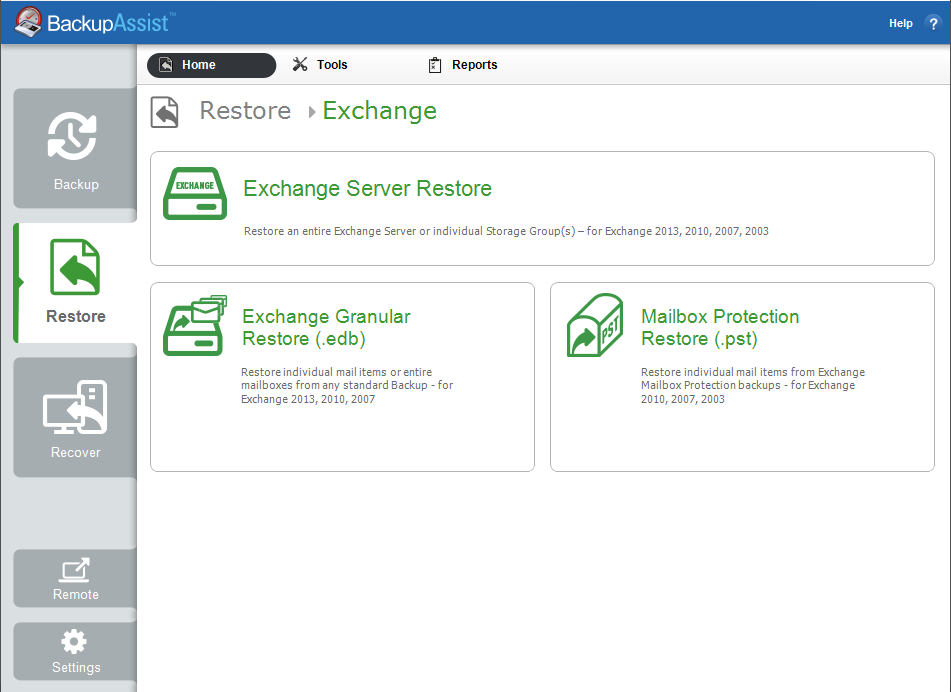 ---
Specifications
Licensing
BackupAssist
BackupAssist Exchange Granular Restore Add-on
Method
Exchange Server Backup:
VSS-Aware System Protection (imaging), File Protection (replication) and File Archiving
Exchange Server Restore:
Using the powerful BackupAssist Restore Console.
Exchange mail item restore:
Using the New Exchange Granular Restore console.
Supported Exchange Servers
Exchange 2013, 2010, 2007, 2003
Resources
---
Customer testimonials
"We have 3 servers, 2 with [competitor] and one that wasn't backing up. I was looking for a solution for the 3rd server but didn't want to pay for [competitor].
"Your application was... much easier to use with the same level of protection."
"I'm glad that we found BackupAssist. Whilst we realise the importance of backups ourselves, it has always been difficult to sell to clients in small to medium business when we had to include software with a $1000+ price tag. BackupAssist will make the sale much easier not only because of the price tag, but because we KNOW that it works so well."
"NTBackup scheduling is clumsy and unreliable. Client did not want to spend on [major competitors'] products."
"Another Computer consultant evaluated, purchased and recommended this software to Network Integration Solutions Inc. Since then, we are so impressed, that as far as I'm concerned any of our new servers will have a license of BackupAssist to make the media management simple."
Relied on by