BackupAssist keeps you in business when
disaster strikes.
Survive cyber attacks, ransomware, natural disasters, hardware failures and user accidents with the right backup and a clear path to recovery. Be cyber-resilient.

Windows Server Backup & Recovery
Desktop / laptop  backup product
Office 365 & Mail Server backup product
Business grade backup protection for remote and work-from-home staff.
Enables both system protection and file protection, to company owned storage.
Traditional backup and recovery for on-premise Windows Servers, VSS applications & files.
On-premise recovery.
Automated onsite & offsite system backups via "disk-to-disk-to-cloud".
Recover anywhere: locally or in the cloud. VM Instant Boot for low downtime.
Automated local backups of your cloud data.
Effective protection against data loss in the event of cloud hacking, sabotage, and malware.
Backup destinations
(BYO Storage)
Offsite / offline strategy
Encryption of file backups
Since 2002, BackupAssist has helped thousands of organizations become cyber-resilient. Let us help you too.

Who uses BackupAssist?
Is it the right backup for me?
We specialize in only business-grade backup and data protection software for Microsoft Windows Server environments and Office 365. Our clients are wide ranging and include:
Small and medium businesses (up to 500 staff),
Corporates,
Government departments, essential services,
Universities and schools,
Non-profits and NGOs.
Our software has been adopted by every market sector – from aviation to hotels, healthcare to engineering, education to manufacturing, and every type of consulting.
Managed Service Providers (MSPs) also love our software because of its versatility – it can be customized to protect a diverse range of clients. Reseller programs available.
If you run mission critical Windows Servers, and are looking for the right backup software, then BackupAssist can help you become cyber-resilient.
Launched in 2002
to make Windows Backup easy.
Over 200,000
servers protected
Trusted in 165 countries
from the USA to Mongolia, Belgium to New Zealand, and all points in between.
How can BackupAssist help me? It's easy to find out!
What is Cyber-Resilience? How are backups key?
the ability to recover from an adverse event.
"The right backup gives you a successful and predictable recovery."
Organizations need cyber-resilience
Almost every organization relies on I.T. infrastructure to function – and that infrastructure can be damaged or sabotaged by:
hacking, ransomware and other forms of cyber attack
physical destruction – fire, flood, earthquake
theft
hardware failures
user deletions – accidentally or intentionally.
In all cases, the surest path to resilience is the right backup strategy.
Backups need cyber-resilience too
Backups must also be cyber-resilient – that is, able to withstand attack by cyber criminals. Our CryptoSafeGuard and Cyber Black Box features are industry first cyber-security features that make backups resilient.
What makes the right Windows Server Backup Software?
For Windows Servers, the availability of the server and the applications and data on it are solely your responsibility. Therefore, the right backup and recovery software must provide comprehensive backup and recovery options.
What makes the right Office 365 Backup Software?
For Office 365, Microsoft provides guarantees of service availability, and provides some limited versioning and data retention (by default, 14 days of deleted emails and 93 days of deleted files in SharePoint and OneDrive for Business). Other cloud providers of hosted Exchange and IMAP mailboxes generally offer something similar.

The right backup software solution for Office 365, hosted Exchange and hosted files should provide superior data backup and recovery options.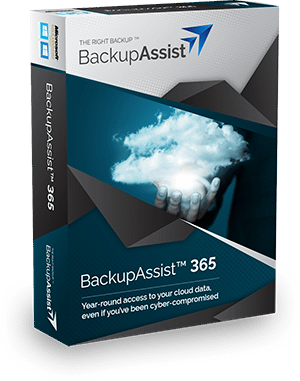 Recovery and Data Retention
Our business operates around the clock and we cannot afford extended downtime as every minute lost would equate to lost revenues.

BackupAssist has been very effective at supporting our data recovery requirements, providing us with maximum uptime regardless of whether system data became corrupted or was missing due to human error.

The software has served our organization reliably for years and we highly recommend it for both physical and virtual IT environments.
BackupAssist's thoughtful approach to data protection is allowing us to respond and protect our sensitive patient data as mandated by HIPAA, HITECH and PIPEDA, ensuring all compliance requirements including Meaningful Use are met.

The feature set in version 10 is ideal for our operations and is expected to enhance our backup infrastructure with fast recovery, increased storage efficiency and superior data encryption.
As a public services organization supported by tax dollars, we are extremely cognizant and cautious in how our budget is allocated. We didn't have an 'enterprise-sized' budget to spend on ransomware protection. However, we would be negligent if we didn't invest in protection against the type of malicious software that could block access to our computers and data, and therefore our city services, until a sum of money is paid. And, that sum can be large – too large for an organization like ours.

This is exactly the position some of my colleagues have found themselves in – it was ugly – and it wasn't anything I wanted even the remotest possibility of having to deal with here. BackupAssist's CryptoSafeGuard will deliver the extra layer of protection organizations need at an affordable price.
Who else wants to be safe from ransoms from just 65 cents per day?
Industry Awards & Reviews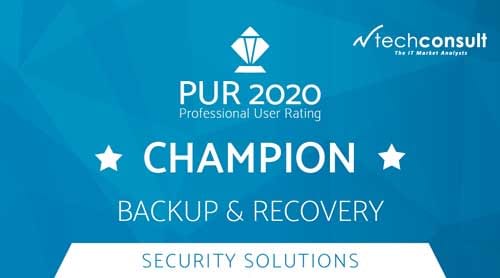 Backup & Recovery Champion
TechConsult Professional User Rating
In a total of 1,224 interviews with users of I.T. security solutions, across 50 different criteria, BackupAssist achieved the highest award possible – "Champion" status – beating out many market giants including Veritas, IBM, CA and Commvault.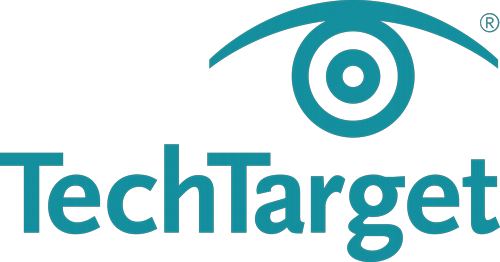 Product of the Year - Finalist 2017
Data backup and recovery software
In the extremely prestigious and competitive TechTarget awards, BackupAssist achieved finalist status, along with six other vendors that included the likes of IBM and Veeam. BackupAssist was the only vendor focused exclusively on SMEs, and the only vendor with a product priced starting at under $500.
Capterra user rating - 4.8/5
"Hassle-free backups everyday!"
We've been using BackupAssist for 7 or 8 years now and have been very happy with it. We back up our servers to a NAS device in another one of our buildings. The backups always run as expected and we receive a detailed report via email after the backup is complete…
2019 Review
"The Best Cloud Storage and Online Backup Services of 2019"
BackupAssist is an ideal backup solution for a small business because it combines intuitive software with performance and affordability.
Spiceworks Community Rating: 4.5/5
"Very high performance/price ratio."
"Works almost flawless in a small company setup (4 servers/26 workstations). We are fine with filesystem, SQL and Exchange backup."
Let's get you on the path to Cyber-Resilience today!
Top Resources for Your Cyber-Resilience Journey
We're proud to announce BackupAssist Classic v11 – the latest evolution of our award-winning backup software.
Our core purpose: to safeguard our clients' future through cyber-resilience
Since 2002, we've been helping organizations worldwide properly backup and protect their Windows Servers and data.
Having the right backup has never been more important. The cyber threats and risks have changed substantially. A decade ago, user error, a hard drive crash, natural disaster or computer theft were the major causes of data loss. Today, it's ransomware and hacking that hits the news headlines.
BackupAssist delivers outstanding protection against these evolving risks.
BackupAssist Classic


Backup software for on-premise Windows Servers.

Windows Backup Software – full system, files and data, Hyper-V, Exchange, SQL Server, physical & virtual.
Onsite, offsite, offline backups for every emergency.
Well-defined, predictable recovery path and tools.
CryptoSafeGuard shields against ransomware.
BackupAssist 365


Backup software for Office 365 and IMAP mailboxes.

Keep local copies of your cloud-based data.
Back up mailboxes (email, contacts, calendar, notes), SharePoint, OneDrive for Business.
Full data ownership and control.
Extremely cost effective, with zero hosting costs.