Simple, effective Microsoft Hyper-V backup that covers all the recovery scenarios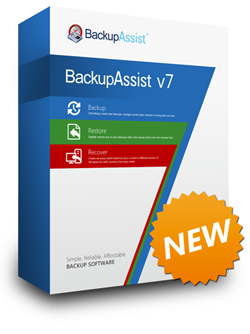 Hot backups — no need to stop your Host or Guest machines during a backup
One-pass backup — no need for separate backups of the Host and Guest
Backup unlimited Guest machines simultaneously — no extra licensing costs
Support for Hyper-V Cluster Shared Volumes (CSV)
Super simple 2 step restore process with easy to follow wizards
Restore multiple Guest files from a single image backup of the Host
'Dig down' into any VHD image backup to retrieve files from the Guest
Methods and procedures for each recovery scenario
Supported OS
Supported Host platforms: Windows Hyper-V Server, Windows Server 2012 Core with Hyper-V Role, Windows Server 2008 Core with Hyper-V Role, Windows Server 2008 with Hyper-V Role
Supported Guest platforms: Windows Server 2012/2008/2003; Windows 8/7/Vista/XP
BackupAssist VM Granular Restore Console: Windows Server 2012/2008/2003; Windows 8/7/Vista
Licensing
Hyper-V Backup
Included in BackupAssist v7
Hyper-V Restore
Requires BackupAssist VM Granular Restore Console Add-on(System Protection backups only)
Method
One-pass VHD image backup of the Host using Windows Server Backup to disk based devices.
Resources
System Protection for Hyper-V Whitepaper
Until now, Microsoft Hyper-V backup has been full of confusion, frustration and head scratching. There are so many recovery scenarios and no single setup has been able to cover them all.
Thankfully, the BackupAssist Hyper-V solution is designed to be a simple answer to this complicated problem. It cuts through the confusion to present a single, simple, robust and straightforward method for Microsoft Hyper-V backup. And best of all, it covers all the recovery scenarios.
BackupAssist features 'granular restore technology', which simplifies Hyper-V backup by allowing you to create just one Virtual Hard Disk (VHD) image backup of the Host and use it to retrieve files and documents from any Guest Virtual Machine on that Host.
The BackupAssist VM Granular Restore Console Add-on makes the whole process of Hyper-V backup and restore amazingly simple. It's a solution that will save you time, disk space and money!
BackupAssist also enables you to configure backup jobs to back up Microsoft Hyper-V hosts using a Cluster Shared Volume (CSV). You get to choose between four available backup engines: File replication; Rsync; Zip and Imaging (via a staging disk).
---
One backup as your baseline Disaster Recovery strategy
The BackupAssist solution involves imaging the physical Host as your baseline. From that image, you can restore the complete server, individual Guests, or even files and folders within the Guests. Having one backup that provides essential protection for your Hyper-V Host and Guests means you can do it all while saving disk space, time and money.
---
Unlimited, agentless backup of Hyper-V Guests
While virtualization generally saves time and money, protecting virtual machines can be expensive if you need to purchase a separate backup software license for each Guest Virtual Machine. Because BackupAssist is fully Hyper-V Server aware, you can backup an unlimited number of virtual machines on the same physical Host using just one license of BackupAssist. And no additional software or agents are required on any of your Guest Virtual Machines.
---
Granular restore technology with the VM Granular Restore Console
Granular restore technology allows you dig into a Virtual Hard Disk (VHD) file and retrieve files from within. Without granular restore technology, you can only restore individual files and folders from a particular backup created from each Guest VM, which is traditionally what makes Hyper-V backup and recovery procedures so complicated. Using the BackupAssist VM Granular Restore Console Add-on you can retrieve any file, folder or document of any Guest VM from an image backup* of the Host. It offers you simple wizards for every restore scenario, reducing them to simple steps that take just minutes to complete. It's literally a 2 minute, 2 step process:
---
Add extra layers of protection for Exchange Server, SQL Server and Rsync
It's easy to add extra layers of protection using the BackupAssist Exchange Mailbox Add-on to protect individual Microsoft Exchange Server mailboxes, the BackupAssist SQL Add-on for near-continuous protection of Microsoft SQL Server databases, or the BackupAssist for Rsync Add-on module for automatic bandwidth-efficient Internet based backups.
*Excludes backups to NAS and rdx / REV drives
---
Microsoft Hyper-V CSV backup and restore
Microsoft Windows Server 2008 R2 includes a new feature for Hyper-V called Cluster Shared Volumes (CSV). CSV allows multiple virtual machines to share volumes (disk LUNs), which is especially useful in a failover scenario. CSV also allows live migration of a running virtual machine from one Hyper-V server to another without user interruption.
Multiple virtual machines can be created on a single cluster shared volume (CSV) and owned by different nodes. (Hyper-V servers are configured as nodes in the cluster.) All nodes can access the CSV simultaneously.
BackupAssist can back up the virtual machines that are configured in cluster-shared volumes.
---
Customer testimonials
"We have 3 servers, 2 with [competitor] and one that wasn't backing up. I was looking for a solution for the 3rd server but didn't want to pay for [competitor].
"Your application was... much easier to use with the same level of protection."
"I'm glad that we found BackupAssist. Whilst we realise the importance of backups ourselves, it has always been difficult to sell to clients in small to medium business when we had to include software with a $1000+ price tag. BackupAssist will make the sale much easier not only because of the price tag, but because we KNOW that it works so well."
"NTBackup scheduling is clumsy and unreliable. Client did not want to spend on [major competitors'] products."
"Another Computer consultant evaluated, purchased and recommended this software to Network Integration Solutions Inc. Since then, we are so impressed, that as far as I'm concerned any of our new servers will have a license of BackupAssist to make the media management simple."
Relied on by