Hyper-V Backup and Restoration
Using an intuitive interface and wizards to create backups and perform restores, BackupAssist makes Hyper-V easy.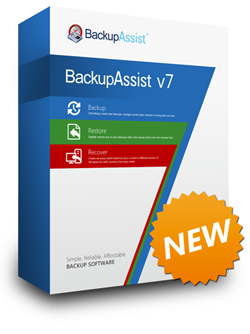 Back up
Exchange and SQL Servers in Hyper-V and CSV environments
while they are running
Back up
multiple Hyper-V guests (virtual machines) and the host machine
in one backup
Protect your
Hyper-V environments
with imaging, replication or archiving backups
Restore data from inside the host or an entire guest using the
BackupAssist Restore Console
Restore selected data from inside a guest using the
BackupAssist Granular Restore Console
.
Recover your Hyper-V environments with System Protection backups using a custom recovery environment.
Support for technologies such as
Volume Shadow Copy Service (VSS), Microsoft Replica
and
Cluster Shared Volumes (CSV)
.
---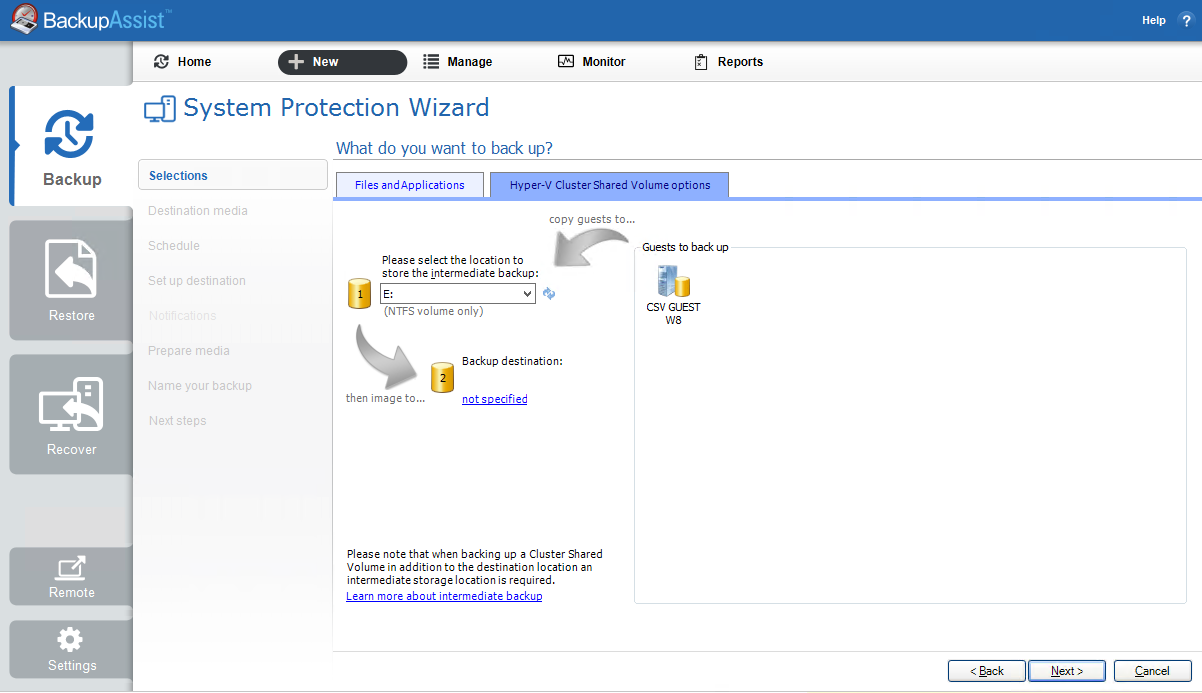 System Protection is the most feature-rich Hyper-V backup with support for granular restores, Data containers, CSV environments and can be used to recover both guests and hosts.
---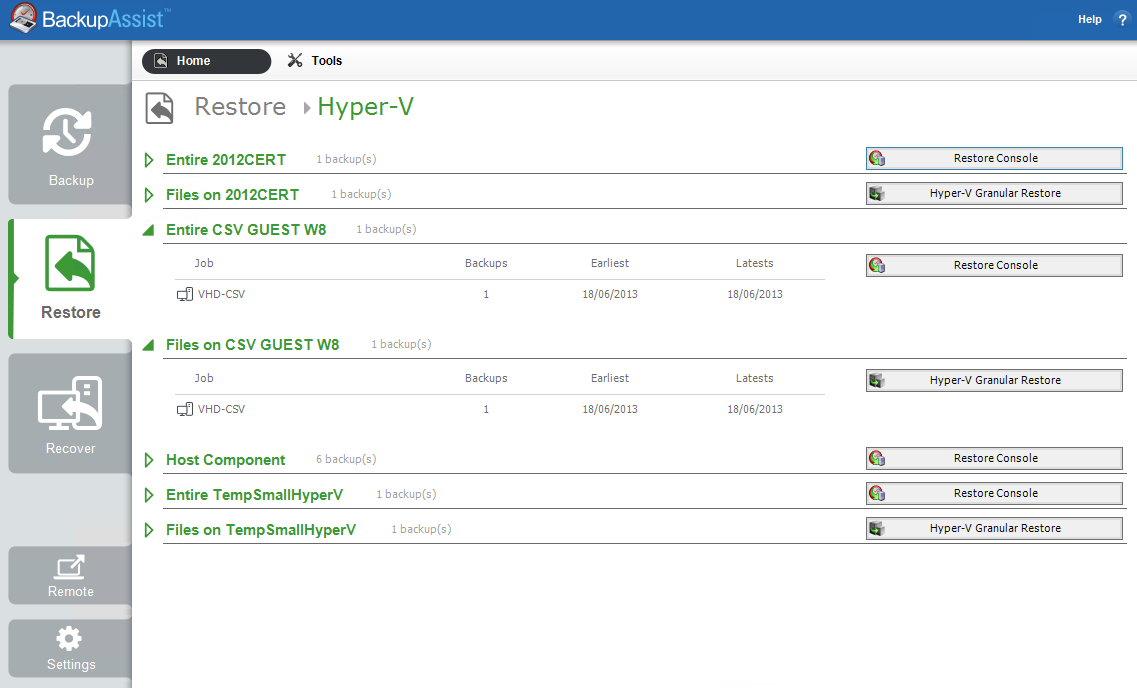 Restore Hyper-V hosts and guests
Using a single System Protection backups you can restore data from a Hyper-V host and from multiple Hyper-V guests.
These backups can also be used to:
Perform a granular restore of data from within any of the guests in the backup using the Hyper-V Granular Restore tool. Other products often require a separate backup of each guest to do this.
Restore the entire guest or files from within the host machine using the same backup, from the BackupAssist Restore Console.
---
Support for Windows Server 2012 Hyper-V technologies
BackupAssist stays current with Windows Server 2012 Hyper-V technologies so that you can enjoy the latest benefits:
Supports Microsoft Replica: Replica is a Windows Server 2012 technology that allows you to mirror a Hyper-V guest in another location, across the internet. BackupAssist supports Hyper-V Replica to back up and restore a primary Hyper-V guest using any backup type.
Supports Windows Server 2012 CSVFS format: CSVFS allows a cluster to differentiate CSV storage from other NTFS storage. BackupAssist supports backing up Hyper-V guests located on CSV storage using the CSVFS file system.
Supports Volume Shadow Copy Service (VSS): VSS is a Microsoft Service that creates a copy of an application's data so that data can be backed up while the application is running. BackupAssist is VSS-aware and can detect Exchange, SQL, Hyper-V and SharePoint.
Supports Cluster Shared Volumes (CSV): CSV is Microsoft's implementation of server clustering, providing a shared disk that can be used by any guest (virtual machine) in the cluster. BackupAssist supports Hyper-V CSV on both Windows Server 2008R2 and 2012 machines (but CSVFS and NTFS file systems cannot be mixed).
---
Value driven solution
BackupAssist's model makes value a key consideration in three significant ways.
Backups: All the standard backups types used to back up Hyper-V environments (System Protection, File Protection and File Archiving) are included in the standard BackupAssist licence. More importantly, licensing is for the host machine that BackupAssist is installed on, meaning a license is not required for each guest (virtual machine) on that host.
Restores: The Hyper-V Granular add-on (allows you to perform granular restores of guests) is licensed at the host level. That means one license will cover every virtual machine on that Hyper-V host.
Integration: Our other add-ons such as the Exchange Granular Restore add-on and the SQL add-on (for transactional SQL backups) work seamlessly with BackupAssist's Hyper-V protection solution.
---
Specifications
Supported OS
Supported Host platforms: Windows Hyper-V Server, Windows Server 2012/R2 Core with Hyper-V Role, Windows Server 2008/R2 Core with Hyper-V Role, Windows Server 2012/R2 with Hyper-V Role, Windows Server 2008/R2 with Hyper-V Role.
Supported Guest platforms: Windows Server 2012/R2, 2008/R2, 2003; Windows 8/7/Vista/XP
BackupAssist VM Granular Restore Console: Windows Server 2012/2008/2003; Windows 8/7/Vista
Licensing
Hyper-V Backup
Included in BackupAssist v7
Hyper-V Restore
Hyper-V Granular Restore Add-on
Method
One-pass VHD image backup of the Host using Windows Server Backup to disk based devices.
Resources
System Protection for Hyper-V Whitepaper

Windows Server 2012 R2 Hyper-V support is for non-CSV environments.
---
Customer testimonials
"We have 3 servers, 2 with [competitor] and one that wasn't backing up. I was looking for a solution for the 3rd server but didn't want to pay for [competitor].
"Your application was... much easier to use with the same level of protection."
"I'm glad that we found BackupAssist. Whilst we realise the importance of backups ourselves, it has always been difficult to sell to clients in small to medium business when we had to include software with a $1000+ price tag. BackupAssist will make the sale much easier not only because of the price tag, but because we KNOW that it works so well."
"NTBackup scheduling is clumsy and unreliable. Client did not want to spend on [major competitors'] products."
"Another Computer consultant evaluated, purchased and recommended this software to Network Integration Solutions Inc. Since then, we are so impressed, that as far as I'm concerned any of our new servers will have a license of BackupAssist to make the media management simple."
Relied on by