Bandwidth Efficient Internet Backup using Rsync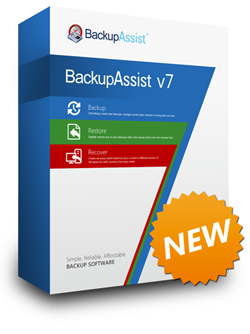 Industry standard, bandwidth efficient in-file delta transfer protocol
Schedule and monitor Rsync easily
You can choose where to host your data
VSS support — open files and VSS applications (Exchange Server, SQL Server, SharePoint)
Exact file backups including NTFS security and attributes
Licensing
BackupAssist for Rsync
Supported Microsoft OS
Windows Server

(2012, 2008 R2, 2008, 2003)

;
Windows 8, Windows 7, Windows Vista, Windows XP
Method
File Protection based backups (in-file delta) to any Rsync server. VSS support.
Easily achieve fully automated, set-and-forget and secure offsite backups using the proven and popular Rsync protocol. Internet backups are perfect as an extra layer of data protection in addition to backing up locally for Disaster Recovery.
Combined with BackupAssist's easy to configure UI, powerful email reporting and VSS support, BackupAssist for Rsync allows you to take advantage of the world's most widely deployed in-file delta remote backup protocol in an easy-to-use Windows based application.
BackupAssist for Rsync also offers the added advantages of AES-256 encryption for military-grade security, automatic data compression and it's fully 'cloud' ready. You can backup to any Rsync cloud provider you choose, including Amazon S3 Rsync, or RSync.net. (Or easily set up your own Rsync Server for self-hosted backups.)
---
Industry standard Rsync protocol
Using an industry standard backup method gives you:
Proven backup technology, developed for over 10 years and deployed on millions of computers
Maximum interoperability and compatibility
Over the wire encryption when using Rsync over SSH
Backup to any local, remote or cloud hosted Rsync server
---
Easy setup and monitoring
BackupAssist makes it easy to set up your Rsync jobs:
Fully managed in our intuitive User Interface
Easily define which files & directories to backup
Backup local files or network files
Specify file exclusions (e.g. *.mp3) to save space
Saves time: no messing with complex command line parameters, manual scripting, cygwin versions
Overcomes the Windows limitation on 253 character filenames
Monitoring the ongoing success of your backups is even easier thanks to the email reporting feature that emails you at the conclusion of each backup.
---
Easy scheduling and backup history
You can set up BackupAssist to run in one of two modes:
Simple mirror — where your backup device contains an up-to-date mirror of your original file system
Backup with history — where a range of backups and version history are available (such as Monday–Friday, Week 1–Week 4 etc). The transparent single-instance-store means that unchanged files are only stored once, saving space and making the backups faster.
Of course, this is all managed behind the scenes by BackupAssist!
---
Advanced features for reliability
BackupAssist also provides more advanced features, such as
NTFS metadata: NTFS streams, such as alternate data streams and security data, will be saved to a separate file on the backup destination and then added back to the file as part of the restore process when using the BackupAssist Restore Console.
Bandwidth throttling
Automatic retries on network drop out
VSS support — open files and VSS applications (Exchange Server, SQL Server, SharePoint)
Backup reports that can be emailed to the system administrator
Run scripts before and after the backup
Exact file backups including NTFS security and attributes
---
You can choose where to host your data
Unlike virtually all other remote backup solutions, BackupAssist's solution allows you unparalleled flexibility in choosing where to host your data. Basically, any Rsync Server can be used to host data:
Internally hosted — at a different branch office, to the boss' home
Externally hosted — at a 3rd party data center, Amazon, or one of our recommended hosting partners
Windows or Linux machines
Selected NAS devices can be used for a turnkey solution (read more)