SQL Backup and Restoration
Backup and restore specific databases or a complete SQL Server with BackupAssist SQL Protection.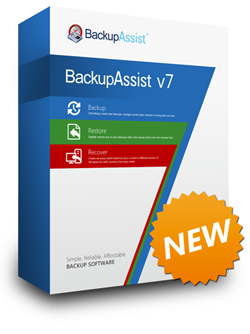 "Backups-that-keep-up"
- using transactional logging, the BackupAssist SQL Add-on performs near-continuous backups of SQL databases.
Live SQL backups
means BackupAssist backs up your SQL databases while they are in use.
BackupAssist uses a
single backup job
to backup multiple SQL Servers (local and remote) from one machine using a single BackupAssist installation.
Whether you operate a
SQL Hyper-V
solution or run SQL in a CSV environment, BackupAssist SQL Protection will backup and restore your SQL data.
Create a tailored solution to restore your company's data or a damaged SQL master database.
BackupAssist SQL Protection has a dedicated and fully-featured, SQL restore tool.
---
Scalable SQL backups
BackupAssist automatically scans your local machine for any SQL Servers and presents them for selection using a drop down list. Once your selection is made, a list of databases will be displayed for each SQL Server.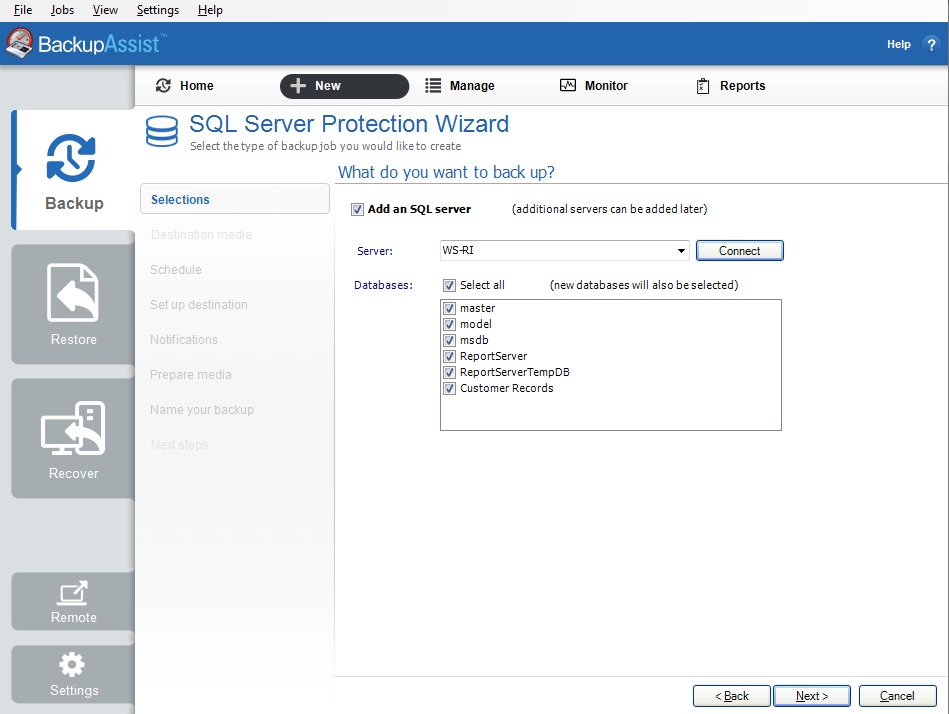 BackupAssist displays both SQL System and company databases so you can make a customised SQL backup job that meets the needs of your backup strategy.
---
Layered SQL protection
Complete SQL Server protection is achieved using two built-in scheduling options:
Basic backup: can be run daily to provide a complete backup of your SQL Server.
Transactional schedule: performs transaction log backups throughout the day.
Transactional backups run every 15 minutes to ensure your data is protected. This is an ongoing backup of your SQL Server which provides near-continuous protection without the high costs of clustering or replication.
The layers of protection can be scheduled to work together:
Before the day begins with a full backup of all databases.
During the day with data changes backed up every 15 minutes.
---
Customize your backup destination
Save your SQL Protection backups to secure, fixed media with a selection of custom options to manage:
How long the backup are kept for
How many backups are retained
How much storage space each SQL backup can use.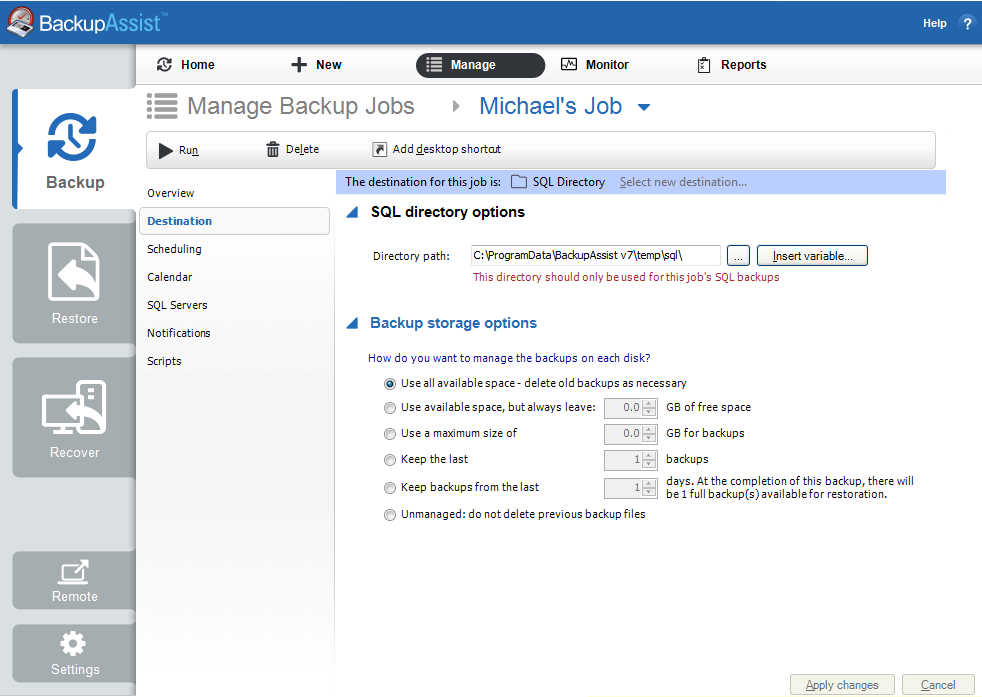 Managing multiple backups means you have multiple restore points if one of your backups is corrupted or unusable.
---
Restore your SQL databases to a point in time
BackupAssist uses a dedicated SQL Restore tool to compliment the SQL Protection backup.
The SQL Restore Tool can:
List local SQL Servers you can restore data to
Restore to a remote SQL Server by name or IP address
Restore a master database, for example, if your SQL database is being recreated
Restore to specific company (user) databases
Display transactional backups in order to restore to the closest point in time
Migrate databases from one server to another
Restore individual database transactions
Restore incomplete transactions
Roll a restored database, file, file group or page forward to the point of failure
---
Specifications
Licensing
BackupAssist SQL Server Add-on
Supported SQL Servers
SQL 2014, 2012, 2008 R2, 2008, 2005 & 2000
Method
SQL backup in standard .bak format.
Resources

---
Customer testimonials
"We have 3 servers, 2 with [competitor] and one that wasn't backing up. I was looking for a solution for the 3rd server but didn't want to pay for [competitor].
"Your application was... much easier to use with the same level of protection."
"I'm glad that we found BackupAssist. Whilst we realise the importance of backups ourselves, it has always been difficult to sell to clients in small to medium business when we had to include software with a $1000+ price tag. BackupAssist will make the sale much easier not only because of the price tag, but because we KNOW that it works so well."
"NTBackup scheduling is clumsy and unreliable. Client did not want to spend on [major competitors'] products."
"Another Computer consultant evaluated, purchased and recommended this software to Network Integration Solutions Inc. Since then, we are so impressed, that as far as I'm concerned any of our new servers will have a license of BackupAssist to make the media management simple."
Relied on by