Drive Imaging Backups using
Microsoft Windows Server Backup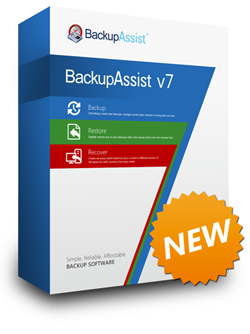 Excellent protection for complete server recovery
Hardware independent restores from bare-metal
Fast differential backups
Full, comprehensive reporting and monitoring
Ideal as a primary backup solution
VSS support — open files and VSS applications
(Exchange Server, SQL Server, SharePoint Server)
System State backup on Microsoft Windows Server 2008 R2
Licensing
BackupAssist


(File Replication, Zip & NTBackup also included in this license.)

Supported Microsoft OS
Windows Server

(2012, 2008 R2, 2008)

;
Windows SBS

(2011, 2008)

;
Windows 8

(Professional or Ultimate)

;
Windows 7

(Professional or Ultimate)

;
Windows Vista

(Business or Ultimate)

Method
Block level backup of volumes to disk based devices (HDD, rdx, REV, NAS) What about tape?
BackupAssist enables you to schedule and manage the block-level backup features available via the Microsoft Windows Server Backup utility in: Microsoft Windows Server 2008 family; Windows Small Business Server 2011/2008 family; Exchange Server 2010/2007; SQL Server 2008/2005; plus Windows 7/8 Professional and Ultimate editions; and Windows Vista Business and Ultimate editions.
A block-level image backup provides excellent data protection for your files and applications, as well as disaster recovery capabilities. The hardware independent restore (HIR) features allow you to completely recover a server to dissimilar hardware, at fast hard-drive speeds (e.g. 70–90 Gig/hr).
Combined with BackupAssist's easy to configure user interface, extended hardware support, powerful email reporting, and simple restore capabilities, you've got a complete drive imaging solution at the fraction of the price of the competitors, and with none of the hassles of manual scripting or scheduling wbadmin.exe.
BackupAssist delivers reliable Microsoft Windows Server backup and recovery designed for your growing small or medium business. With this Windows Server backup software, you can reduce business downtime, and ensure critical information on virtual or physical systems is always protected and restored in seconds.
---
BackupAssist builds upon Microsoft's block level backup engine, meaning that you can benefit from the features already present in the operating system:
Fast block-based imaging backups
Automatic space management on backup device (oldest backups are deleted when space fills up)
Restore using the Windows Recovery Environment — use the Windows install DVD or burn your own recovery disc
BackupAssist also adds significant functionality and overcomes numerous limitations as described below.
---
VSS application backup and restore
The Imaging engine includes fully integrated support for VSS application backup and restore. Microsoft applications such as Exchange Server, SQL Server, SharePoint and Hyper-V are all fully supported, as well as any other VSS-aware application that uses standard VSS restore methods.
Simply choose the VSS application that you want to back up from the list of detected applications. If you are running Microsoft Windows Server 2008 R2, you can even drill down and choose individual components (databases, storage groups, etc) to backup. Application restore is just as easy using the BackupAssist Restore Console: browse the contents of a backup and select the application(s) you want to restore.
---
Local System State backup on Windows Server 2008 R2
On the Microsoft Windows Server 2008 and earlier operating systems, you could only backup the System State by performing a Full System Image. Now on Windows Server 2008 R2 you have the option of scheduling System State-only backups, which have a much smaller footprint than a Full Image backup. You can use your System State backup to restore your system settings in the event of system failure or corruption.
---
Full reporting and monitoring
BackupAssist's reporting gives you confidence that your backups are working and notifies you whenever problems occur. This means that you'll never be left with silent failures. Reports can be emailed to administrator(s), showing:
Vital statistics — backup size, time taken
Overall status — success, errors or warnings
Detailed log
Media usage graph — shows how full the backup device is
Past backup versions — lists the available past versions of backups on the device
---
Extended hardware support
Whereas the in-built wizards in Microsoft Windows Server 2008 only support USB HDD, BackupAssist supports USB HDD as well as NAS, Local disk, eSata disk, rdx drives (such as the RD1000 and QuikStor) and Iomega REV.
In addition, BackupAssist allows you to see the contents of the backup device (it keeps the drive letter), and it manages things like "Safely remove hardware" and "Add new hardware" to both eject and inject devices to make sure that the backup runs. Additionally, it will also cater for situations where a USB drive's drive letter changes.
---
Media rotation and device checking
The concept of media rotation involves having multiple backup devices in a "pool", and swapping these devices onsite and offsite. The purpose is to have a variety of restore points, and to have them stored in different physical locations. Unfortunately, the Microsoft wizards provide you with absolutely no help in managing this process.
In contrast, BackupAssist contains numerous important features that help maximize your backup's effectiveness by minimizing human error and enhances the reliability and effectiveness of the entire system.
Built-in media rotation strategies.
Best practices at the click of a button.
Specific instructions sent to the backup operator.
Checking is done every night to make sure that the backup devices are rotated according to plan.
If the wrong device is connected, BackupAssist can be configured to either backup anyway and display a warning in the backup report, or to abort the backup altogether.
---
File based backup
If you are running Microsoft Windows Server 2008 R2, you can select individual files and folders stored locally for backup. If you are running Windows Server 2008 you can only select entire local volumes for backup.
However, BackupAssist provides a solution for Windows Server 2008 and earlier operating systems — within the product (and at no extra cost) is File Protection — a separate backup method that allows you to copy files, complete with VSS support and full NTFS security / extended data stream support, from any location to any other location.
File based backup capabilities
Simple approach based on exact, VSS aware file copying — includes open files and VSS applications (Exchange, SQL, SharePoint)
Backup local and remote (network) files
---
Restoring your Windows Server data
There are two restore methods for a Microsoft Windows 2008 system.
Files, applications and volumes: use either the BackupAssist Restore Console or the Windows Server Backup Recovery Wizard to mount an image and restore individual files, applications or entire volumes.
Bare metal restore: use the Windows DVD (or a recovery CD) to perform a restore from your image. This is an automated process — simply configure a few simple options and Windows will automatically rebuild the system.
---
Customer testimonials
"We have 3 servers, 2 with [competitor] and one that wasn't backing up. I was looking for a solution for the 3rd server but didn't want to pay for [competitor].
"Your application was... much easier to use with the same level of protection."
"I'm glad that we found BackupAssist. Whilst we realise the importance of backups ourselves, it has always been difficult to sell to clients in small to medium business when we had to include software with a $1000+ price tag. BackupAssist will make the sale much easier not only because of the price tag, but because we KNOW that it works so well."
"NTBackup scheduling is clumsy and unreliable. Client did not want to spend on [major competitors'] products."
"Another Computer consultant evaluated, purchased and recommended this software to Network Integration Solutions Inc. Since then, we are so impressed, that as far as I'm concerned any of our new servers will have a license of BackupAssist to make the media management simple."
Relied on by