Hardware Support
BackupAssist has extensive hardware support for each backup solution which means you'll be able to get the most value from your current storage systems.
---
Strategies for specific hardware types
BackupAssist simplifies hardware detection by providing built-in support for a wide range of backup destinations. Use the backup job wizard to select the type of hardware you want to use. BackupAssist provides a configuration screen specific to that device and presents you with backup schedules and media rotation options that match the hardware.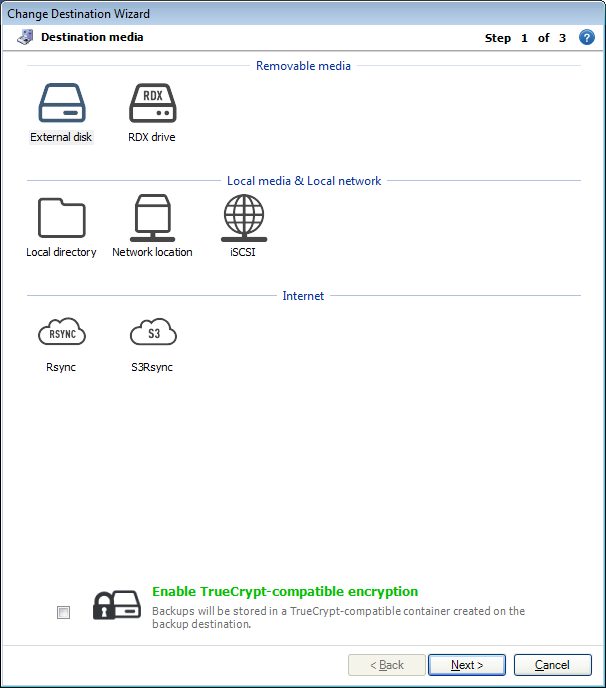 Want to encrypt your data on the hardware? Simply tick 'Enable TrueCrypt encryption' when you create a File Protection of File Archiving backup.
Want to retain historical information in your image backups? Simply tick 'Enable Data container' when you create a System Protection backup.
---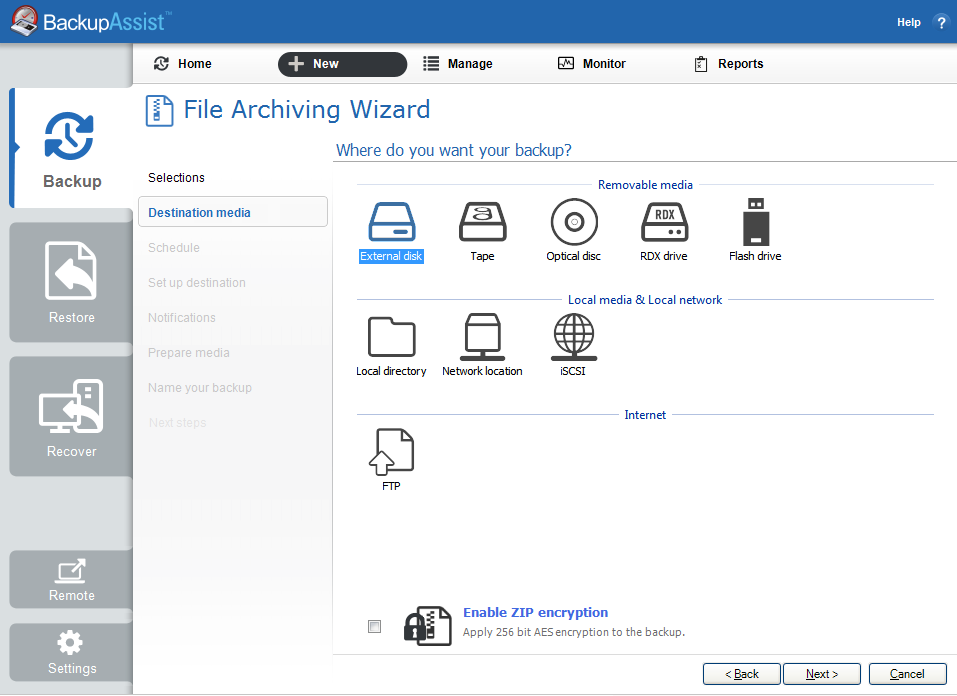 Tape drive support
To maximize your investment in tape you can use BackupAssist with the BackupAssist Zip-To-Tape Add-on for a cost-effective tape backup solution.
Zip-To-Tape Add-on benefits include:
Support for a wide variety of standalone tape drives
Safe and secure backups with 256-bit AES encryption
Multi-threading architectures for fast tape backups
Real-time data compression to tape drives
VSS support for consistent open file backups
More information is available on the File Archiving page.
---
Seamless USB hard drive support
BackupAssist solves the two biggest problems with USB HDD backups:
Safely eject the hard drive after the backup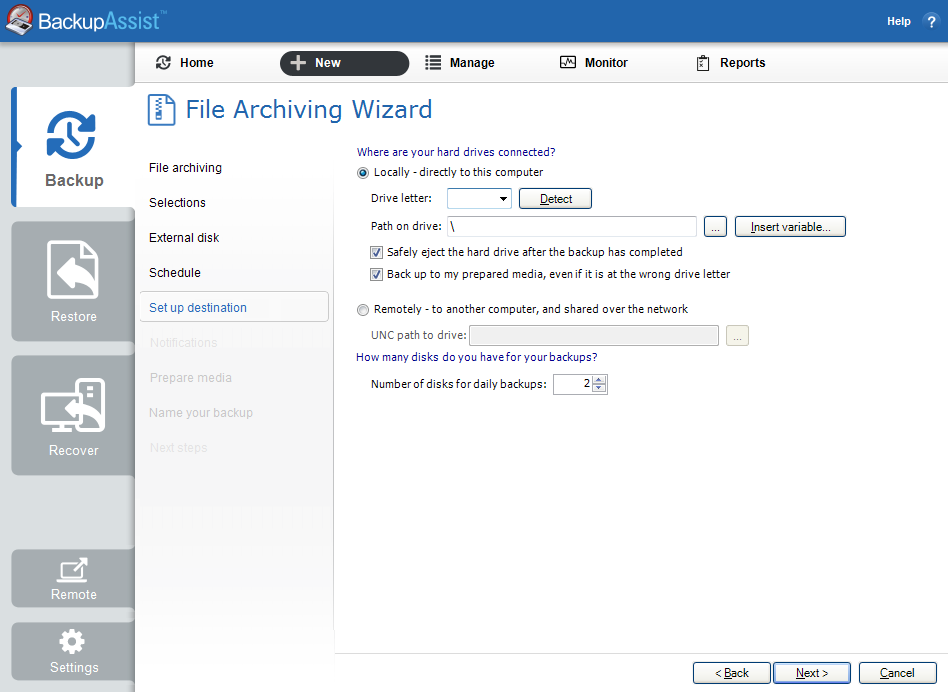 Backup errors when the OS has changed the drive letter. With media tracking, BackupAssist backs up to prepared media even if the drive letter has changed.
---
Hardware destinations supported
BackupAssist supports a wide variety of media types and hardware destinations. The hardware destinations available when creating a job depend on the backup type that was selected during the previous step of the job creation wizard.

The table below outlines the media that BackupAssist supports and the associated backup types.
---
Customer testimonials
"We have 3 servers, 2 with [competitor] and one that wasn't backing up. I was looking for a solution for the 3rd server but didn't want to pay for [competitor].
"Your application was... much easier to use with the same level of protection."
"I'm glad that we found BackupAssist. Whilst we realise the importance of backups ourselves, it has always been difficult to sell to clients in small to medium business when we had to include software with a $1000+ price tag. BackupAssist will make the sale much easier not only because of the price tag, but because we KNOW that it works so well."
"NTBackup scheduling is clumsy and unreliable. Client did not want to spend on [major competitors'] products."
"Another Computer consultant evaluated, purchased and recommended this software to Network Integration Solutions Inc. Since then, we are so impressed, that as far as I'm concerned any of our new servers will have a license of BackupAssist to make the media management simple."
Relied on by