The National Institute of Standards and Technology (NIST) plays an integral role in creating frameworks for information security, making it a vital resource for MSPs. However, for small MSPs, it can be a challenge navigating the many standards, frameworks and guidelines published by NIST to make sense of what is relevant to them. This blog post aims to simplify what NIST recommends for MSPs when it comes to data backup and recovery.
NIST has published a specific set of guidelines for MSPs for data backup and recovery. It is a comprehensive guide that covers critical planning, implementation, and testing considerations. This includes many concepts that you may already be familiar with, including determining the RPO and RTO for your client's organization.
The goal of the article is not to repeat the NIST guide but instead, to highlight and elaborate on a few crucial points that are sometimes overlooked by MSPs at their detriment.
Adopting the 3-2-1 Backup Strategy
Secure your data without complex maneuvers with the power of the 3-2-1 Backup Strategy – a NIST-backed, simple, yet rock-solid tactic.
It involves keeping three versions of your data: one original and two backups. Diversify your backup media and ensure at least one backup is stored off-site or in the cloud. This is a critical step, as it guarantees your data remains secure, even if a disaster occurs at your primary location.
NIST supports this strategy because it drastically slashes your data loss risk. It's a flexible shield against diverse threats and failure scenarios. Furthermore, adopting this strategy will make it much easier to meet requirements set by most cyber insurance companies.
But how do you make this strategy work for you smoothly? With BackupAssist, you can easily support various media types and cloud platforms. Plus, you can automate your backup schedules, taking the pain out of keeping your data copies up-to-date.
Implementing Diversity in Backup Media / Location
Shield your data from diverse threats and site-specific disasters with a diversified backup strategy, as strongly recommended by NIST.
To attain true media diversity, it's critical not to rely solely on one type of storage. Don't put all your backups on a single disk, for example, because if that disk fails, you risk losing all your data.
Instead, store backups on varied media – think local drives, removable media, or even the cloud. This approach broadens your safety net. Including off-site storage, such as a distant data center or cloud, ensures your data stays secure even if disaster strikes your main site.
With BackupAssist, this process is straightforward. You'll have a wide range of media types and storage spots, from local servers to the cloud, at your disposal. Plus, you can automate scheduling across different media, ensuring your data backup system is diverse, secure, and always up-to-date (develop a best practice backup strategy here).
Adopt the 'Go Bag' Strategy for Secure Storage and Management of Critical Recovery Information
Unlock smooth data recovery while keeping unauthorized users at bay by properly managing your critical recovery information.
Consider this: a 'go bag' filled with your essential encryption passwords, account credentials, access keys, and recovery tools, all stored securely and ready to deploy in a crisis. These critical credentials and keys are not just backup elements; they are your access points to your backup data. Lose them, and you face the risk of being locked out of your own backups, adding to the crisis.
The 'go bag' strategy, recommended by NIST, is your lifeline in emergency data loss scenarios, enabling swift and efficient system restoration.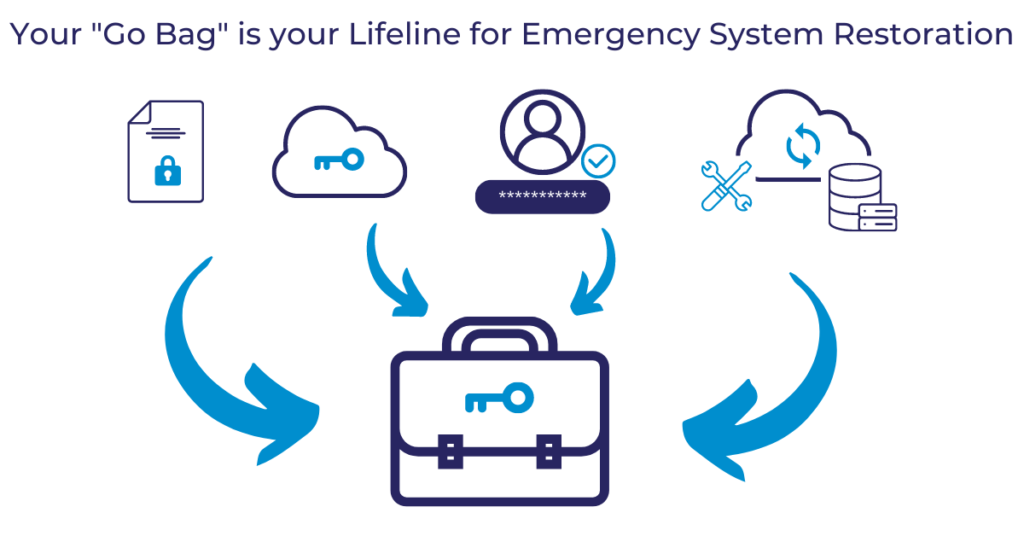 Testing Backups and Having a Data Recovery Procedure
Eliminate all uncertainty from your data recovery plan with regular backup testing. Consistent testing, both manual and automated, ensures that your backup files are in good health and that recovery processes function efficiently. NIST advocates for this as it gives you insights into how long it would take to retrieve files and restore systems, exposing any gaps in your process.
Meet BackupAssist's Test Restore feature. Not only does it help you spot corrupted backups before disaster strikes, but it also fully automates the testing process. With just a few clicks, you can set up weekly or daily testing for your backups and receive a comprehensive report on the results.
This means you're always in the loop about your backup's health, thanks to the reading and integrity tests. You'll know if the files can be read from the backup or if they have been tampered with since the last backup. The best part? You can provide these reports as proof of your backup's reliability.
Conclusion
Secure your clients' cyber-resilience with a bulletproof data backup plan, transforming security concerns into peace of mind. Whether it's perfecting the 3-2-1 strategy, diversifying your backups, locking down vital recovery information, or rigorously testing your backup and recovery procedures, every step fortifies your data resiliency.
The NIST guide delves even deeper, involving aspects such as planning for Recovery Time Objective (RTO), Recovery Point Objective (RPO), and data retention. It's an abundant source of knowledge that thoroughly addresses all facets of data backup and recovery planning.
The best part? With BackupAssist, embracing these guidelines is a breeze. Its suite of features takes the guesswork out of implementing a best practice data backup strategy. As your reliable partner, BackupAssist ensures your backups are always safe, adhering to NIST-recommended best practices. It's a win-win for you, and a win for your data security.