The steps to backup Office 365 from GoDaddy using BackupAssist 365 are very similar to the "regular" Office 365 from Microsoft.
There are just a few small changes in the best practices. The GoDaddy version of Office 365 offers a different administration console to Office 365.
This walk through will show you the process.
Walk through – backing up mailboxes
1. Download and install BackupAssist 365.
2. Click to set up a new backup task, and in the popup, click on "Office 365"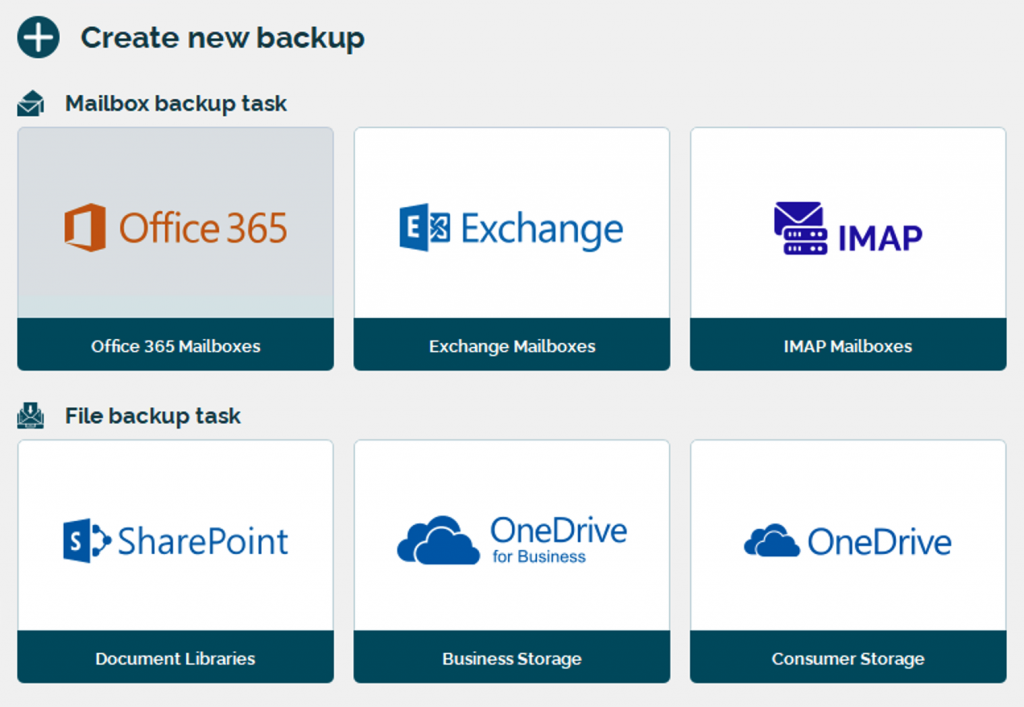 3. Give your backup task a name. If you have many different backup tasks, it can be useful to use a code in the name.
Also, choose whether to do a single-user or multi-user backup. If you have more than one mailbox in your account, choose multi-user.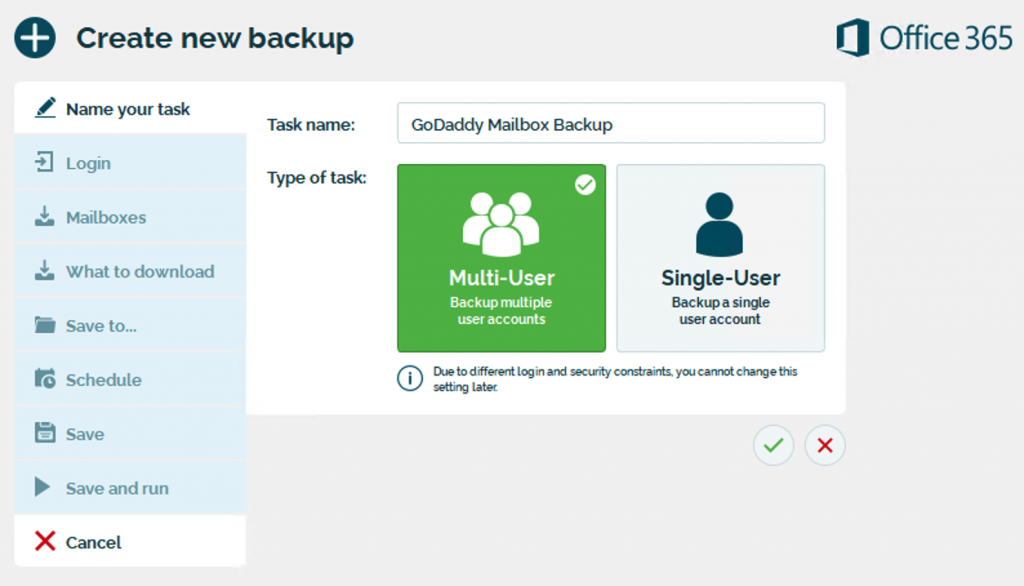 4. Using the default setting (Modern Authentication), click on the button to launch a web browser to log in.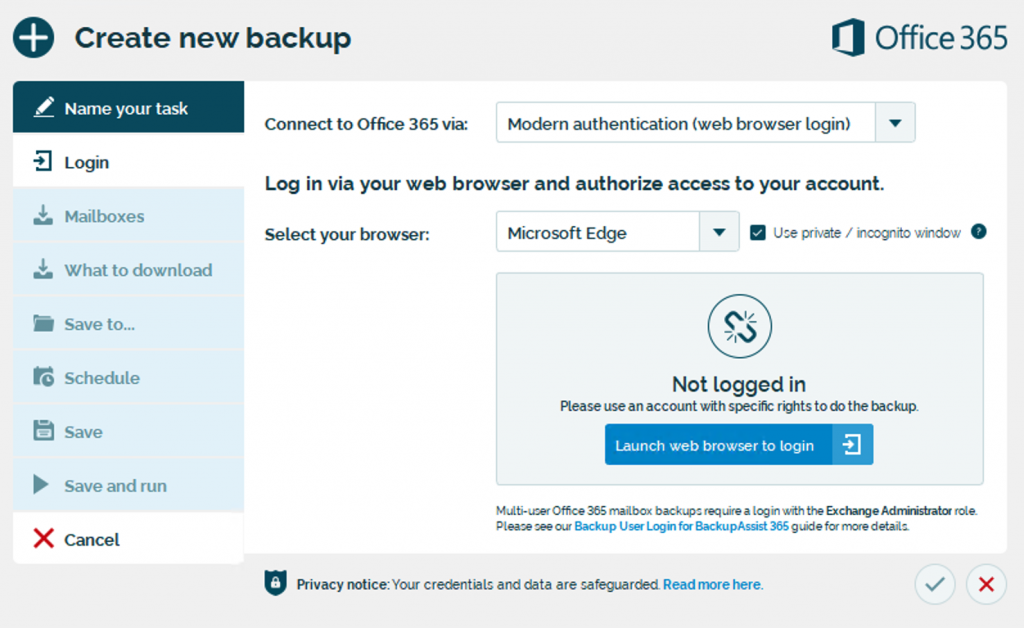 5. This will take you to the regular Microsoft Office 365 login page. Type in your administrator account email address. (Please refer to our best practices at the bottom of this page.)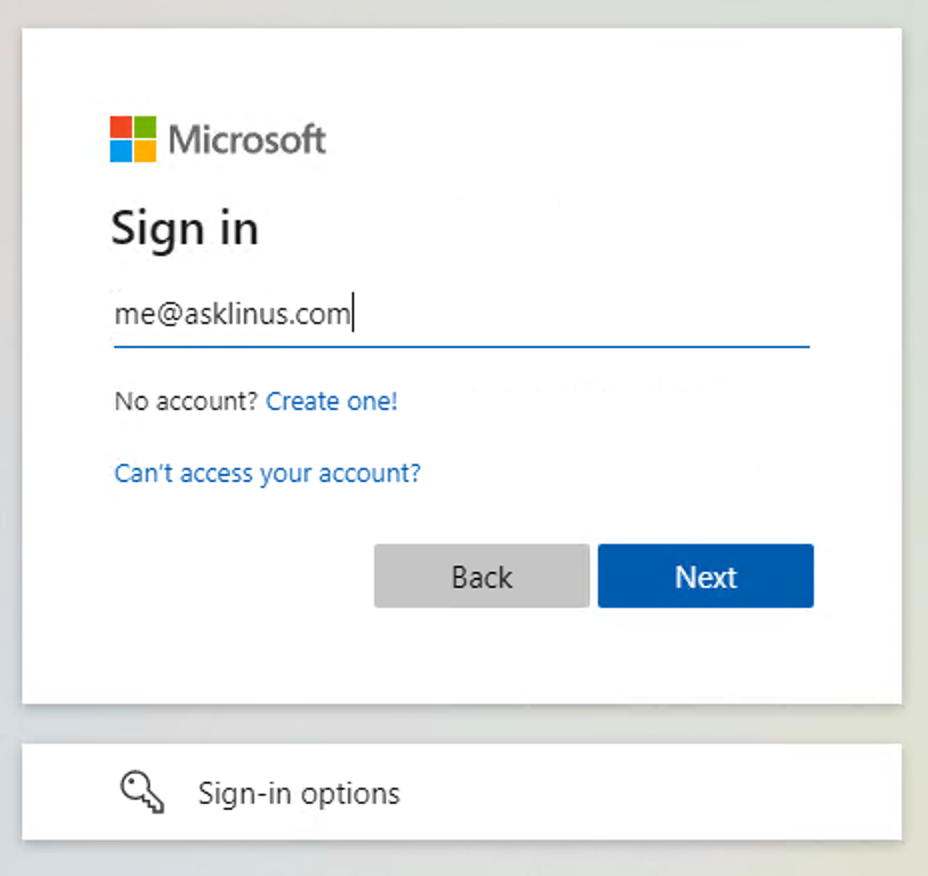 6. Office 365 will recognize this is a rebranded account, so it will then take you to GoDaddy's sign on page. Type in your password, and sign in. You'll then go through a multi-factor authentication process with GoDaddy.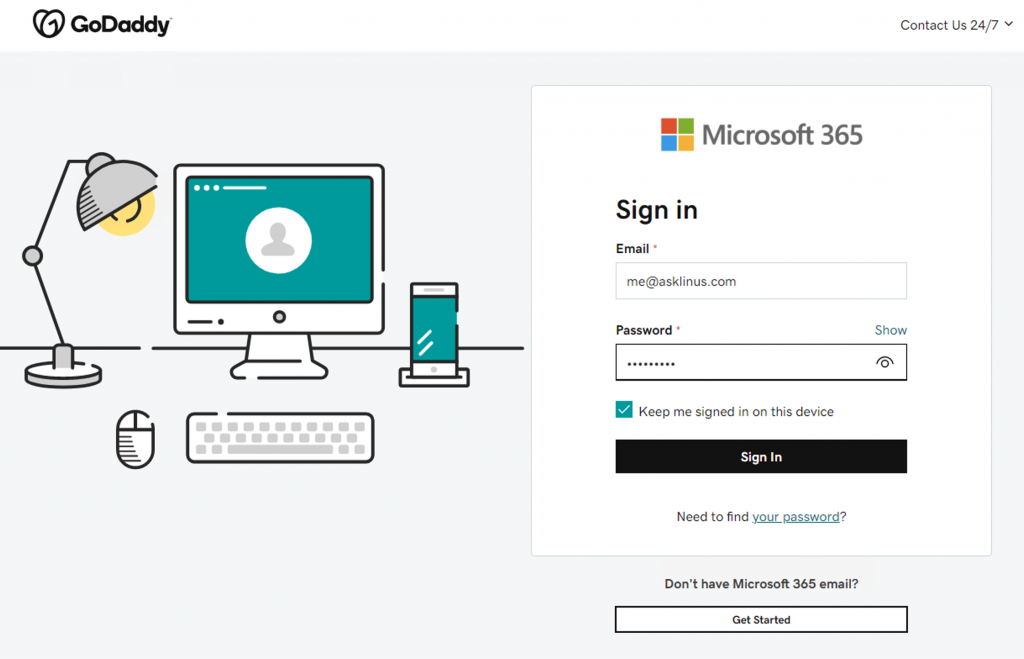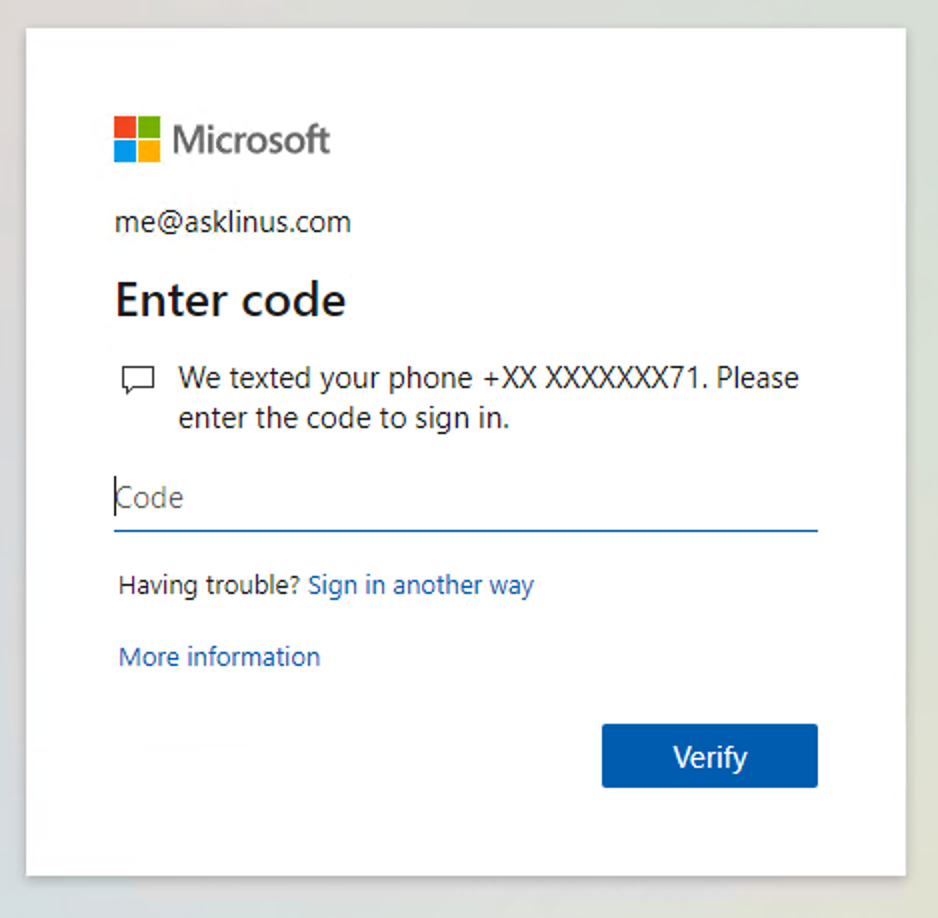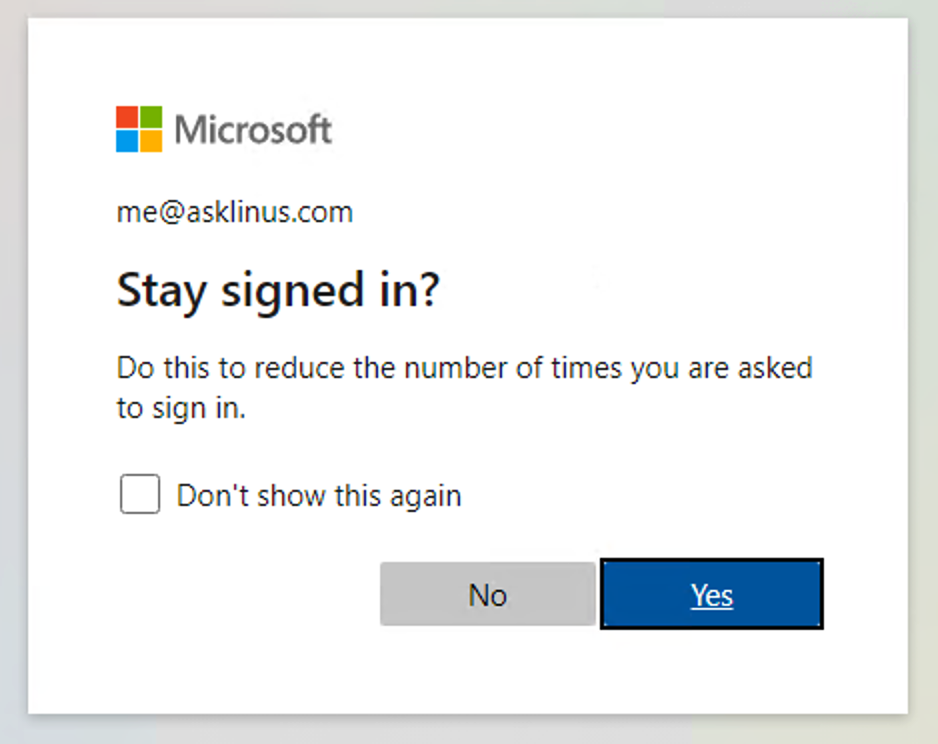 7. After authenticating, the web browser will direct you to a BackupAssist 365 success page. If you chose a multi-user backup, there will be two browser tabs opened. After all is successful, close the browser window to go back to the GUI.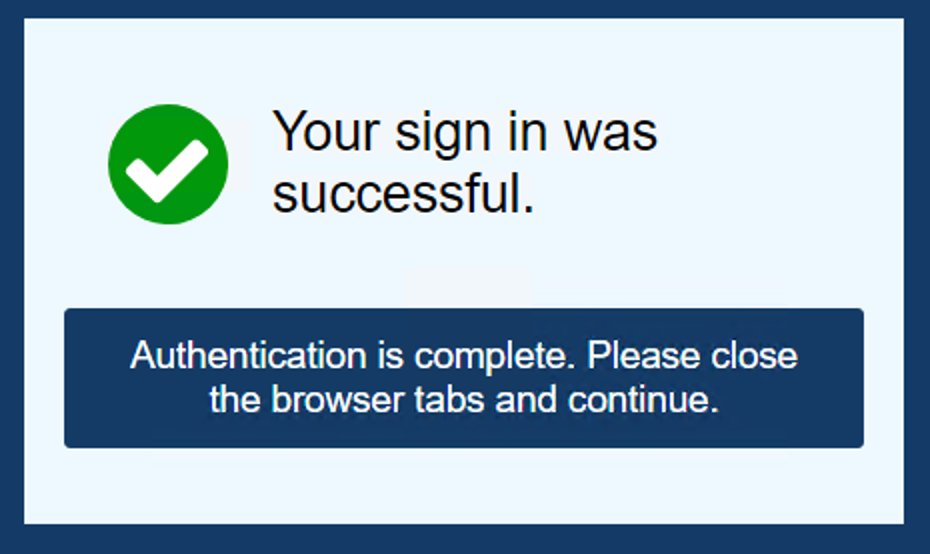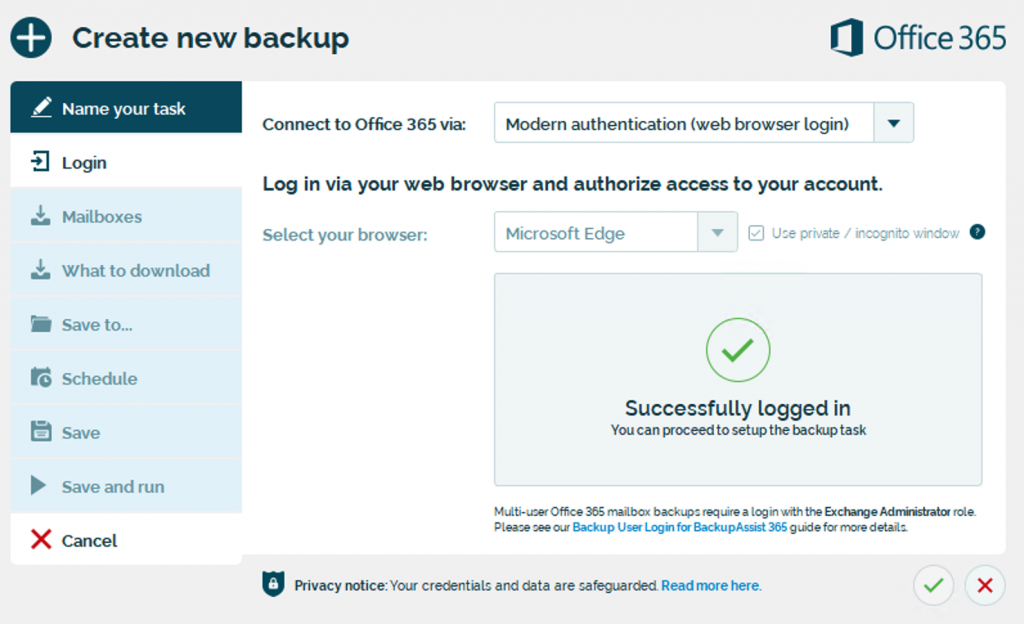 8. In the GUI, click the tick, and BackupAssist 365 will test the connection to Microsoft 365.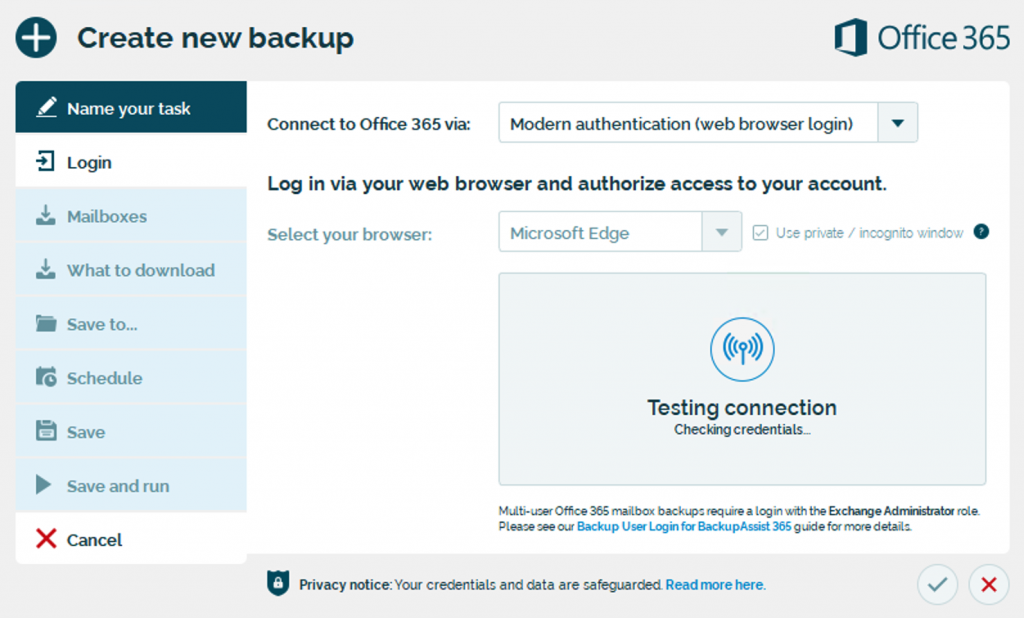 8. In the mailbox selection screen, select which mailboxes to back up. You can back up user mailboxes and shared mailboxes. In the example screenshot, the "sales@domain.com" email address is a shared mailbox.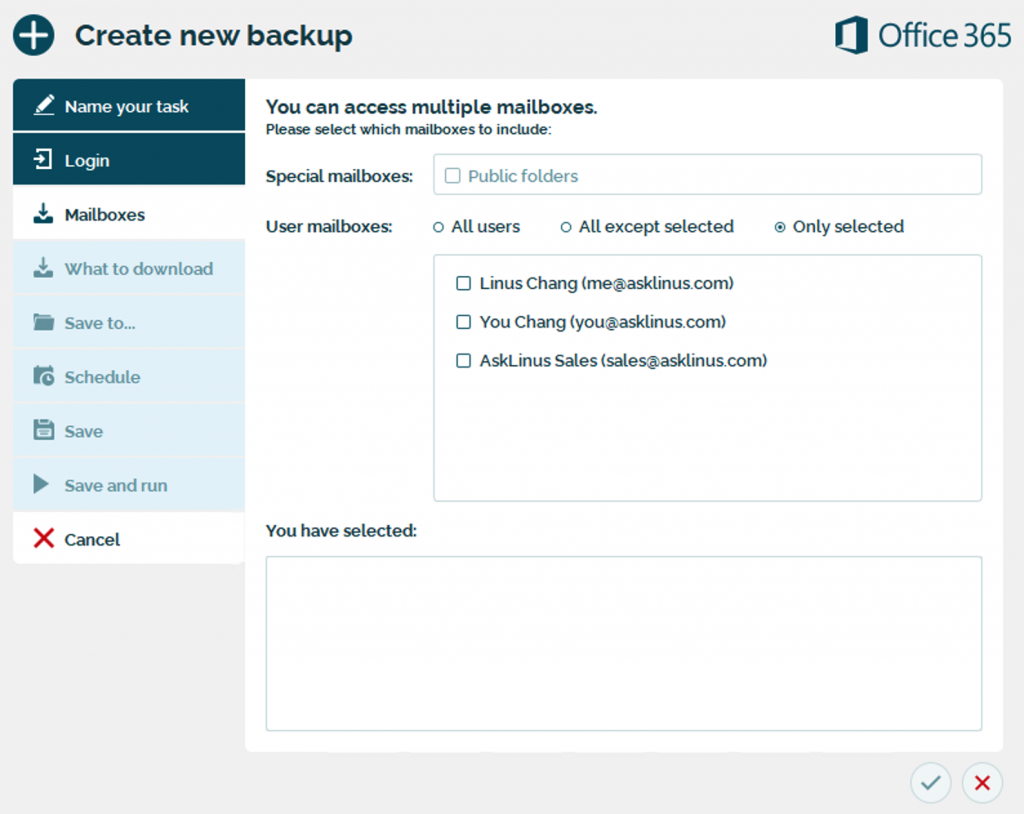 9. After you complete the backup, you can find your PST files in the backup directory. Large backups with multiple big mailboxes may take hours or even days to complete.

Changes to backup best practices required for GoDaddy's Office 365
Our regular best practices for backing up Office 365 mailboxes are available on our guides page. It involves creating a new backup user logon just for the purposes of backup.
However, the GoDaddy administration console does not permit you to create additional unlicensed users. Therefore, to backup mailboxes in Office 365 from GoDaddy, you will need to log into your tenant using an administrator account. This is usually the first account you created on your tenant.
Using that login, you will be able to back up other user mailboxes and shared mailboxes.
If you have any questions or comments…
We'd love to hear from you. Simply drop us a chat message, a phone call or an email, and we'll be happy to talk.