Have you heard of CryptoSafeGuard? If you have, that's great! If not, we'll quickly bring you up to speed.
CryptoSafeGuard is our new tool designed to actively protect your backups from ransomware. That way, even if your whole system is compromised, your backups are protected.
What a lot of people wanted was the ability to manually scan their systems for ransomware at any time. And so, with our 10.2 release, we added just that!
Performing a Manual Scan
Go into the BackupAssist console and click on the Backup tab. You'll notice there is now an option called 'Run CryptoSafeGuard Scan'.
This option is as straightforward as it sounds. It allows you to scan a system on demand for potential ransomware threats, and to whitelist files that cause a false positive result.
Just click on the button to open the Manual Scan screen. From here, you can select the files and folders you want to scan. This means you can scan just one or two, individual drives, or your whole system. (Shown below)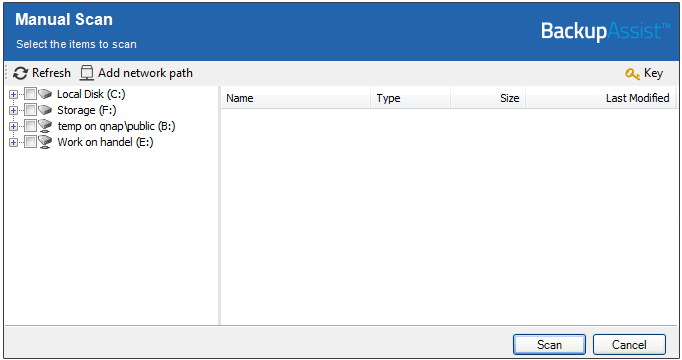 Once you're done selecting what you want to scan, just hit the scan button. Simple, right?
If you've got a lot of data or multiple backup jobs, it may be easier to run a single manual scan to check your whole system before your backup jobs run. The reason for this is it allows you to whitelist any false positives for all your backup jobs ahead of time.
And that's it. You now know how to perform a manual CryptoSafeGuard scan with BackupAssist!
CryptoSafeGuard is an exclusive feature bundled with our BackupCare service, along with priority support and free product upgrades. Make sure your backups are actively protected from ransomware!