Next you will see that a great deal of thought and attention has been put into the creation of educational content that will contribute to your success with the BackupAssist suite of products as well as provide valuable insights on becoming cyber-resilient.
In a world filled with increasingly sophisticated threats to the valuable data at the heart of your business, it is extremely important to have a source of information that you can trust as you safeguard your organization (or your customer) against  data breaches, ransomware attacks, system failures, and data corruption or destination inaccessibility.  The most conspicuous change is our expansion in the array of solutions available from the BackupAssist brand.  We provide more than one solution to address each of your unique backup needs.
BackupAssist v.10 is BackupAssist Classic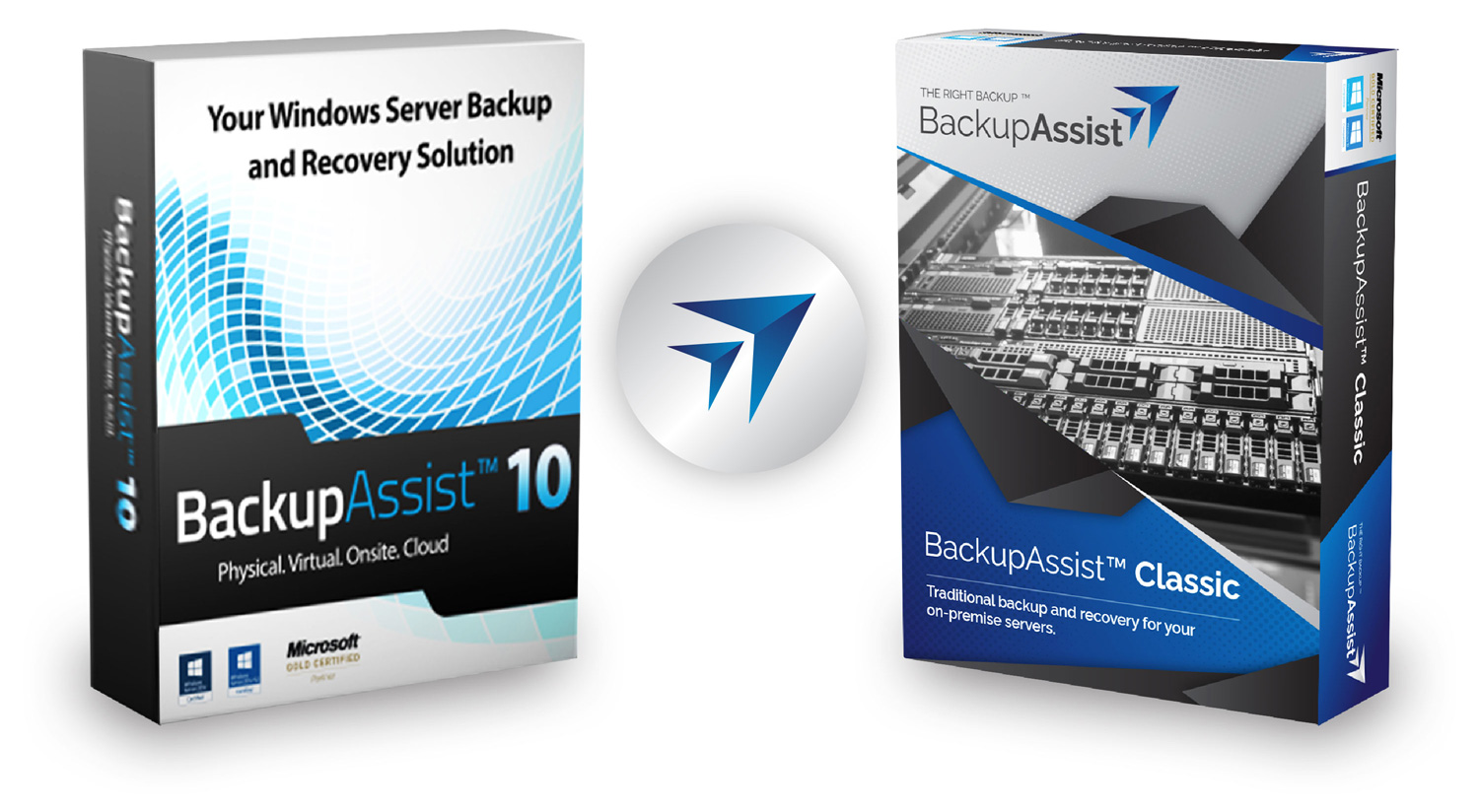 Renaming our flagship software, BackupAssist v.10 to BackupAssist Classic, has been a slight source of confusion. So, to clarify, this is the same, time-tested software that has been creating reliable backups and providing peace of mind to those responsible for administering an effective disaster recovery plan. It uses a perpetual license and is capable of backing up all your Windows applications, providing Bare Metal Recoverable (BMR) backups. This award winning software continues to have a full complement of add-ons to support SQL Continuous backups, Hyper-V Advanced Recovery, Exchange Granular Restore, Cloud Backup, and Tape Archiving. Same great solution and the addition of CryptoSafeGuard and on demand upgrades become available with active BackupCare.
BackupAssist ER is the latest server backup solution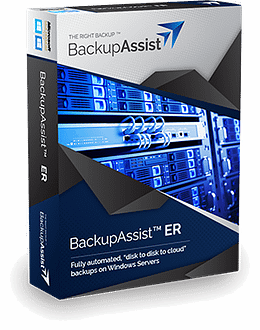 Meanwhile, our latest software, BackupAssist ER gives you many of the benefits and recovery options provided by DRaaS and appliance- based systems, at a fraction of the cost. You get the added layer of resilience offered by image to cloud technology and can be implemented in both physical and virtual server environments. Numerous recovery tools are provided – including granular file recovery, the VM instant Boot recovery, the full Bare Metal Recovery, and granular recovery of Exchange Server items. The "E" and "R" of BackupAssist ER describes numerous benefits of the product:
Express Recovery for predictable recoveries of all major disaster scenarios, locally or in the cloud.
Expert Response with clear recovery procedures for calm measured corrective action.
Eliminate Ransoms with CryptoSafeGuard shielding your backups from ransomware, so that you can restore.
Extended Retention contributes to easy recordkeeping with data that can be retained and retrieved even years later.
Protect your home workstation with BackupAssist WFH
BackupAssist WFH addresses the risks presented when valuable company data is created and modified remotely by an ever-increasing remote work force. It provides easy, business grade backup protection for work from home computers. This is a reliable cyber-resilience solution that can be easily deployed by I.T. administrators for any number of home-based employees. Company data gets backed up to company storage, so you maintain complete control. Record-keeping is easy and security is assured. Both data and systems are backed up, mitigating risk of data loss. Poor home cyber-security issues are eliminated as a risk to business continuity.
Business class cloud assurance with BackupAssist 365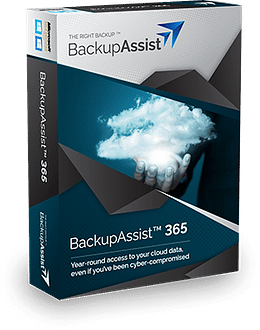 Finally, BackupAssist 365 is our answer to protect the only copies of your data being hosted beyond your reach.  The cloud offers many productivity and business benefits but ultimately it is still susceptible to human error, equipment failure, or malicious activity. "Don't keep all of your eggs in one basket!"  Tried and true advice for sure. However, you can be protected by automatically downloading your remote data to a local destination using BackupAssist 365.
If anything goes wrong with your cloud accounts, you can restore from your local backup copy. Now you can easily archive your data for compliance and recovery without incurring the additional costs for cold-storing your data in the cloud. Your data is your data. BackupAssist 365 gives you full control, downloading it like clockwork, straight from your cloud account to the destination of your choice. No third parties can ever see it.
The BackupAssist you have come to know and trust is not going anywhere!
It is now BackupAssist Classic and we have simply expanded to provide you with a full suite of versatile solutions, including BackupAssist ER, BackupAssist WFH and BackupAssist 365. The combination of these tools ensure a thorough provision of solutions for your cyber-resilience. If your organization gets cyber-punched, we are here to make sure that you can quickly get up and back to business.