Normally, when you back up to an external device, Windows records your backup history on that device. Because of this, you can choose any day in the past you performed a backup, and then restore your data as it was on that particular day.
However, when you back up to a NAS or RDX drive, Windows can't keep this backup history. You will only be able to restore your data from the last backup unless you create a data container.
Read more about the benefits of data containers and how to create one in this article.
What is a Data Container?
A data container is an image file that backups can be stored in. When you first set up a backup job, you can elect to create one by ticking the data container box when you select your backup destination.
Why Create One?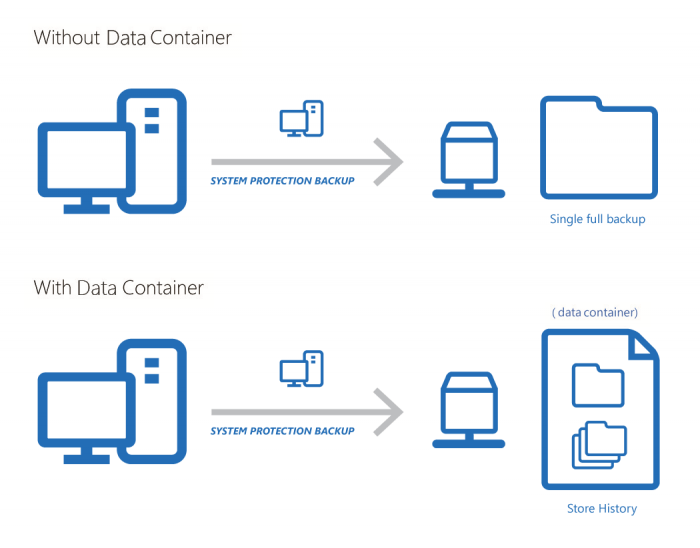 Maintaining Backup History: BackupAssist's System Protection creates full and incremental image backups. Your backup history for these jobs is maintained by Windows VSS, but VSS is not supported on RDX drives and NAS devices.
Data containers easily overcome this VSS limitation. Since data containers are supported by Windows, it can store and manage the VSS history inside the container with your backup, even though the data container itself is in a destination that Windows cannot manage.
RDX Granular Restores: When windows detects an RDX drive, it compresses the data that is being backed up. That means individual files cannot be restored from this backup. But, by using a data container, Windows sees the destination as a local drive and does not compress the data – allowing you to freely restore individual files from your backup.
Portable Backups: On Windows 2008 R2 and later, you can copy System Protection image backups to other devices. However, only the last backup can be restored. The reason for this is that while you copied the backup from one device to another, you didn't copy the Windows VSS information (and therefore the backup history) which is needed to restore from the incremental image backups that you have made. However, if your backup is in a data container, you can move the data container, which contains both the backup and its VSS history, so you can perform a restore from any of your incremental image backups.
Creating a Data Container Backup Job
Data containers are only available for System Protection backups to the following destinations: RDX drives, network locations, local hard drives and external disks.
For a comprehensive step-by step guide on how to create a data container, click here.