Backup Software for SMB
1/3 the price, none of the complexities, 300% the functionality − simply better protection than the rest.
Summary: Backup software for SMB (small / medium business) has a reputation for being expensive and unnecessarily complicated. Many products are designed for large enterprises, often being overkill for smaller businesses.
However, there's now a solution − BackupAssist. Thanks to smart design and a clever twist, we've put together a package that's substantially cheaper, simpler, and provides more capabilities than many competitors. In short − far better protection at a lower price. No wonder it's used in 93 countries!
So the burning question on most people's minds is: how do we do it?
All will be revealed… but firstly, let's substantiate some of our outrageous claims!
1/3 the price
The base version of BackupAssist is just $249, which is less than 1/3 the price of major competitors. And once you start factoring in add-ons and agents for application backup, the savings really start to add up.
Let's look at a case study: Backing up Windows Server 2008:
Type of backup
Backup

Assist

solution
Major competitor -
for Windows Server
Major competitor -
for SBS
System protection
$249
$1279.51
$812.11
File-level protection
$1162.66
$928.96
Exchange (complete)
$1162.66
Exchange brick level
$129
SQL
$129
$1162.66
Rsync
$129
Not available
Not available
Complete suite
$636
$4767.49


(not including Internet backup capabilities)

$1741.07


(not including Internet backup capabilities)
Note: Prices quoted are in US Dollars. BackupAssist also available in Euro, Pounds Sterling and Australian Dollars.
And not only is our product substantially cheaper than the competitors', but our licensing model simply makes more sense. The base product contains the most commonly used features of system protection, file protection and Exchange. And as for our additional modules – you only pay for what you use.
Plus, BackupAssist will integrate and work with reasonably priced hardware, so you can tailor your solution to the requirements of the client. It will work with everything from entry-level USB Hard Drives, through to rdx drives and NAS. Tape drives are also supported on Server 2000 and 2003 (tape drive support for 2008 is in development).
Avoids the complexities…
BackupAssist is designed specifically for smaller organizations. This means that we keep the UI simple, design complete strategies into the software, and fully handle all the required automation tasks. We put the hard work in, so you don't have to!
For example, if your strategy involves doing a daily backup to removable hard drives, and you have 5 hard drives in your pool (1 monthly, 2 weekly (alternating) and 2 daily (alternating)), BackupAssist will:

10 essential ways that BackupAssist streamlines eSata backups
Manage the media rotation system according to your setup

Email the user to insert the correct disk during the day
Before the backup:
Perform a hardware scan to detect new hardware to guarantee it's detected

Reassign the device's drive letter if it's incorrectly assigned

Check that the correct disk is inserted. If not, either warn the user and backup anyway, or abort the backup
Perform the backup itself
During the backup:
Automatically delete old versions of backups if the disk becomes full, or according to your settings

Monitor the progress of the backup
After the backup:
Perform a 'safely remove hardware operation' to allow safe removal of the disk

Collate and email / print out the report
The entire process is automated, so you're left with a reliable and streamlined process.
And that's just what we do for one particular type of hardware. Our support for a wide variety of hardware devices (including rdx, REV, eSata HDD, USB / 1394 HDD, tape, NAS) is unmatched.
300% the functionality
Most backup software specialise in just one area:
Drive imaging / system recovery, OR
File and application based backup, OR
Internet / offsite backup
However, BackupAssist has functionality for all 3 and is the only single product available that can do all three... and do them exceptionally well (note: drive imaging available on Server 2008 only).

And our centralized monitoring service helps link all your jobs from all your installs together into one easy-to-read daily summary.
Just imagine – a single, simple-to-use UI that manages all your backup needs. One vendor that backs their product with legendary customer service, including free email support, with a guaranteed timely response, and friendly phone support for all technical and sales related queries; and with offices in the United States and Australia you're sure to reach us at an hour that's convenient for you.
Technologically better protection
While we've spoken about price, simplicity and functionality, what we haven't yet mentioned is that much of our backup technology is superior to alternatives available in the marketplace.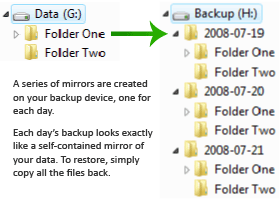 For example, our File Replication Engine, which is designed to allow you to backup or mirror your file system, features:
intelligent differential file copying
file-level single instance store
This means that:
it's an excellent solution for backing up large amounts of data in limited amounts of time
it allows you to store hundreds of days worth of backup history with very little space overhead
data can be restored easily both now and in the future, as it is not locked into obscure, proprietary formats.
Our Internet backup solution, based on the popular Rsync protocol, is unique in that it allows you to backup to any Rsync server. This means that you can backup to:
cloud hosted storage
servers located in other branch offices
servers in your own premises
a server in the boss' home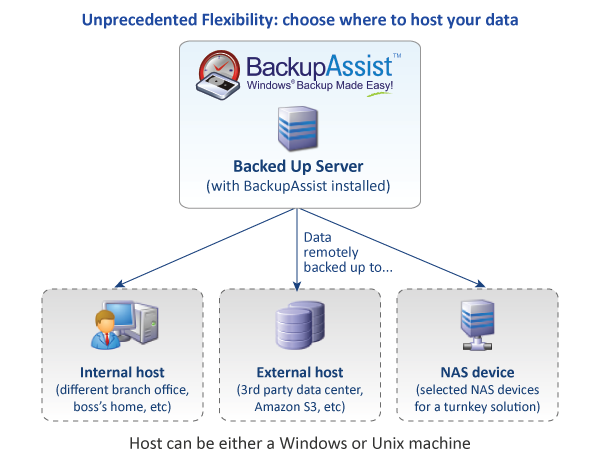 And because it's based on an open protocol, your backup server is free from licensing fees.
So what's the secret? How do we do it? Is there a catch?!?!
The secret twist to BackupAssist is simple: instead of spending massive amounts of money trying to invent a better backup system (ie. reinventing the wheel), we instead find and leverage the best available backup technologies, streamline the process and overcome any existing limitations.
We've found that many backup technologies have decent "internals". For example, the block-level backup engine in Windows 2008 is certainly capable and efficient for disaster recovery protection – especially given its speed and hardware independent restore capabilities.
However, it's handicapped by many basic flaws – for example, the wizards don't support eSata HDDs, local HDD or NAS; there is no email reporting system; there's no in-built media rotation system; only one scheduled job is allowed; and only entire volumes can be backed up.
And Windows Server Backup (running on Server 2008) is not capable of properly backing up Exchange 2007.
BackupAssist addresses all these critical shortcomings, so that the result is a fully streamlined, complete, and fully functional backup system.
Another example is that the Microsoft Exmerge tool suffers from a 2 GB PST file limit, making it unsuitable for brick-level exports. BackupAssist instead transcends this limitation thanks to clever design, and in fact enhances its usefulness by sorting mail by date range, thereby keeping PST files light and nimble.
And of course, we became famous 4 years ago for fixing the many problems with NTBackup and transforming it into a reliable backup system.
So if you're in need of a comprehensive backup solution for your business, look no further than BackupAssist: better protection at a better price. Now that's unbeatable!