Windows Server Backup and Disaster Recovery made affordable, reliable, simple and fast.
BackupAssist v7 - Designed for small and medium business.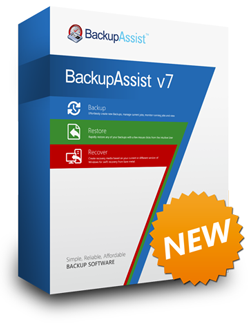 Supports the full range of Microsoft Windows Servers and Windows Small Business Server (SBS products) including VSS apps like Exchange, SQL Server and Hyper-V
NEW
Intuitive User Interface makes it
simple, easy and fast
to backup, restore and recover your data and systems
NEW
Supports
Windows 8
and
Windows Server 2012
NEW
Central Administration so you can run, manage and monitor multiple installations
Affordable and flexible pricing means you pay for what you need - buy a base license and then purchase an Add-on separately depending on your technical requirements
Trusted and reliable using proven and best available technologies
Cloud ready internet backups using Rsync or FTP
If you have a Windows server, you are going to need server backup software. Introducing the NEW BackupAssist v7 - server backup and disaster recovery software that is affordable reliable, simple and fast.
Affordable - priced from just $279.00 USD, BackupAssist is designed for the budgets of small and medium business
Reliable - when disaster strikes, you can rely on our sophisticated restore and recover technology
Simple - but enterprise grade, so you can have a backup strategy in minutes
Fast - just install and select a backup scheme to create your first backup
---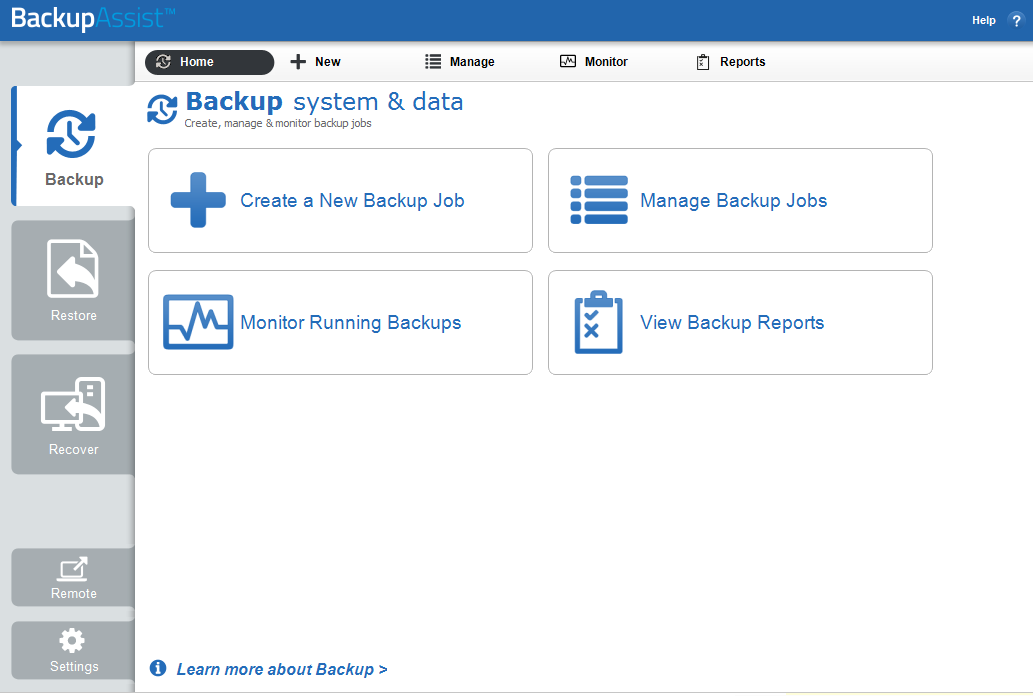 Backup: Effortlessly backup your IT infrastructure, both systems and data
BackupAssist makes the core decisions easy when you need to create a backup, guiding you through what to backup, where to backup and when to backup.
---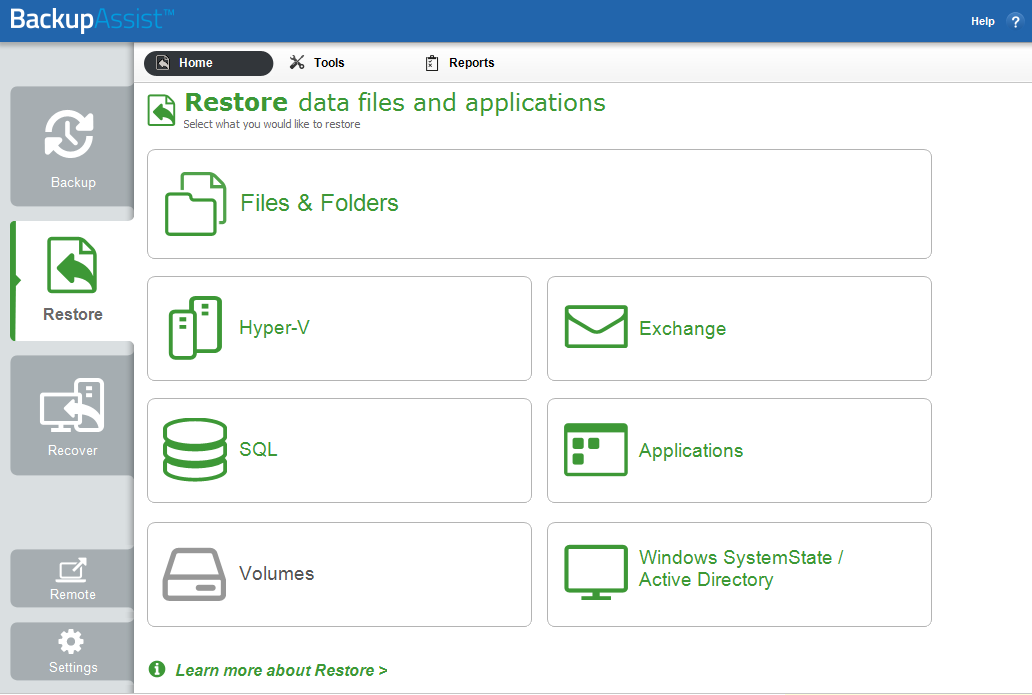 Restore: Rapidly retrieve your data from your backup
Restoring systems and data is stressful and nerve-racking at the best of times. BackupAssist cuts through this stress by stepping you through the process; helping you easily locate your backups, find the correct version and restore it to where you need it.
---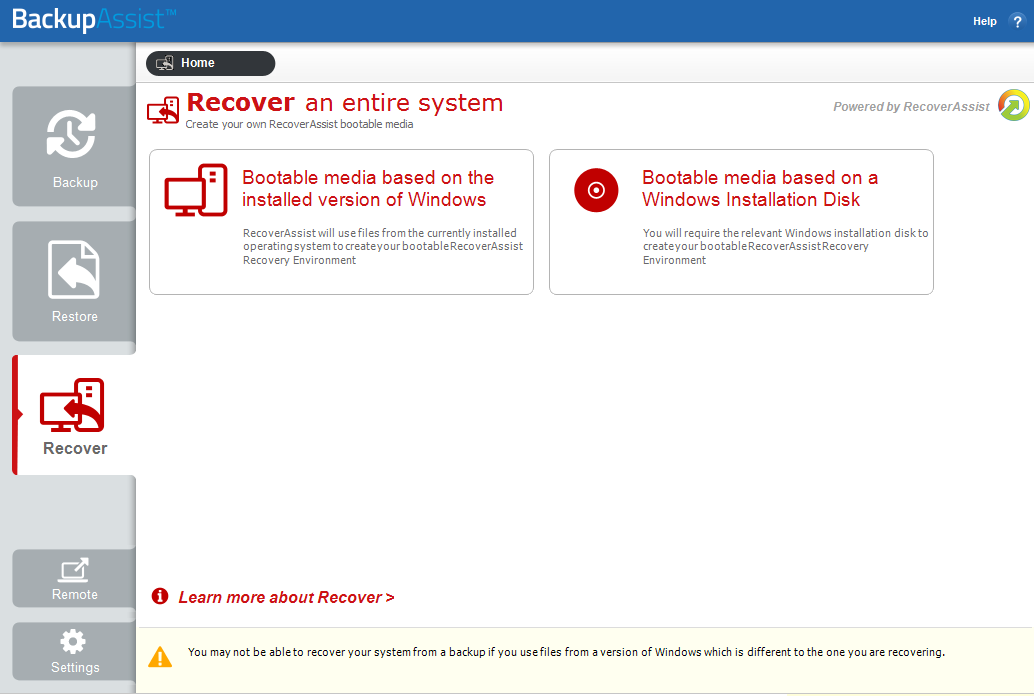 Recover: Swiftly rebuild your entire system from a backup
When disaster strikes and you have lost systems and data, the resulting downtime is very expensive. You can rely on BackupAssist to recover your systems and data so you can quickly get focused back on your business.
---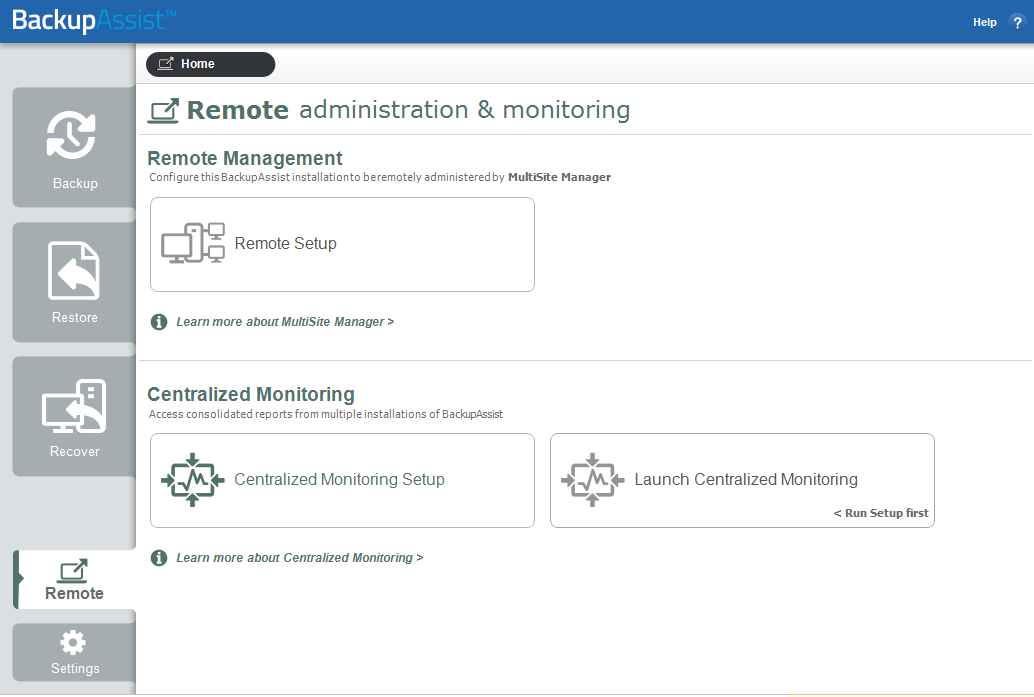 Remote: Remote administration and monitoring made easy
Time is money, and the remote tools built by BackupAssist make managing and monitoring multiple machines much quicker and simpler.
---
Customer testimonials
"We have 3 servers, 2 with [competitor] and one that wasn't backing up. I was looking for a solution for the 3rd server but didn't want to pay for [competitor].
"Your application was... much easier to use with the same level of protection."
"I'm glad that we found BackupAssist. Whilst we realise the importance of backups ourselves, it has always been difficult to sell to clients in small to medium business when we had to include software with a $1000+ price tag. BackupAssist will make the sale much easier not only because of the price tag, but because we KNOW that it works so well."
"NTBackup scheduling is clumsy and unreliable. Client did not want to spend on [major competitors'] products."
"Another Computer consultant evaluated, purchased and recommended this software to Network Integration Solutions Inc. Since then, we are so impressed, that as far as I'm concerned any of our new servers will have a license of BackupAssist to make the media management simple."
Relied on by