In fact, Microsoft themselves recommend 3rd party backups. Take a look at this quote from their services agreement:
"We recommend that you regularly backup Your Content and Data that you store on the Services or store using Third-Party Apps and Services."
Source: Microsoft Services Agreement
BackupAssist 365 can provide additional resilience and backup features to fill the gap left by Microsoft 365's default options and help businesses maintain more robust and accessible backups.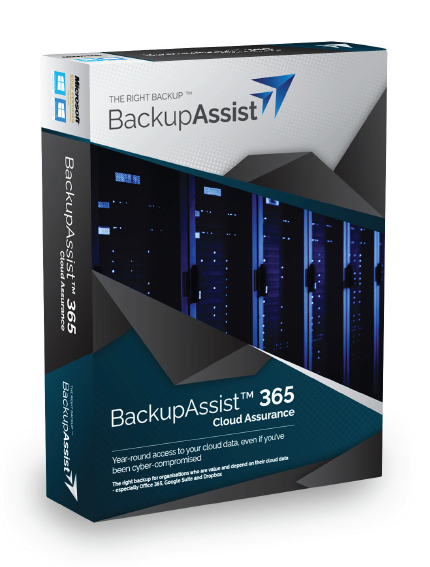 Specifically, BackupAssist 365 provides these additional protections beyond Microsoft 365:
› Back up data from deleted users automatically and without additional costs
Read more
› Easier recovery from ransomware and other malware
Read more
› Better protection against human error
Read more
To understand what those mean – and why they matter – let's take a closer look at each of those points.
Complete data sovereignty: You control your data
With any cloud service, the vendor ultimately controls your data. It resides in their cloud. It's in a format the vendor dictates, and you can only restore it using their processes. This approach to backups can be an advantage that offloads complexity from IT in some cases.
However, in other cases, it limits your ability to have your data in standard file formats, store the data on physical servers you control, and drill down to find individual files. Limited control of your data can also create a variety of compliance and data sovereignty challenges.
With BackupAssist 365, data is stored (in standard file formats whenever possible) on-premises or in a cloud storage location you specify, giving IT the control. This decouples your business continuity and compliance from complete control by a single vendor.
Additionally, with the complete control offered by BackupAssist 365, IT can easily search for — and restore – individual files.
Enhanced point-in-time recovery: Go beyond 30 days
Microsoft 365 enables point-in-time recovery for the last 30 days for Sharepoint and Onedrive for Business. While this is sufficient for some organizations, an alternative solution is a must for businesses that need point-in-time recovery beyond 30 days (for compliance, resilience against malware with long dwell times, etc.).
BackupAssist 365 puts you in control of your point-in-time recovery. It enables you to automatically capture backups, retain them as long as you want, and restore using any restore point you choose.
More robust data retention: Complete control over your policies
Microsoft allows businesses to configure and customize retention policies for compliance purposes. However, retention settings vary across apps, and some applications lack native retention settings. This limits your flexibility and makes remaining compliant more complex.
With BackupAssist 365, you're in complete control of your data retention strategy and can develop custom retention policies based on your compliance, risk, and retention requirements.
Back up data from deleted users simply and without additional costs
Microsoft's default data retention policies store data for deleted users for 30 days. While modifications to retention policies are possible, they add complexity to your backup workflows. With BackupAssist 365, deleted users' data is retained by default with no additional licensing costs.
Easier recovery from ransomware and other malware
Microsoft retention policies offer some protection against ransomware and other malware.
However, there are several major shortcomings:
You can only restore to a point within the last 30 days (limiting protection against attacks with long dwell times).
Sophisticated malware can change files until they've exceeded versioning retention policies (leaving only infected files).
Effectively configuring native retention policies to meet risk and compliance requirements is highly complex.
BackupAssist 365 makes it easier to recover from ransomware and other malware attacks because unaffected, off-platform backups can be quickly and easily restored. Additionally, off-platform backups won't necessarily be exposed to an attacker who compromises a Microsoft account.
Better protection against human error
People make mistakes. This goes for business users as well as IT staff. Depending on the app and use case, restoring deleted items using native Microsoft tools is capped at 30 or 93 days. In the real world, a window of just a few months can be far too short to protect against data loss.
With BackupAssist 365, backed up files can be restored independently of recycle bin and retention policies, protecting businesses from human error and malicious users.
Conclusion: BackupAssist 365 provides full backup protection
The built-in retention and backup features of Microsoft 365 are helpful and solve some real-world problems, namely short-term data retention and recovery. However, Microsoft's native retention and recovery features stop short of providing businesses with complete control of their backup strategy, long-term backups, and complete protection against malware, malicious users, and human error.
BackupAssist 365 fills that gap and enables you to complement Microsoft 365's basic retention and backup with robust, resilient, and flexible backups you control.
If you'd like to try BackupAssist 365 for yourself, you can sign up for a free trial here.