So you've seen the light, been through and virtualized your office. Job well done.
Now you probably thought about this before doing all that work but how are you going to backup all these new VMs? Well if backing up individual machines within your Hyper-V cluster is part of the plan, I've got something that might help you out: a quick walk through on how to do this with BackupAssist.
Firstly a couple of conditions: the operating system must be Windows Server 2008 R2 or later and the backup destination must support VSS.
When creating or editing the backup, you have to make sure it is data only – and the VM is the only thing that must be selected (similar to the screenshot below)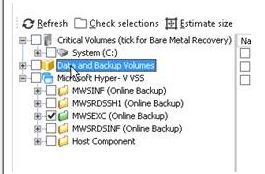 You'll still be able to select the C volume, but the Bare Metal Recovery option must be unchecked, as well as anything under the Microsoft Hyper-V VSS that does not carry the name of a VM.
Once you've created the backup you'll need to go through the Manage tab and edit the job to configure its Imaging Options. There is a setting here called VSS backup mode, and it must be set to COPY. Make sure the settings are saved.
All done! Your individual Hyper-V machine backup will now run as scheduled. As with all new backups you should test it to make sure that it runs on time and that it is backing up the correct data. A test restore is always a good idea too.