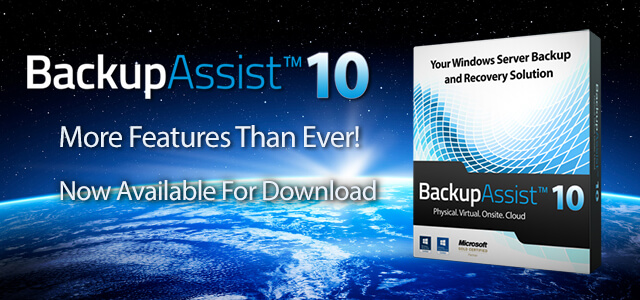 BackupAssist 10 is now available for download! But what are the new features—that's what you really want to know, right? Well, never before has there been such a gulf between software versions, making the upgrade truly worth it.
There are nearly a dozen new features in BackupAssist 10! Each one is designed to save your business time and money, and increase your data security. For those of you hanging out for a truly 'major' release before updating, it doesn't come bigger than this.
---
BackupAssist 10 Features
NEW

– 

Public Cloud Backup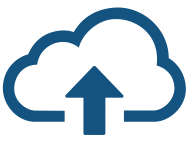 Are you ready for the cloud? BackupAssist 10 introduces the Cloud Backup Job, which allows you to backup files, folders, and apps to a public cloud destination!
We've made this new job as speedy as possible, so creating cloud backup jobs takes seconds – all you need is a cloud provider account.
Backing up to the cloud is very valuable for money conscious businesses, or those looking for added data security. It offers several advantages over traditional backup, such as:
•  Scalability: You can just buy more data storage space from your provider when you need it.
•  Affordability: The cost of some cloud storage space is often less than running your own server.
•  Security:  You're keeping your backups offsite and free of physical danger.
•  Availability: Unlike other forms of offsite data storage, your cloud backups are immediately available when you need to restore your data.
By cutting down on your upkeep and infrastructure costs with Cloud Backup (server space, bandwidth, power costs), this feature can save you tons of money.
Public Cloud Backup requires the Offsite Backup Add-On, now renamed the Cloud Backup Add-on. These features are included on top of the existing features of this add-on (E.g. Private Cloud Backup).
Want to know more about Cloud Backup Jobs? Read the Feature Article.
---
 

NEW

– 

Cloud Independence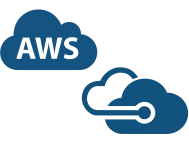 Unlike most Backup and Disaster Recovery Software, which forces you to use that vendor's cloud storage, BackupAssist 10 provides Cloud Independence. You can choose where you want to store your backups, and fine-tune your storage options to suit your exact requirements.
This means you can choose your:
•  Data Provider: Shop around for the best deal, or use your existing cloud vendor. Our cloud backup accommodates you, not the other way around!
•  Data Center: Never be in doubt where your data is being stored. Not only does this give you peace of mind, but allows you to better meet any compliance requirements.
•  Redundancy Levels: Choose the level of redundancy to suit your risk tolerance and budget.
BackupAssist currently supports Amazon (AWS S3) and Microsoft Azure, with additional storage options coming soon. Both of these popular services have excellent guides on how to set up storage – and free account options to get you started. Read about free Amazon and Azure accounts.
Want to know more about Cloud Independence? Read the Feature Article.
---
 NEW

–

Data Deduplication & Compression

To keep your cloud hosting costs down, BackupAssist 10 offers data duplication and high-level compression. Normally, when you back up any sort of data, it's sent as data chunks, and there's bound to be hundreds if not thousands that are identical.
With Deduplication, you only send the unique data chunks once, so you never back up the same data twice. This saves space and hosting costs in the cloud, while reducing upload/download times, and improving recovery times.
Case Study Example
A Hyper-V Server with X Virtual Machines running Y different operating systems.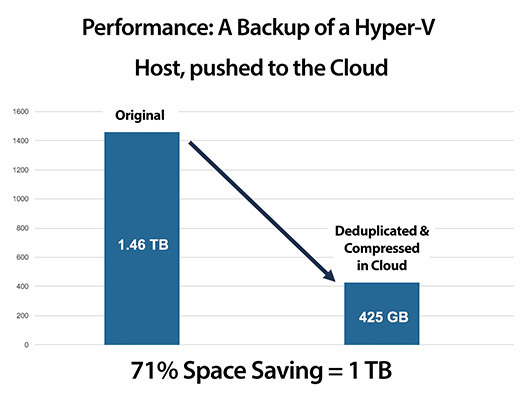 From the above example, you can see the immense benefits from reducing the size and speed of your backups!
On top of this, your cloud backups are done incrementally. That means after your first backup, you only send data that's changed since your last backup to the cloud server, saving you a ton of space.
Want to know more about Data Deduplication? Read the Feature Article.
---
NEW

– Insulated Encryption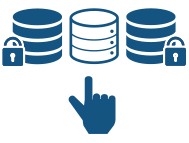 With BackupAssist 10, you can create military-grade encrypted containers to store your data in, ensuring your data is fully private when in the cloud. Even your cloud provider can't access your data.
Create multiple containers to increase your security level further—one per company, department, or even server. Each container is completely independent of other containers, with different encryption keys used for each container.
Your cloud provider has zero-knowledge of the content of your data, and it is completely impossible for your cloud provider or a hacker to steal your data. Only you create and manage your container encryption keys.
Your data is first encrypted at rest (on your server) in the data container. Then, it is encrypted again during transit, providing you with a double-tier of protection. This is on top of any encryption the cloud provider also uses to protect your data!
With BackupAssist 10's Cloud Backup and Insulated Containers, even if total disaster strikes your business, you always have an extremely secure offsite backup ready for rapid retrieval.
Want to know more about Insulated Encryption? Read the Feature Article.
---
NEW

– 

Non-Convergent Encryption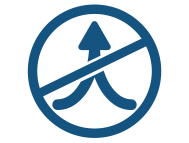 BackupAssist's non-convergent encryption feature means that your cloud provider won't mix your data in with other people's data at the destination site to save space.
This feature ensures that your data is secure and private and meets any compliance guidelines. It also makes sure if you decide to switch data providers in the future, your data is truly deleted, instead of remaining mixed in with other customer's data for stability reasons.
---
NEW

– Resilient Transfers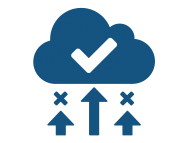 With BackupAssist 10, you never send the same data twice. Even if your backups get interrupted, you resume exactly where you stopped—even if this is halfway through backing up a large file.
Additional safeguards such as automatic retries make sure your automated backups get done, instead of cancelling when your network connection drops out.
Want to know more about Resilient Transfers? Read the Feature Article.
---
NEW

– 

Advanced Dynamic Help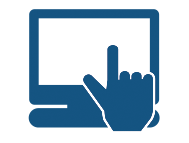 With BackupAssist 10, our easy-to-use software has just gotten even easier. In our UI, context-sensitive help is now only just a click away, directly connecting you to our online help depository.
No matter what section you're in, if you want to ask something about it, you can easily and immediately get an answer.
Unlike previous versions of BackupAssist where the help depository was only updated with a version release, BackupAssist 10 is connected to a dynamic online database, kept up to date by our team.
The design of in-product help is also friendlier in BackupAssist 10. All these features make it easier for you to understand and use your Backup Software, which can only be a good thing.
---
NEW

– 

Advanced Windows Server 2016 Support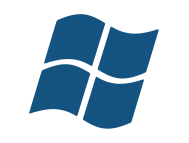 Last year, Microsoft released its replacement for Windows Server 2012 R2, which is Windows Server 2016. And if you have BackupAssist 9.5, you already enjoy basic support for it.
However, one thing that was missing in this version was backup support for Server 2016's more advanced features, such as Shielded VMs, Nested VMs, and Windows Server Containers.
BackupAssist 10 offers full support for these advanced features, allowing you to better secure your servers and more flexibly store your data.
---
NEW

– 

Shielded VM Backups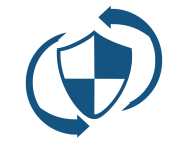 Shielded VMs are a new feature introduced in Windows Server 2016, and now you can back up and restore them!
Shielded VMs are a security feature that make sure you can't boot a VM guest on anything other than a trusted and certified host. With a Shielded VM, even if someone stole a backup with your VMs on it, they couldn't boot them up on a Hyper-V host of their own at home and steal your data.
Along with BackupAssist 10's hefty encryption tools, this means you're even more protected against internal and external threats to your business data.
---
NEW

– 

Nested VM Backups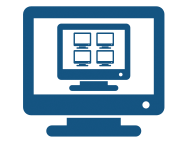 With BackupAssist 10 and Windows Server 2016, you can create, backup and restore Nested VMs; guests that host and run within other guests. For instance, you could run a guest which acts as a host, with its own guests running off of it.
While BackupAssist 10 gives you the ability to back these up, it's worth noting you can't perform a granular restore of data two levels down. For instance, if you want to restore files from within a nested VM (the guests stored within other guests), you're going to have to restore the Nested VM first to get the second-level data.
---
NEW

– 

Container Support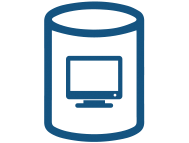 BackupAssist 10 allows you to safely backup and restore Windows Server Containers, now included in Windows Server 2016. Take full advantage of Microsoft's partnership with Docker for Server 2016, knowing your backup software provides you with full support.
---
New to BackupAssist?
Existing Customer?
Unsure of your Upgrade Protection Status?
---
BackupAssist 10 Feature Articles