UPDATE: Exchange 2007 backup on Server 2008 is now possible thanks to a plug-in released with BackupAssist v5.2. Find out more.
Hi all,
Yes! We've just gone into beta with our plug-in into Windows Server Backup that supports backups of Exchange 2007 on Server 2008.
It will automatically detect if Exchange Server 2007 is installed on the machine, and if so, it will automatically instruct Windows Server Backup to use the VSS writer for Exchange to commit all databases before the backup. Then, the BackupAssist Exchange 2007 Plug-in for Windows Server Backup will verify the consistency of the Exchange databases, and once verified the backup will proceed.
You must, of course, make sure that you've selected the appropriate volumes to backup! If Exchange Server is on your E: drive, make sure you select E: for backup!
A record of the Exchange consistency check is provided in the backup report – and an example screenshot is provided below. I've tested this on both Windows Server 2008 with Exchange 2007, and also SBS 2008 (where the BackupAssist Exchange consistency checker replaces the Microsoft one).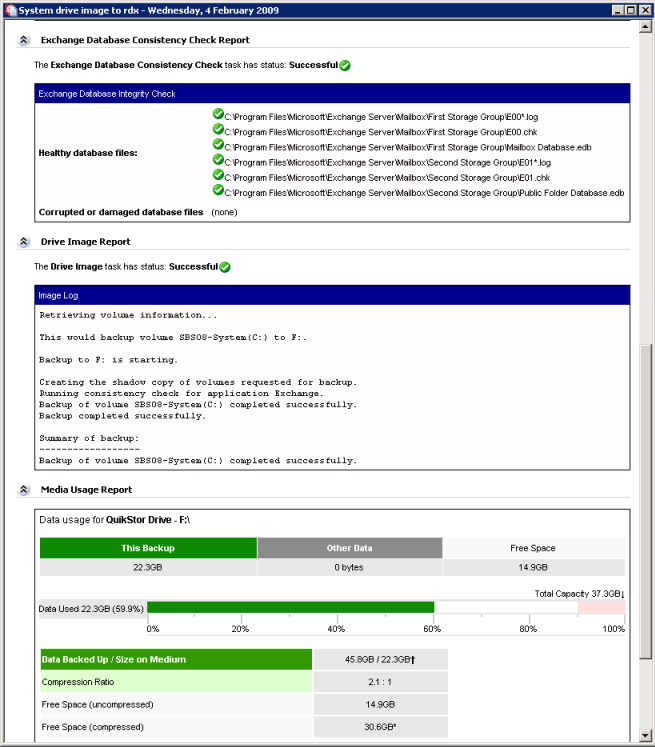 Now for the record, I really wish we had this available sooner. However, the reason for the delay is that Microsoft only released their API for Windows Server Backup on 22nd January 2009. That's nearly a year after Server 2008 was released, giving Microsoft's internal development teams nearly a one year head start on the public! Once we had access to the API, it took us less than 2 weeks to develop a solution and release it for public beta. Of course, you can imagine my frustration at Microsoft's delay in releasing the API. And having spoken to a *lot* of resellers and sysadmins, I know you're frustrated too that until now, you've not had a solution for backing up Exchange 2007 on Server 2008. But my rants are perhaps a story for another time.
In the meantime, I hope that everyone enjoys this beta and please provide us feedback (when contacting our tech support team, please attention correspondence to "Linus" to make sure it gets to me promptly).