A company or organization's emails are not just a record of what car left its headlights on or whose birthday it is. Emails also contain a critical record of decisions, agreements, conversations and data. Protecting this information carries both legal and commercial obligations, and requires careful planning.

Exchange Server backup
Most Exchange restores will be for end users who have lost or deleted emails or mail items (like contacts or appointments). However, there may be times when you need to restore a full Exchange database, known as a Storage Group or Information Store. This means the backups you make need to be able to restore both individual mail items and an Exchange database.
BackupAssist's File Protection, File Archiving and System Protection backups can all be used to restore both Exchange databases or individual mail items  (using the Exchange Granular Add-on).
Exchange Server Recovery
Your Exchange Server backup plan should include backups that can be used to recover the Exchange Server if the server's hardware is lost or damaged.
BackupAssist System Protection backups can make bare-metal backups of Exchange Servers, and recover them to dissimilar hardware using RecoverAssist.
The table below shows BackupAssist's backup, restore and recovery options.

Exchange Server VSS backups
Exchange data it is always changing as emails are sent and received. Therefore the type of backup you use must support the Microsoft Virtual Shadow Copy Service (VSS) VSS allows you to:
Back up Exchange data while it is being used
Back up an Exchange database consistently – at a single point in time.
VSS creates a snapshot of the Exchange Server that a VSS-Aware backup job can use. The snapshot maintains a consistent copy of the data and provides that data to a backup job, while the data is in use.
BackupAssist is capable of performing VSS-Aware backups, and supports Exchange VSS backups using all three backup types: File Protection, File Archiving and System Protection.
Granular Exchange Restores
We mentioned above how BackupAssist can be used to restore individual mail items using the Exchange Granular Restore console. This Add-on can actually do a lot more, so let's take a closer look.
The Exchange Granular Restore console can:
Restore individual mail items to the original Exchange Server.
Restore individual mail items to a different Exchange Server.
Restore individual mail items a PST file.
Restore mail items using drag and drop.
Search backups for specific files using advanced search criteria.
These features are supported for  Exchange  2007, Exchange 2010, Exchange 2013 and Exchange 2016 (from BackupAssist v 9.2) 
The screen shot below shows the Exchange Granular Restore console in action. On the left side of the console is the email backup, and on the right side is the live mailbox that mail items are being restore to with a simple drag-and-drop.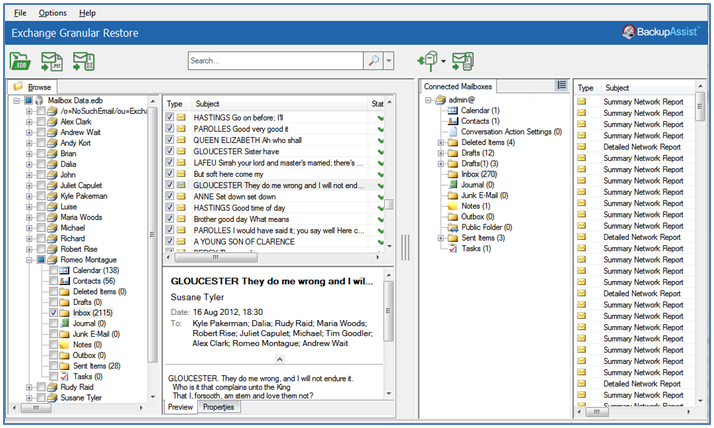 BackupAssist's Exchange Granular Restore Add-on can restore Mailboxes, Mail folders, Emails, File attachments, Contacts, Notes, Tasks, Journal items and appointments.
To learn more about these features, see our Exchange Server Protection guide.