Incremental backups are the surgical way to protect your files. They search and copy only things that have changed, rather than the sledgehammer approach of duplicating an entire system for each backup. Incremental backups note changes in data and when a backup is scheduled to run they copy the altered files, ignoring information that has not changed.
You can use System Protection in BackupAssist to easily schedule and perform incremental backups.
Setting your System Protection job to run as an incremental backup can introduce a small amount of system drag as more resources are required to track changes. On the other hand, incremental backups can greatly reduce the amount of time required to run a backup.
System Protection in BackupAssist is a valuable tool for large jobs like Hyper-V servers, where a full backup can extend for eight hours or more. Depending on the amount of change in the individual Hyper-V guests an incremental backup could be around ten times faster than other types of backup. Incremental backups can also be used to reduce backup times in operating system and data drive backups.
Incremental backups feature in Windows Server 2008 and the good news is they are still supported in Windows Server 2012. There are some limitations on how and when they can be used, which I'll talk about in the next section.
To use incremental backups in BackupAssist v6 or lower, select the "Windows Settings" option from the Settings tab. Then check the "Enable Incremental Windows Image Backups". The next imaging backup will be a full backup but subsequent backups will run incrementally.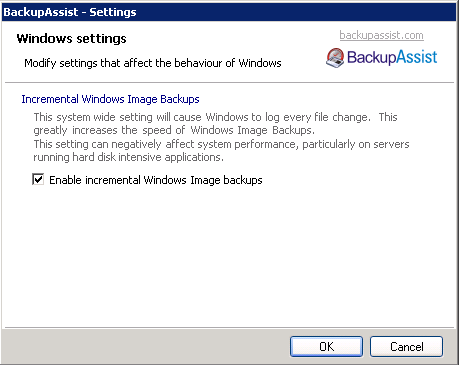 Using Incremental Backups in Windows Server 2012
Development of BackupAssist v7 has progressed well – v7 beta is currently available here – and we are on track for release in 2013. BackupAssist v7 will include support for Windows Server 2012 and to make sure everything is running smoothly we have been maxing out our bandwidth testing on Windows Server 2012.
The backend process that BackupAssist uses to run incremental backups in Windows Server 2012 has not changed. However, incremental backups will not occur on a Resilient File Systems (ReFS). The ReFS is a new file system that has been introduced with Windows Server 2012, and can't be read by previous versions of Windows, such as Windows Server 2008.
ReFS can still be backed up and restored as normal, but Windows Server 2012 will ignore the incremental setting for ReFS volumes and a full backup will occur.
Volumes that are formatted with New Technology File Systems (NTFS) will still support the incremental setting. If a system has a mix of ReFS volumes and NTFS volumes in the same backup job them, then an incremental backup will occur for the NTFS volumes and a full backup will occur for the ReFS volume.
This is illustrated in the below backup of a Hyper-V server. D: and E: drives both contain a Hyper-V guest. The D: drive in this case has been formatted with ReFS file system where as the E: drive is formatted NTFS.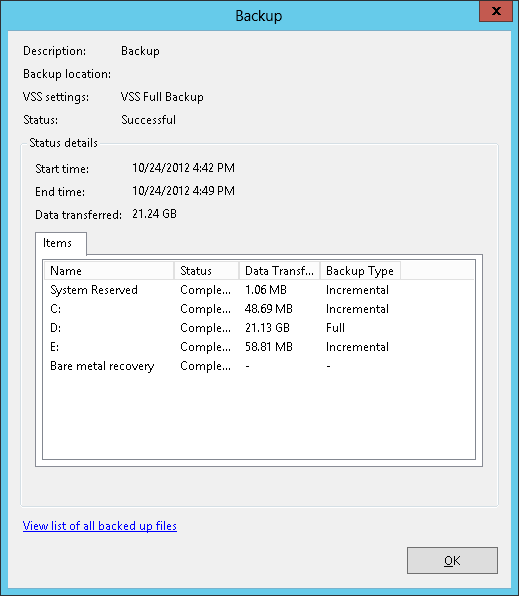 I hope this has explained some of the nuances of incremental backups and given you an idea of what to expect for Windows Server 2012. If you have any questions, please leave a comment below and I'll get back to you.
Thanks
Dave
BackupAssist Quality Team
BackupAssist is software designed to help you easily backup, restore and recover information from your Windows Servers. Visit www.backupassist.com to learn more