Our previous article looked at what SMB 3.0 is  in Windows Server 2012, and how it works. This article looks at the requirements for VSS with SMB 3.0, how to enable VSS support on a SMB 3.0 file share and how you can back up a remote VSS file share using BackupAssist.

SMB 3.0 allows you to store both server applications and general data on a Windows Server 2012 file share. This is possible because of a new set of features and optimizations to the SMB 3.0 protocol, including support for VSS on remote file shares and clustered storage.
For backups, SMB 3.0's support for VSS is significant because it allows you to create application-consistent backups of server applications and crash-consistent backups of general data, on remote file shares.
There are 3 main requirements for VSS support on a SMB 3.0 file share.
Both the application and file server must be running Windows Server 2012
Both the application and file server must be joined to an Active Directory domain
The "File Server VSS Agent Service" role needs to be enabled on the file server
This information is from the TechNet VSS for SMB File Share article. Please review the articles "Requirements and supported capabilities" section for a full listing of the SMB 3.0 requirements and limitations.
How to enable VSS support on a SMB 3.0 file share
The File Shadow Copy Agent role and the File Server role must be installed on each Windows 2012 file server to enable VSS support. These roles are for the File Server VSS Agent Service.
To install these roles:
Open the Server Manager Dashboard.
Select Add roles and features. This will open the Features Wizard
At the Before you begin screen, select  Next
At the Select installation type screen, select Role-based or feature-based installation
At the Select destination server screen, select the server to install the File Share Shadow Copy Agent on.
At the Select server roles screen expand File and Storage Services and Expand File Services
Check

File Server

Check

File Server VSS Agent Service

At the Select features screen, select  Next
At the Confirm installation selections, check that File Server and File Server VSS Agent Service are listed, and select Install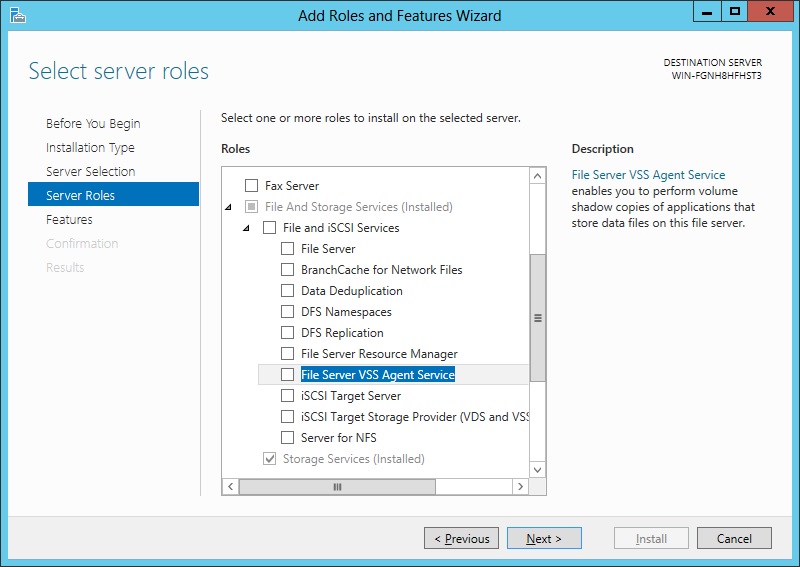 Implementing Hyper-V environments on SMB 3.0 Files Shares
With SMB 3.0, a Hyper-V virtual machine can store its VHD and snapshot files on a Windows File Share. This support for Hyper-V guests on remote shares means:
You can have Hyper-V guests (virtual machines) on remote file servers.
You can have application-consistent backups of both the Hyper-V host and each remote guest.
This adds a new level of flexibility when implementing Hyper-V solutions.
Backing up SMB 3.0 file shares with BackupAssist
Windows Server 2012 includes SMB 3.0, but it cannot back up a SMB 3.0 file share. BackupAssist however, supports SMB 3.0 as both a backup source and destination with VSS support. Just treat the SMB 3.0 file share as you would a normal file share when you create your backup job.
BackupAssist can backup SMB 3.0 file shares using the following backup types:
File Protection
Rsync (remote replication backup)
File Archiving
These backup types can back up and restore Hyper-V guests stored on SMB 3.0 file shares. This support includes backing up data from a CSV source to a SMB 3.0 destination.