A new feature in version 5.2.5 of BackupAssist is support for backing up to an Amazon S3 bucket via the service provided by s3rsync.com.
To set this up you will need
In your Amazon Web Services account, you will need to obtain your Access Key ID and generate a Secret Access Key. Then you will need to create an S3 bucket to use for your backups. See http://www.labnol.org/internet/tools/amazon-s3-simple-storage-service-guide/3889/ for a good introduction to these topics.
When you sign up for an s3rsync.com account, you will be provided with a username and a private SSH key file. You will need to save the SSH key file somewhere on the machine on which you wish to run BackupAssist.
Once you have performed these preliminary steps, you are ready to set up your job in BackupAssist.
Create a new Rsync job and choose S3Rsync as the destination. If you want your job to run automatically each day, select the Mirror scheme. Next you will be presented with the S3Rsync server settings screen: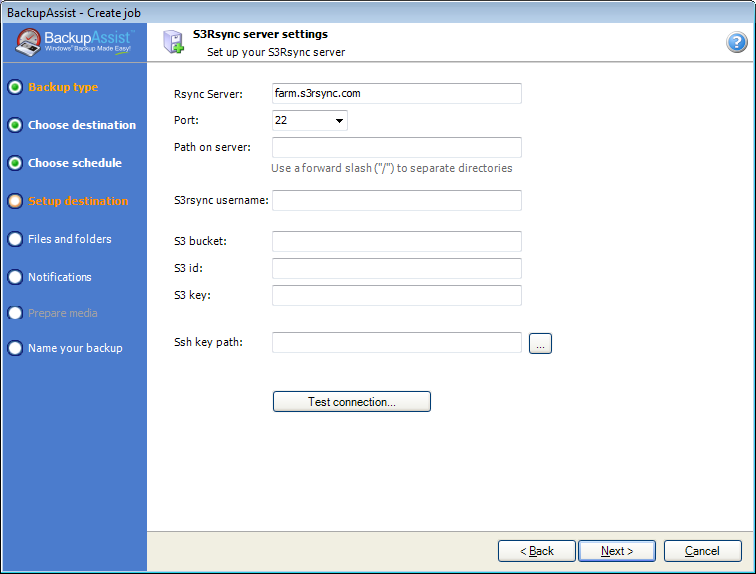 Rsync Server: this should be farm.s3rsync.com (the default setting) unless you have been advised otherwise by s3rsync.com
Port: this should be 22
Path on server: you can leave this blank unless you want to set up multiple backup jobs using the same bucket (not recommended)
S3rsync username: your username supplied by s3rsync.com (note: this is different to your Amazon username)
S3 bucket: the name of the S3 bucket you created
S3 id: your S3 Access Key ID
S3 key: your S3 Secret Access Key
Ssh key path: the location of the saved SSH key file provided by S3rsync.com
Once you have entered these details, click Next to select which files you want to back up and then complete the job setup.