NTBackup made easy with BackupAssist
Attention NTBackup users...
Have you struggled with NTBackup?
Need help with scheduling?
Is NTBackup too clumsy and limited for your business?
Ever wanted to receive results by email?
Need a low-cost solution?
If so, BackupAssist is the solution for you. BackupAssist transforms NTBackup into a simple-to-use tool. Read on to find out how.
"Simple backup software designed for Windows Servers, that's priced affordably, is easy to use and provides a reliable and foolproof backup system for small and medium business..."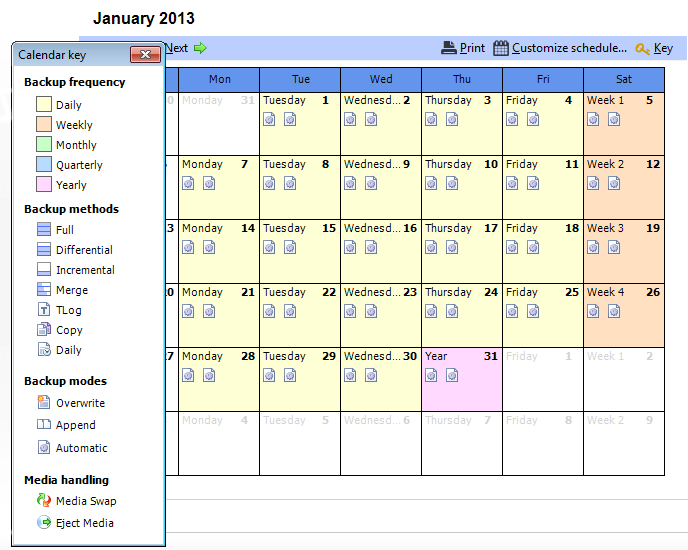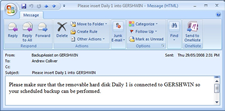 BackupAssist makes NTBackup simple
BackupAssist makes backup so easy, any business can setup a backup strategy in minutes. Just select one of BackupAssist's backup schemes, then sit back as BackupAssist emails simple instructions and result logs to you or your secretary. No technical knowledge required!
"I struggled for over a week with [MSBackup] trying to get scheduled backups to work but to no avail... then I spotted your site in the recommended under Google. Within 1 hour I had downloaded the software, printed and studied the manual and got my backup working.&quot
BackupAssist - an affordable solution
Priced at just $279.00 USD, BackupAssist™ is a leading alternative to more widely known brands of Windows Server backup software - less than one quarter the price of competing products, such as Veritas BackupExec™ and CA Arcserve.
"I'm glad that we found BackupAssist. Whilst we realise the importance of backups ourselves, it has always been difficult to sell to clients in small to medium business when we had to include software with a $1000+ price tag. BackupAssist will make the sale much easier not only because of the price tag, but because we KNOW that it works so well."
Customer testimonials
"NTBACKUP and Windows 2003 Scheduler do not provide a robust solution. Regularly the backups do not complete and NTBACKUP.EXE is left as a running process and has to be ended in Task Manager.
"BackupAssist also lets us eject tapes after a backup. This is ideal for our remote sites where an office manager is responsible for loading tapes. If a new tape has not been loaded the backup will not happen where before it would just write over the loaded tape.
"Emailing of backup reports makes it easy to confirm completed backups. The SQL backup feature saves time and effort as it automatically dumps the database and backs up the dump files.
"We already had implemented a backup rotation system prior to purchase of BackupAssist and continue to use it in conjunction with BackupAssist."
"Having struggled with NTBackup for months, BackupAssist came to the rescue and turned a problem into a solution.... It makes the NTBackup program work (that's a bit obvious) and I like the usage of email to inform about backup status and reminders to load the tape."
"It appeared to service my backup needs without a large investment. The built in rotation system was a plus. When faced with the choice of purchasing a new license that would backup open files, domino databases, and SQL Server databases versus using the existing NT Backup with BackupAsssist, the decision was simple. Adding BackupAssist to the mix only simplified the NT Backup interface, which was already a solid product... Very user friendly and relatively inexpensive. It has features that other products offer at a substantial cost
"I found that once it was setup, it ran without any further intervention. I am notified by email to insert a specific tape and am notified when the backup is successful."
"Had been using [competitor] on NT but needed to upgrade to W2003 version. Rather than do so we wanted to try to use Microsoft's NT Backup in W2003 but were having problems. While trying to find answers to those problems using Google, I came across BackupAssist and decided to give it a try.
"Adds value to NT Backup by overcoming that product's limitations."
"NTBackup scheduling is clumsy and unreliable. Client did not want to spend on [major competitors'] products."