System Protection is a flexible backup technology that can be used to protect data and applications. As we mentioned in our previous article about Backup methods, System Protection creates an image that can be backed up incrementally.
The incremental backup
When System Protection creates a backup to a new destination, it creates a full backup of all data selected. After that, the image will be backed up incrementally each time the job runs. To do this, the backup job scans all of the data to be backed up, all the data in the current backup, and determines what has changed. System Protection will then update the current backup. New files are added, changes files are updated and previous versions of changed files are maintained to enable multiple restore points.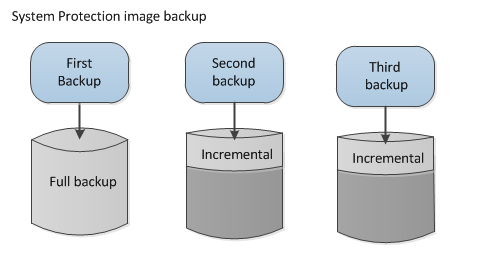 You would think an incremental backup would be a lot faster than a full backup, but working out what data has changed can take a lot of time. In fact, incremental backups have been known to take longer than full backups. So you are saving disk space, but not a lot of time.
The need for speed
System Protection has a great feature that records the changes made to the data using a virtual snapshot. This provides a log of the data changes so that when System Protection performs an incremental image backup, it only needs to look at the log of changes to determine what data needs to be backed up.
Enabling this feature is easy
Go to the BackupAssist Settings tab
Open Windows settings
Add a tick to Enable incremental Windows image backups
When you turn this feature on, your next backup job will be the starting point for the logging process. The backup job after that will be the first one to benefit from the faster backup times
With a simple tick, this global setting will make all of your incremental image backups – fast incremental backups.
How much faster your backups will run depends on the data, destination and hardware. We've found that a 20 minute backup can be cut down to 2 minutes, and longer backups that take 8 hours can be completed in just 2 hours.
Not a bad bump for putting a tick in a box.