Secure your business's future by safeguarding your invaluable digital assets. We all know data is the lifeblood of any organization, fueling everything from strategic decisions to daily transactions. But let's face it, this critical asset is hanging by a thread.
Cyberattacks are becoming more cunning by the day, with hackers hell-bent on sabotaging your business, locking up your data, and even holding it for ransom. And don't forget about Mother Nature's wrath – floods, fires, and earthquakes don't discriminate when wiping out your physical servers.
In this article, you'll see how offsite backups aren't a 'nice-to-have,' they're your safety net. They're how you sleep at night knowing that no matter what hits you, your data – and your business – are secure.
What Are Offsite Backups?
Offsite backups refer to the practice of storing copies of vital data in a location distinct from the primary storage site. Imagine, all your data, your years of work, sitting in one location. Sounds like a jackpot for anyone or anything – from thieves to flash floods – aiming to disrupt your operations. Storing your data offsite isn't just an insurance policy; it's your fail-safe.
It's not about being pessimistic; it's about being realistic and prepared. Think of offsite backups as your 'Plan B,' always at the ready. When calamity strikes your primary location, you'll be the one smiling because you didn't put all your data 'eggs' in one fragile basket. You'll have a fighting chance to restore your systems and get your business back on its feet.
Key Components of Offsite Backup Systems
Optimize your data protection by selecting the right offsite backup type for your business – because one size doesn't fit all when it comes to safeguarding your invaluable digital assets. If you want to sleep well at night, knowing your data is protected, here are your top options:
Different Types of Offsite Backups
Portable Backup Media : Storing data on physical devices like tapes might seem old-fashioned, but there's a reason they're still around – they're sturdy and reliable. Unlike cloud backups, which are offsite but online, physical media backups offer the added advantage of being both offsite and offline. This makes them virtually inaccessible to cyber attackers. Once saved, these tapes are transported to a secure offsite storage location, shielded from both digital threats and local hazards.
Public and Private Cloud Backups: Welcome to offsite backups 2.0. Go public, and you're trusting third-party servers to keep your data accessible 24/7. Prefer a bit more control? Private clouds let you play architect, setting up your personalized backup haven. And if you're using a solution like BackupAssist, you're not just storing; you're optimizing with data deduplication and rock-solid encryption.
Now that you're aware about the different types of offsite backup systems, let's delve into why going offsite is more than just a good idea – it's a game-changing strategy for data protection.
Advantages of Utilizing Offsite Backups
Natural Disaster Protection: One of the most compelling reasons for offsite backups is their resilience against natural disasters. Events such as floods, earthquakes, or fires can render an entire facility inoperable. With offsite backups, data remains safe and untouched, stored far away from the epicenter of the catastrophe.
Security Against Cyber Threats: As cyber threats evolve, so do defensive strategies. Offsite backups act as a fail-safe against malicious actors. Even if cybercriminals breach the primary storage, the offsite backup remains secure, providing a reliable backup source to restore from. Moreover, with the added layer of encryption offered by solutions like BackupAssist, data in transit and at rest remains shielded from prying eyes.
Cost-saving and Scalability with Cloud Solutions: Cloud-based offsite backups offer unmatched scalability. As an organization grows, so does its data. Cloud solutions allow seamless scaling without the hefty upfront costs associated with physical infrastructure. Additionally, by optimizing storage through deduplication and compression, there are notable cost savings in terms of storage space and bandwidth usage.
In a nutshell, offsite backups offer not only an added layer of security but also operational advantages, making them indispensable in a comprehensive data protection strategy.
BackupAssist: Your Ultimate Solution for Offsite Backups
Unlock unmatched data security and unparalleled flexibility with BackupAssist. Choose from a wide array of backup options – be it rotating HDDs, tape drives, or RDX drives – and leave the complex management to us. Elevate your cloud backup security with data that's deduplicated, compressed, and encrypted before it even leaves your premises. Switch cloud providers on a whim without losing a byte, and rest easy knowing your data remains unambiguously yours.
With features like virtual labeling and smart scheduling for HDD and tape drives, to S3 compatible destinations for private clouds, BackupAssist turns the backup process into a streamlined operation. Pair that with military-grade security features and what you get is more than a service – it's peace of mind.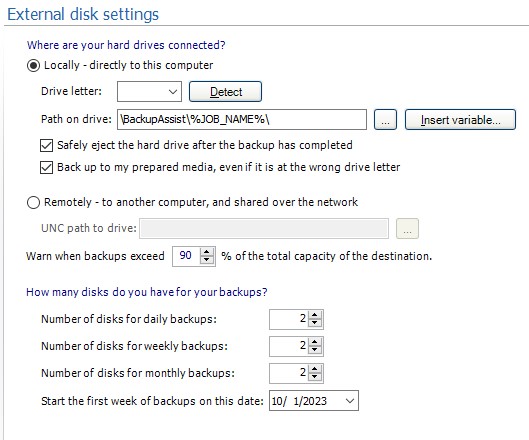 Prioritize Data Security and Integrity
Secure your peace of mind and bulletproof your business data with BackupAssist's cutting-edge security features. We set the gold standard in the industry with our "zero-knowledge" encryption, ensuring your data is locked down – both in transit and at rest. You hold the decryption key; we never store it on the cloud, giving you a level of security that is uncompromised and top-tier.
Beyond its robust security architecture, BackupAssist offers a user-friendly interface designed with the user in mind, making complex backup tasks straightforward and manageable. This commitment to usability doesn't come at the expense of functionality or security, ensuring users get the best of both worlds.
Finally, central to BackupAssist's ethos is this: Your voice matters to us. We've fine-tuned our offerings over the years, integrating customer feedback to stay ahead of your evolving needs. Trust in BackupAssist to deliver a seamless blend of top-tier security and user-centered design, solidifying our standing as your go-to partner for uncompromising data protection. Want proof? Hear more from our satisfied clients here.
Protect Your Digital Assets with BackupAssist
Ensure uninterrupted business with BackupAssist's ironclad offsite backup solutions. In an age rife with cyber threats, natural disasters, and human slip-ups, we equip you with the fortress your data deserves. Don't just pick from a menu – relish a buffet of backup options custom-tailored to your unique needs, fortified with state-of-the-art security features.
Experience isn't just a buzzword for us; it's our compass. Driven by decades of expertise and continual client feedback, we've fine-tuned our user-centric design to deliver unmatched reliability and peace of mind. But don't just take our word for it. Put BackupAssist to the test with a 30-day trial and feel the difference of superior, uncompromising data protection.