Secure your business's critical data no matter where your digital life takes you – that's the new mantra for laptop users everywhere. Today, laptops aren't just machines; they're the digital hearts of both our personal and professional lives, and their importance only grows as more companies embrace the freedom of remote work for their employees.
But with that freedom comes responsibility. The unique challenges posed by laptops – their mobility, varied internet connections, and our tendency to take them everywhere – make regular backups more important than ever.
In this article, we're delving into why backing up your employees' laptop data isn't just a good idea, but essential. We'll explore the obstacles you might encounter and reveal how BackupAssist can help you overcome these hurdles with ease. So, let's dive in and ensure your business's data – and peace of mind – is well-protected.
The Importance of Backing up Laptop Data
Remote work offers freedom, but it also presents the challenge of data loss. As laptops become our lifelines, allowing us to work efficiently from anywhere, they also underscore the need to safeguard the crucial data they store.
The mobility and flexibility that make laptops appealing also make them vulnerable to hardware failures, accidental deletions, cyberattacks, or theft. In this hyper-digital world, regular backups are indispensable.
Moreover, while it's true that many company documents and files are now stored in the cloud, like Google Docs or M365, this is not the whole story. Numerous business-specific applications continue to store data locally on laptops. This means vital information can still be lost in the event of a laptop crash, theft, or accidental deletion, making the need for regular backups of laptop data all the more crucial.
In this next section, we'll examine best practices for laptop backups to maintain an effective and secure backup strategy for your business.
Best Practices for Laptop Backups
Considering Laptop-Specific Risks
Laptops, by virtue of their portability, present unique challenges for backups. Their inherent mobility means they are at a higher risk for potential theft or physical damage, whether from accidental drops or spills. Coupled with the fact that laptops often connect to various networks in diverse locations, there's an increased risk of potential malware or cyberattacks.
One major hurdle with laptops is their tendency to go into sleep mode to conserve battery power. When a laptop is asleep, traditional backup methods may fail to execute, potentially leading to gaps in backup timelines. Therefore, it's crucial to have a backup solution that can either wake the laptop up for scheduled backups or adapt to the laptop's varying states.
Using cloud-based backups is particularly beneficial for laptops, as data can be saved in real-time or at specific intervals, ensuring that the most recent data is always protected. Moreover, utilizing backup applications that can effectively wake up the system for backups helps ensure that even if a laptop is in sleep mode, crucial backups still take place, thus mitigating these risks.
Adapting the 3-2-1 Backup Strategy for Laptops
While the 3-2-1 backup strategy is a widely recognized best practice for all backups, adapting it specifically for laptops requires some tweaking. Given the mobility of laptops, it's often more practical to emphasize cloud-based solutions for one of the '2' in the 3-2-1 strategy. This ensures that even on the move, data is being regularly backed up to a secure and remote location without the need for manual intervention.
For instance, a 3-2-1 backup configuration for your laptop may look like: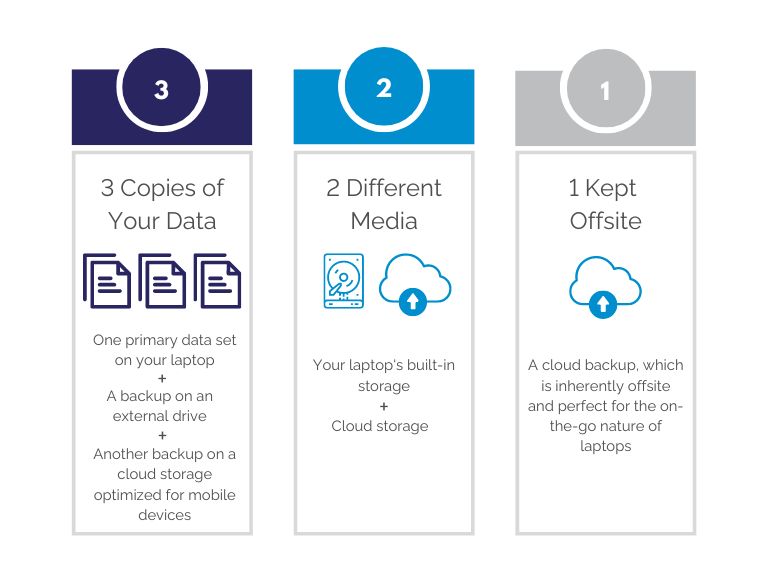 Furthermore, for laptop users, understanding your RTO (Recovery Time Objective) and RPO (Recovery Point Objective) becomes even more vital. As laptops can be used in various locations with differing internet speeds, backups might not always be as frequent. This makes it crucial to determine the maximum tolerable downtime (RTO) and how often backups need to occur to prevent significant data loss (RPO) in case of any incident.
A Detailed Look at BackupAssist: An Easy Solution for Laptop Backups
Backing Up Laptop Data: Challenges & Hurdles
Backing up your laptop doesn't come without its challenges. When internet connectivity is lost, for example, cloud backups can't be performed. However, with a solution like BackupAssist, these types of issues are no longer a problem.
In such cases, BackupAssist will report that the backup failed due to connection issues, but attempt again at the next scheduled time, usually the following day. This ensures that even if your laptop is not constantly connected, your data will still be protected.
Moreover, we addressed another common challenge – laptops going to sleep. If there's sufficient battery power, BackupAssist effectively awakens your laptop to execute the scheduled backup, then ensures it returns to sleep mode afterward. This intelligent approach guarantees your backups proceed as planned without draining your laptop's battery.
Flexibility and User-Friendliness
The process of setting up backups is similar whether you're using a laptop or a desktop. With a laptop, however, you might need to be more selective about what data to back up and when to run the backup due to limited resources and potential network disconnections.
BackupAssist allows you to customize your backup schedule according to your needs, making it suitable for users with varying degrees of technical knowledge.
Security with BackupAssist: Local and Cloud Backups
With BackupAssist, cloud backups are always encrypted, providing an additional layer of security for your data. If you prefer, you also have the option to encrypt local backups. This gives you the confidence that your data, whether backed up locally or in the cloud, is protected against unauthorized access.
Tailored Backup Solutions with BackupAssist
Catering to the Laptop User
Understanding the unique needs of laptop users, BackupAssist has designed versions of its software that are perfectly tailored for workstations, including laptops.
BackupAssist Classic's Work From Home edition, for instance, has been customized to seamlessly align with laptop users' needs. Regardless of where your workstation is, this edition ensures that your data is secured and easily retrievable.
Embracing Complete Image Backups
In the realm of data backup, the trend is moving towards complete image backups. More and more, MSPs are choosing this approach, especially for laptops. The rationale behind this trend is the speed and efficiency of recovery. With image backups, it's faster to recover a stolen or broken laptop to a usable state than to install the Operating System, all apps, and configure the apps from scratch.
BackupAssist recognizes this trend and incorporates image backups into their functionality. BackupAssist ER goes a step further, providing a Disk-to-Disk-to-Cloud (D2D2C) strategy that ensures your backups are not only local but also safely stored in the cloud.
Data Recovery and Security with BackupAssist
File Level Restore or Entire Image Recovery
Never panic over lost files again. Had a slip-up and deleted a file or folder? Our file-level restore is your quick fix, letting you recover specific files or folders directly from your backup.
For those trickier situations, like hardware failure or significant data loss, you'll need a more comprehensive solution. That's where our entire image recovery comes into play. It's like a time machine for your system, restoring your entire setup – applications, settings, and all – back to a safer time.
Ensuring Data Recovery in Various Scenarios
BackupAssist is designed to ensure data recovery, even in challenging situations. The software's robust design and advanced features, combined with the user's backup strategy, ensure that your data can be recovered swiftly and effectively, no matter the circumstances.
Conclusion
Future-proof your work with indispensable laptop backups. In an era riddled with risks – hardware failures, cyberattacks, or just everyday mishaps – having a lifeline like BackupAssist is non-negotiable.
With BackupAssist, you're not just protecting your data. You're curating your backup process, steering clear of obstacles with grace and efficiency. Don't let a data catastrophe be your wake-up call. Get ahead of the game today, and let BackupAssist be your trusted ally in securing swift, reliable, and ironclad laptop backups.