Technical Support
for BackupAssist Classic

For sales and partnership inquiries,
Search

our knowledge base and help.
Most issues can be solved from here.
Is your version still
supported

?
We are currently offering support for Version 11 and 12.
If you are using an older version, please upgrade your version by purchasing a BackupCare subscription, before contacting us.
We typically offer support for the latest two versions of BackupAssist Classic – a timeframe of three to four years. However, we cannot offer support indefinitely, especially in an age where security updates are of paramount importance.
Recommended: submit a support ticket with diagnostics from within the
software
If you contact support from inside BackupAssist, you can submit your system diagnostics. This allows us to better troubleshoot your problem.
To submit your diagnostics:
Open the BackupAssist Console
Click on 'Help' in the toolbar
Click 'Contact Support…'
Fill in the fields
Make sure 'Submit system diagnostics with your query' is checked
Hit 'Send'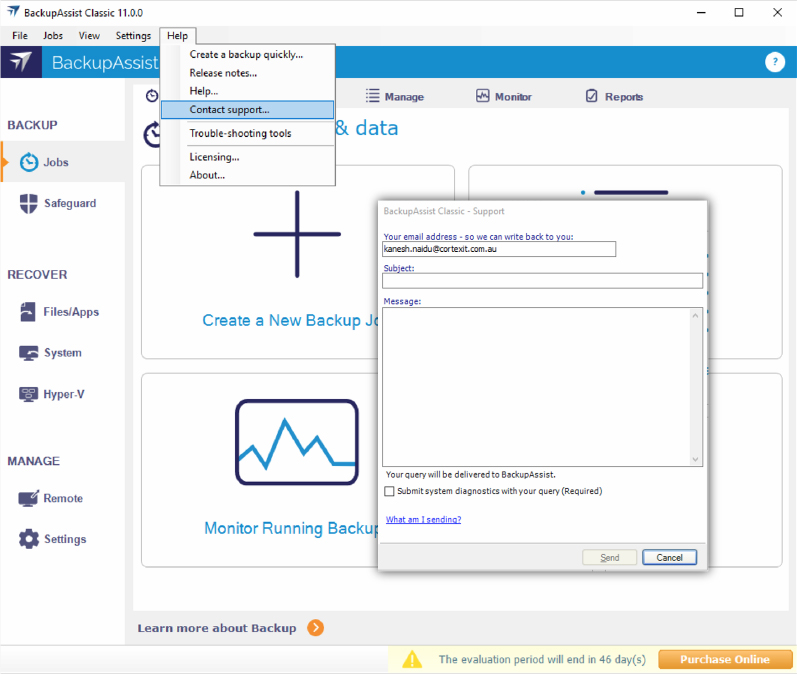 Submit a support ticket from this
webform

.
https://backupassist.com/classic/support/
We provide email support before and after purchase.
We are pleased to offer you phone support.
 Monday to Friday, 9 a.m. – 5 p.m. US Eastern Time