Managing large deployments of BackupAssist Classic just got
easy.
We know you love BackupAssist Classic -

it's easy to manage on a few servers. But once you have dozens of installations, an extra hand can go a long way. Great for MSP and larger clients with many servers needing backup.
Now you can take care of all your BackupAssist Classic installations from a single pane of glass. What a great backup solution for our MSP and larger clients! Remotely checking backup status, pushing out upgrades, and starting backups and restores are all easily done from one place.  That's time saved, and job done!
BackupAssist Classic already provides, out of the box: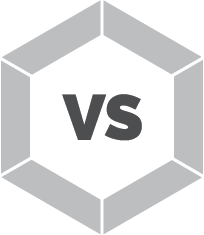 Remote administration of BackupAssist Classic becomes as easy as local administration:
Multisite Manager is all about saving time, and promoting convenience.
Here are 6 ways that BackupAssist Multisite Manager helps you:
View all results of all backup jobs from all sites and all installations, on a single pane of glass.
Create, edit, pause or disable backup jobs on any remote installation from a single pane of glass.
Remotely run any backup or restore job on any remote installation from a single pane of glass.
Set up customized reports to see backup results (success, failure, warnings, alerts), delivered via email or single pane of glass.
Manage licenses, see expiration dates, apply new license keys, on any remote installation from a single pane of glass.
Deploy new installations or upgrades of BackupAssist Classic onto any remotely managed machine, from a single pane of glass.
BackupAssist Multisite Manager provides a seamless experience to the user, achieving this by "divide and conquer" at the network level.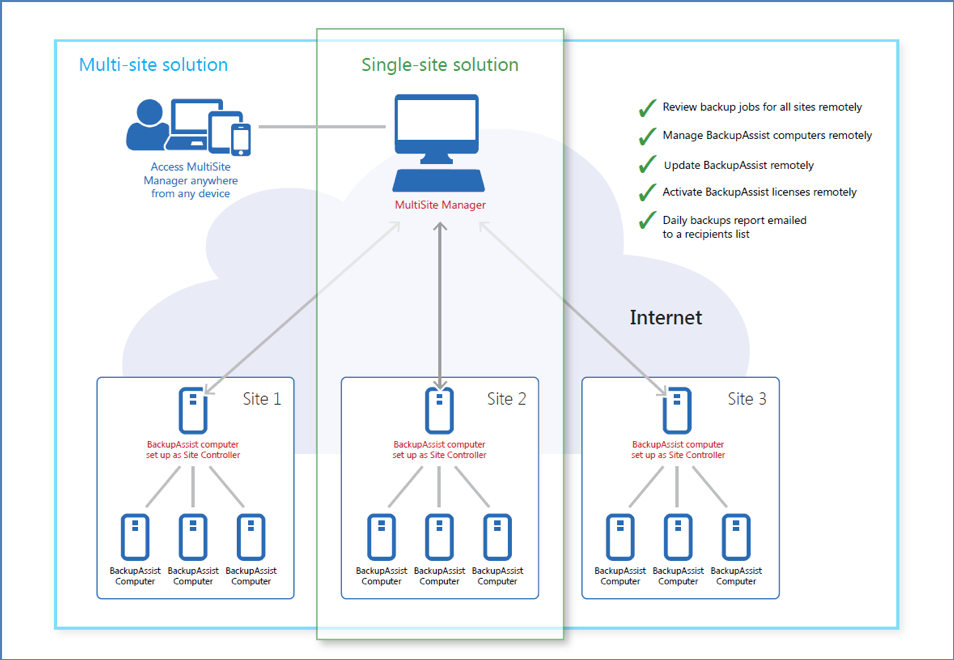 User Access and Management
Using Multisite Manager is convenient and saves time.
1
Quick and simple deployment of BackupAssist
Remotely deploy and configure BackupAssist on each site remotely from the one sheet of glass, across your WAN or LAN
2
Manage each BackupAssist installation remotely
Create, edit, run, disable and pause jobs on each site with BackupAssist all from a single screen.
3
Easy license management and new version migration
View the license status on each deployment of BackupAssist and migrate each site to newer versions.

4
Detailed reporting for each BackupAssist installation
Create your own custom reports to receive via email. Schedule the frequency, for what sites and which team members receive them.
5
Set up and receive alerts for major warnings
Automate the receiving of success and failure alerts and warnings, and also receive updates on each backup job.
Frequently Asked Questions
No, BackupAssist Multisite Manager is a standalone product that is sold separately to BackupAssist Classic. It is licensed on a subscription basis.
The Multisite Manager's computer requires an active Multisite Manager license subscription.
A Site Controller needs BackupAssist v8 or later and a BackupCare subscription.
A BackupAssist computer needs BackupAssist v8 or later and a BackupCare subscription.
Yes. 
Once you have your first Site Controller installed and functioning, you can push out additional BackupAssist installations to other computers on the same network. Site Controllers can also automatically detect machines on the network where BackupAssist may be deployed.
To use this feature, Powershell Remoting must be enabled, and the person performing the remote install must have privileges to install software (e.g. local admin rights on the target machine). More details can be found here: https://www.backupassist.com/support/en/multisite-manager/user-guide.htm
Yes. 
We have many MSP clients using Multisite Manager to monitor and manage many server backups. Our reseller programs for (MSP and VAR clients) enable them to use the BackupAssist backup solution across many clients, purchase at special discounted rates and provide a solid backup and recovery solution to their clients.