This week saw the release of BackupAssist v8.2.1. We usually don't do articles about maintenance releases, but because there are some great new features, we thought we'd share the good news.
Hyper-V Granular Restore – search for catalogs.
In BackupAssist v8.2, we introduced support for catalogs when restoring from the Hyper-V Granular Restore Console. Catalogs contain information about backups, and allow the Hyper-V Granular Restore Console to access backups created by System Protection, File Protection and File Archiving. The catalogs created by the backup job are used to display and locate the available backups.
With BackupAssist v8.2.1 we have added a new 'Browse for backups' button that you can use to browse for other catalogs – not just the catalogs stored on the computer that the backup job was created on. This will allow you to locate additional backups that were created using BackupAssist v8.2.1 or later.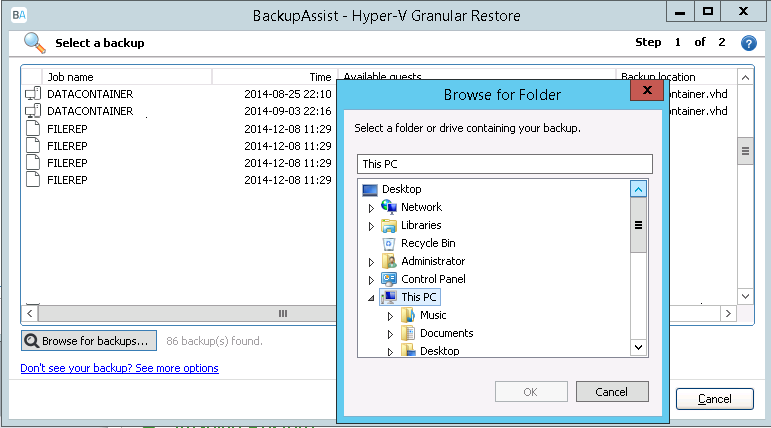 Hyper-V Granular Restore – Export VHD
The Hyper-V Granular Restore Console can now export guest VHDs from backups found using the backup catalogs. This is very useful because it makes exported VHDs transportable so they can be used to manually recover a guest or migrate it to another Hyper-V server.
When you perform an export using the Hyper-V Granular Restore Console, the checkpoints are merged together with the VHD, to create a version of the VHD as it was when it was backed up. You cannot get a VHD in this state just by copying it out of the backup because the backup may include checkpoints that have not been applied to the VHD.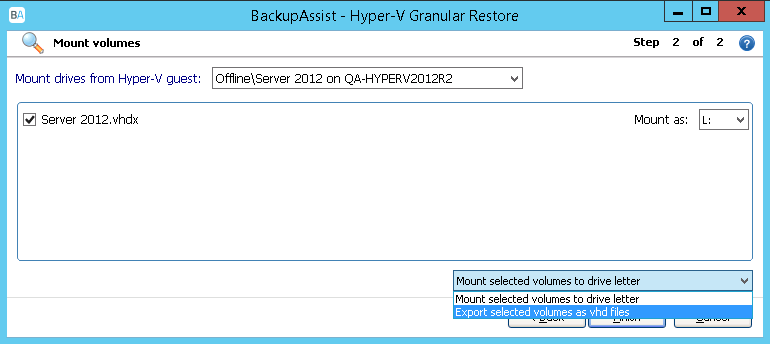 Backup job folder exclusions
After you have created a backup job using System Protection, File Protection or File Archiving, you can use the Manage menu to add exclusions to what data is backed up. Exclusions are used to exclude certain files and file types from the data that you back up.
To do add exclusions:
Select the BackupAssist, Backup tab.
Select Manage from the top menu. A list of all backup jobs will be displayed.
Select the backup job you want to modify, and select
Select Files and applications from the list on left.
Select the Exclusions tab
BackupAssist v8.2.1 adds the ability to exclude certain folders and folder names (and the data in them) from your backup. This is very useful because it allows you to exclude common folders that contain unimportant data. For example, the browsing history folders for all profiles on a computer, temp folders and cache folders.