Our previous article explained the importance of using encryption to protect your backups from unauthorized access. Now let's look at how you can encrypt your backups using BackupAssist.

Backups contain confidential information that you want to keep secure. This is especially important for backups on removable media that are rotated or stored off-site. Encryption makes the information on these backups inaccessible if the backups are lost or stolen.
Backup Encryption methods
There are different methods of backup encryption.
Backing up to a self-encrypting hard drive
This method uses specialized hardware that can provide high performance encryption with good speed and security. However, specialized hardware needs to be purchased for this solution.
Backing data up to an encrypted drive
This method uses encryption software to encrypt the backup destination drive. This adds an additional step to the backup process because the encryption is managed separately. This is the solution used by Microsoft BitLocker. To learn about BackupAssist's implementation of BitLocker for File Protection, File Archiving and System Protection, see Part 3.
Encrypting the backup destination as the data is backed up.
This is a solution implemented by BackupAssist for File Protection backups to an rsync destination, and File Archiving backups that use the AES encryption option. All you need to do is tick an encryption box and provide a password. BackupAssist does these rest. If you have not used encryption with BackupAssist before, the required software updates will be downloaded and installed when you create your backup and select encryption.
BackupAssist supports BitLocker encryption for all 3 backup types :File Archiving, File Protection and System Protection, and is explained in detail in Part 3 of this series of articles. The following section looks at two specific encryption options that BackupAssist also support for rsync and archiving backups.
File Protection backups to rsync destinations
When you create a File Protection backup and select Rsync or S3Rsync as the destination, the Enable Rsync file based encryption option will become available. If you make this selection, the Set up destination step will ask you to supply a password for your encrypted backup destination.
File Archiving backup encryption
When you create a File Archiving backup, the destination selection screen will give you the option to Enable ZIP encryption. The set up destination screen will then ask you to supply a password for your encrypted backup.
File Archiving's ZIP encryption option uses 256-bit AES encryption. AES (Advanced Encryption Standard) is an encryption standard that is designed to provide a good balance between speed and security.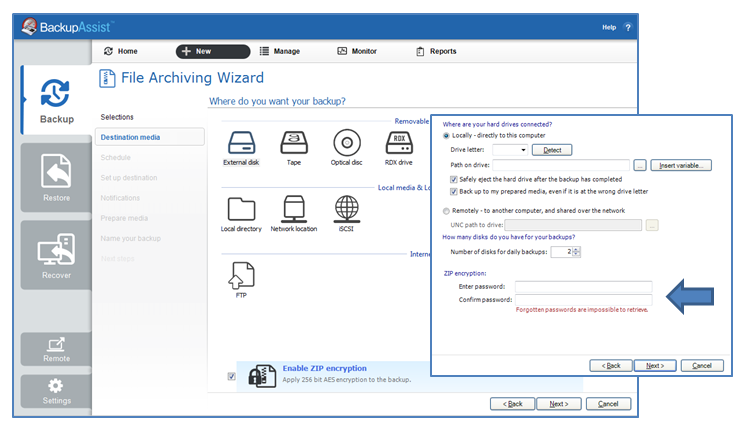 Restoring encrypted backups
Restoring data from an encrypted backup is even easier than making an encrypted backup. You just treat the backup as normal and follow the standard restore process.
When you get to the final restore screen, you will be prompted to enter the password that you provided when the encrypted backup was created.
Enter your password and select Retry – that's all you need to do!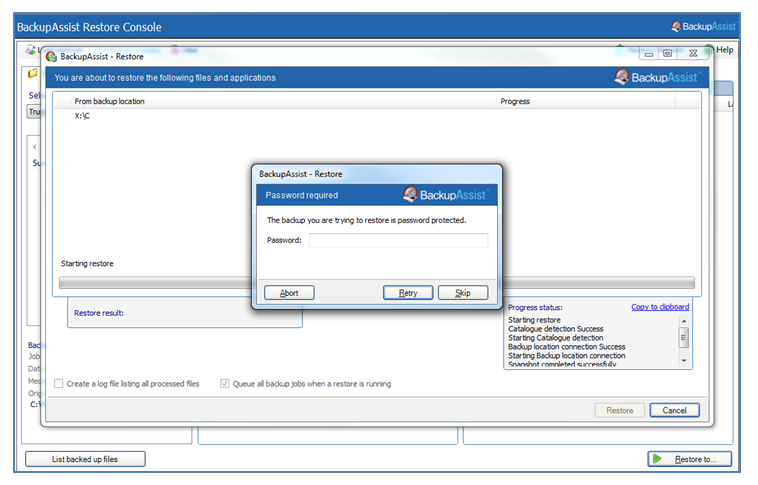 In article 1, we looked at what encryption is, how it works and how it can protect your backups if they are lost or stolen.
In this article, we looked at how you can use BackupAssist to encrypt your File Protection and File Archiving backups.
In article 3, we will look at how you can use BitLocker.