It's easy to see why so many people are using remote backups. You have scalable storage, no hardware to manage and a backup destination that you can access from anywhere with an internet connection. This is ideal for roaming users, home offices, remote sites and small businesses.
Note: BackupAssist 10 has introduced a fully-featured Cloud Backup solution.
Cloud services have made remote backups popular and BackupAssist makes them easy with its Rsync solution. Rsync can back up your data to a cloud service, storage provider or your own Rsync server. All you need is a destination that supports the Rsync protocol.
So why Rsync?
BackupAssist's implementation of Rsync provides data security and data optimization.
Security means your data is transferred using Secure Shell and stored at its destination using encryption.
Optimization means data is compressed while it's transferred and you can choose to backup only the data that has changed.
BackupAssist & Amazon S3
BackupAssist makes Rsync simple by providing dedicated selection screens for a popular Rsync provider, Amazon. S3 is Amazon's Simple Storage Service. This online storage can be used as a destination for your BackupAssist File Protection backups. Files, folders and applications such as SQL and Exchange can be backed up securely and simply to an Amazon S3 bucket.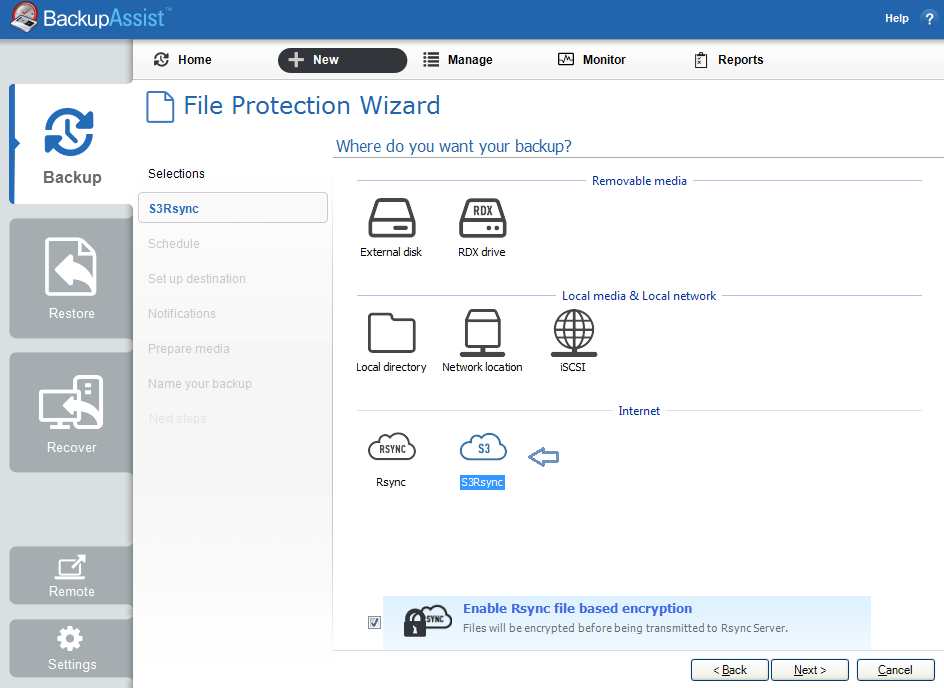 Simple to set up
When you join Amazon S3, you create an Amazon Web Services account, an Access ID and Key, and an S3 bucket for your backups.
To back up to your S3 bucket:
Create a File Protection backup job
Select the data to back up
Select S3Rsync from the BackupAssist destination screen
Select your backup schedule
Enter your Amazon S3 details into the Set up destination screen.
Select your backup notifications
It's that easy!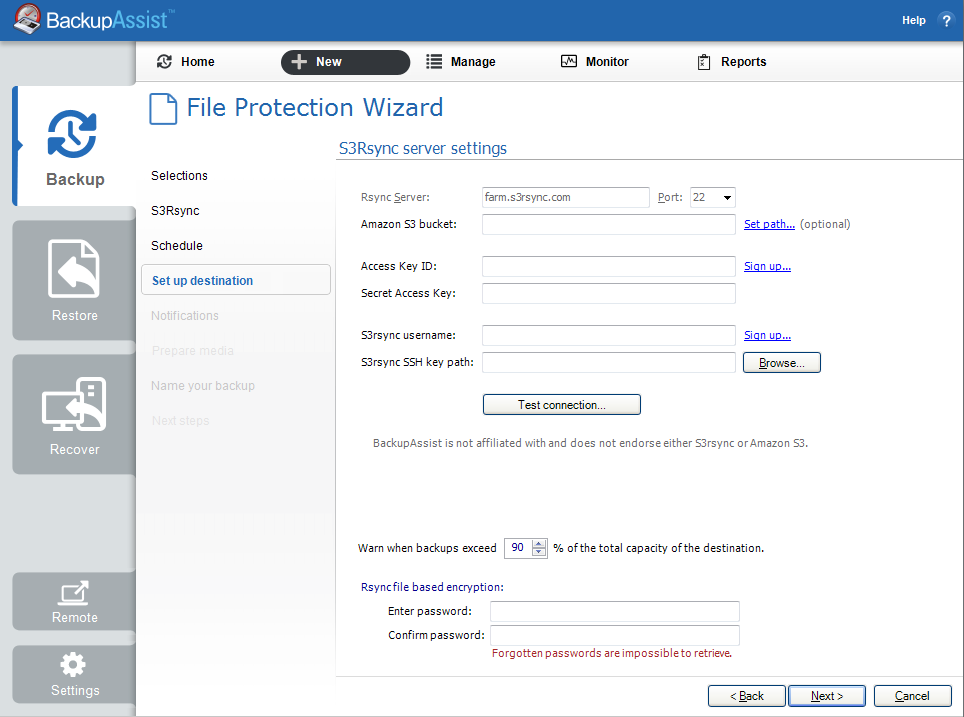 With a recommended storage provider and a tailored solution, BackupAssist has made it easy to implement remote backup solutions.
To learn more, check out these online resources
Amazon S3 overview and pricing
BackupAssist Rsync documentation