The wait is over!  BackupAssist v9 is now officially available for download, and that's seriously exciting. This version of BackupAssist is a huge leap forward in technology. In fact, it's the most advanced software we've ever released, and it's going to bring advanced protection to your vital systems and data like never before.
So strap yourself in, and let's take a look at what's new this version.
Already know what's new? Don't wait around, upgrade to v9 right now!
NEW

 – Hyper-V Tab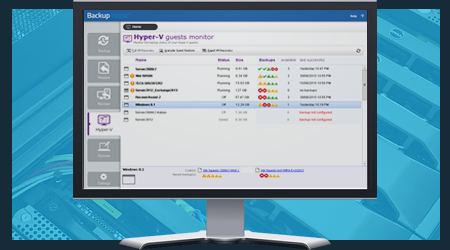 The future is virtualization. That's a fact. And it's why BackupAssist v9 is optimized for virtual environments like never before.
BackupAssist v9 will automatically detect when it's installed on a Hyper-V host server, and display an entirely new Hyper-V Tab in the User Interface (UI). From this tab, you'll be able to see at a glance which guests are active on the host (including those not being backed up by BackupAssist).  You'll be able to monitor the backup status of all guests, viewing which guests have and have not been backed up, as well as when the last successful backup was run. Not only that, the tab also displays alerts and warnings, so you'll know if anything isn't working as expected.
Plus, the Hyper-V Tab makes restoration and recovery easier too.  You can select any individual guest and perform a granular restore, rapid or full recovery of that guest with just a few clicks.
Find out more about the Hyper-V Tab under the relevant section in our Hyper-V Protection Guide.
NEW

 – Rapid VM Recovery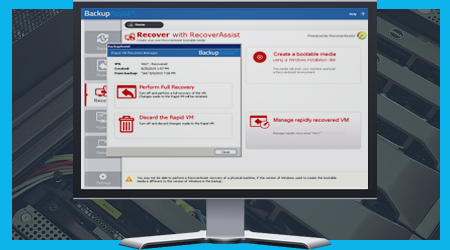 Are you sitting down? Good. This feature is some seriously advanced tech.
Rapid VM Recovery is the end of unplanned downtime for Hyper-V environments.  It allows you to instantly spin up a lost or damaged Hyper-V guest directly from its backup destination, getting critical systems and data back online in just seconds as a temporary stop-gap.  This gives you the time you need to plan a full recovery, which can then be undertaken at a pre-determined time calculated to cause minimal interruption to business, such as overnight or over a weekend.
What's more, while the Rapidly Recovered guest is running, any live changes to the system or data will be stored on the host, and merged during the full recovery. This means changes to the data while the VM is Rapidly Recovered will be retained when the VM is Fully Recovered.
Find out more about Rapid VM Recovery in our Hyper-V Recovery Guide.
Rapid VM Recovery is a feature included in our Hyper-V Advanced add-on.
NEW

 – Bootable Backup Media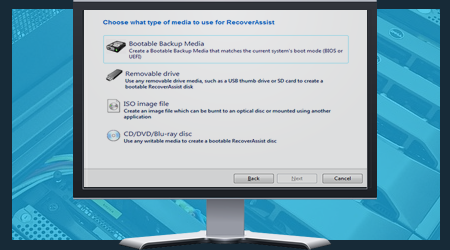 Want a simplified bare-metal recovery process? You got it.
With BackupAssist v9, you can now make any System Protection backup to an  external USB hard drive a Bootable Backup Media. What does this mean? It means your image backup and your recovery device can now be one and the same, minimizing the amount of moving parts and things to consider in a disaster recovery scenario.
Creating a Bootable Backup Media is as simple as ticking a box when running your System Protection backup – the only requirements are that the backup needs to be a bare-metal backup and use an external USB hard drive as its destination. Once that device has been created, it can now be used as a standalone boot-ready recovery media.
Bootable Backup Media is offered in addition to the option of creating a traditional RecoverAssist Media you're already familiar with, expanding your arsenal for disaster recovery and ensuring you have all the tools you need for performing bare-metal recoveries as quickly and as easily as possible.
Find out more about Bootable Backup Media in our System Recovery Guide.
NEW

 – Integrated Restore Console
In BackupAssist v9, the process for restoring critical data is faster and easier than ever before.
BackupAssist v9 uses an Integrated Restore Console, which allows you to locate and select the required backups using the Restore tab, rather than launching a separate backup locator tool. The Integrated Restore Console is also more versatile as it can be used to perform Hyper-V Granular Restores, which required specialized restore tools in earlier versions of BackupAssist
We've also optimized the way you browse and select files and backups to restore. This includes adding a "Discover Backups" button, which allows you to locate and use backups created by other installations of BackupAssist, and even backups made by jobs that have since been deleted.
Find out more about the new Integrated Restore Console in our Restore Tab Guide.
NEW

 – 2TB+ VHDX Data Containers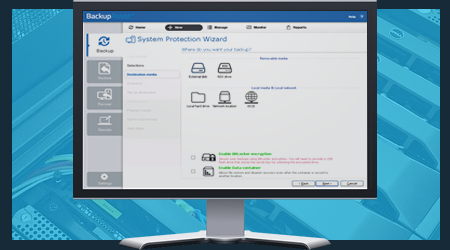 You've been asking for it, and now it's here!
Data sizes are in constant growth, we understand that. So that's why when so many of our customers requested compatibility with VHDX Data Containers, we took notice. BackupAssist v9 now completely supports the use of VHDX Data Containers in Server 2012 and Server 2012 R2. This means that Data Container sizes can now exceed 2TB, and can even grow as large as 64TB!
Of course, you still have the option of using VHD if that suits your requirements better.
Find out more about 2TB+ VHDX Data Containers in our Data Containers Guide.
NEW

 – Up to 40% Speed Improvements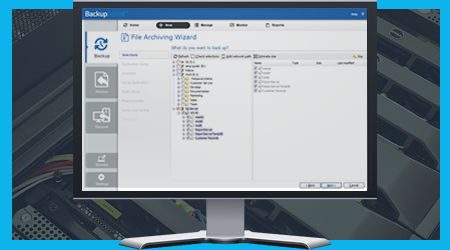 Our backup engines have always been fast. Now they're even faster.
In testing BackupAssist v9, we have verified speed improvements of up to 30% faster than previous versions of BackupAssist for System Protection backups, and up to 40% faster for File Protection backups.  This will of course vary slightly from environment to environment depending on your replication options and the backup destination you're using, but we can confirm across the board speed improvements!
NEW

 – On-Demand Analytics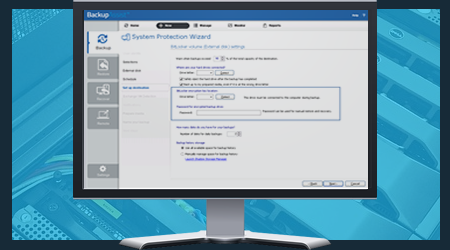 Last but not least, BackupAssist v9 also includes a nifty little feature called On-Demand Analytics.
In a nutshull, On-Demand Analytics allows you to check your backup destination when creating a new backup job. This will occur before the backup takes place, and will analyze your selected backup destination to verify it is optimal for performing a successful backup.  It will check things including required permissions for a NAS destination, and the ability to write to the backup destination , as well as performing tasks such as test-mounting a Data Container to ensure optimal  results.
Essentially, it makes sure your backup will run as expected before you run the job.  That way, if anything is likely to go wrong you'll know ahead of time, and can correct it up front, without needing to wait for the backup to fail to find out what the problem is.
Advance your backup capabilities starting right now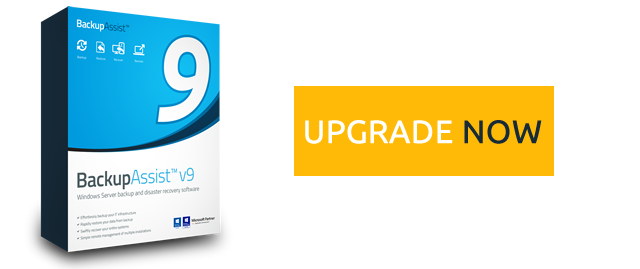 You can upgrade to BackupAssist v9 right now if your Upgrade Protection is valid.
Don't have valid Upgrade Protection? No problem. Renewing is quick, easy and extremely affordable. Check your Upgrade Protection status, and if necessary renew right away.
What is Upgrade Protection? It's a service available in either 12 or 24 month licenses that allows you instant access to all new versions of BackupAssist the moment they're released. Find out more
What feature are you most looking forward to implementing?
Leave your thoughts in the comments, tweet @BackupAssist or post to facebook.
Share this article and spread the good news!