When you first open BackupAssist's backup tab, you may be surprised by the number of different backup jobs you can perform. But which one do you choose?
This article answers that very question. In it, we go through what each backup job does, and when you should use it. It's a great refresher for software newcomers and veterans alike.
---
What Are The Backup Jobs?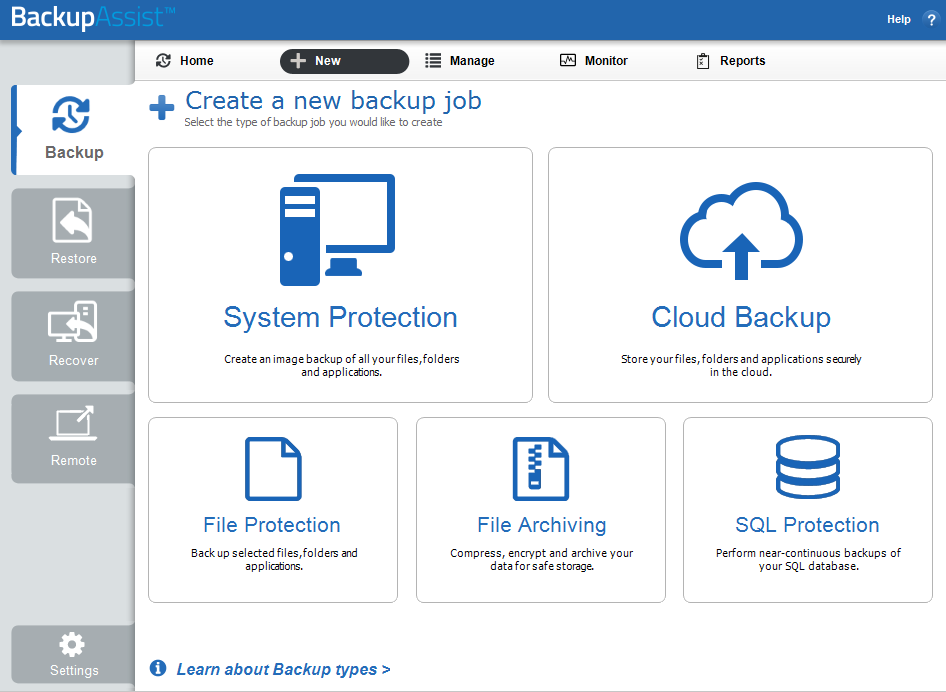 The backup jobs in the backup tab, as shown above, are:
System Protection (Also known as an 'Image Backup')
Cloud Backup
File Protection
File Archiving
SQL Protection
Since SQL protection has a pretty obvious purpose (backing up your SQL data), we'll skip that for the purposes of this article and talk about the other types of backup available.
---
System Protection

A System Protection job or 'Image Backup' is the only kind of backup that can be used to perform a bare-metal recovery. It creates a total snapshot of your machine. Nothing is left out of the backup process.
That means if your whole machine dies (E.g. Hard Drive failure), you can just swap out the hardware and recover your whole server to 'bare metal'. It's the best option to protect yourself from the worst kind of data loss scenario.
You should always perform regular image backups. It doesn't have to be every day – you should at least perform a weekly image backup as part of your regular backup schedule. These sorts of backups are performed incrementally (read more here), which means it doesn't need to copy everything every time you perform this sort of job.
System Protection jobs are done at the block level, and that means they are better at handling large files. Performing this sort of job is also necessary to create bootable backups, and to perform a Rapid VM Recovery (if you have the Hyper-V Advanced add-on).
Read more about System Protection jobs.
---
File Protection

File Protection jobs are a really simple backup option. With this job, you can backup select data to a local drive, removable drive, or network destination (E.g. NAS and iSCSI). You can also opt to backup your data to your own private / local cloud using rSync, so long as you have the Cloud Backup add-on.
This sort of job is very simple to perform, and also supports VSS. It's a particularly good sort of backup job when you're not looking to backup everything, just a select bunch of very important data that you may need to quickly restore in the future.
Read more about File Protection jobs.
---
Cloud Backup

Cloud backup allows you to backup selected files, folders and apps to a public cloud destination – specifically, Microsoft Azure and Amazon S3.
However, it would be a mistake to think this is similar to File Backup. Cloud Backup jobs are actually a lot more advanced, with such features as deduplication, resilient transfers, and more.
The infrastructure costs are far lower when you're performing public cloud backup. Since you're storing data offsite and with a trustworthy cloud provider, you've also got a higher level of security against ransomware and hardware failure than if you stored it in-house.
Many cloud providers offer cold data storage in the cloud, which means you can store your archived data offsite without incurring large operational fees.
Cloud Backup requires the Cloud Backup add-on. Read more about Cloud Backup jobs.
---
File Archiving

File Arching is zipping your data into a single backup file. As the name suggests, it's a perfect job for archiving your cold data if you want to physically store it. You can save a lot of disk space from compression.
This sort of job is perfect for tape backup, and the only backup job that can back up to a standalone tape drive (With the Tape Archiving add-on).
Read more about File Archiving jobs.
---
The Best Solution: Use All Of Them!
All of these backup jobs insulate you against a different type of data loss, and are handier in some situations than others. That's why you should give your data comprehensive protection by implementing a best practice backup strategy that uses a mix of backup types.
To find out how to set up a best practice backup strategy with BackupAssist, read our help guide.